One Thing's for Sure About Iowa—New Hampshire Is Next
(Bloomberg Businessweek) -- The Iowa caucuses usually play a critical role in the presidential primary process by testing the candidates, winnowing the field, and slingshotting the top two or three finishers to national prominence. The results coming out of Iowa often shape the national narrative for the rest of the race. But this year's app-induced fiasco, which produced a low-confidence split decision between Pete Buttigieg and Bernie Sanders, won't even fulfill that basic function. The only certainty coming out of Iowa was that all of the candidates are now going on to New Hampshire.
Instead of clarifying questions of viability and moving the party forward in settling on a nominee, it did the opposite.
Absent a clean result, candidates like Joe Biden and Minnesota Senator Amy Klobuchar who placed well below the first tier escaped the reckoning that ordinarily accompanies disappointing finishes. A decisive Buttigieg or Sanders victory typically would have produced a fundraising windfall, glowing media coverage, and a strong bounce in the polls—since 1976, the Iowa winner has gained an average of more than 12 points in national polls in the month following the caucuses. With no one getting that boost, no one will be forced from the race.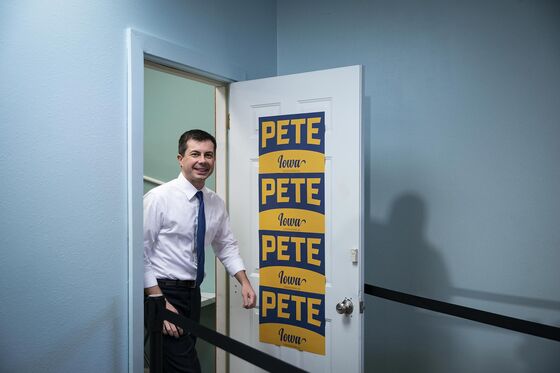 For the party's left wing, the results were a frustrating muddle. The tepid third-place finish of Massachusetts Senator Elizabeth Warren ratified the belief that she's fallen back from last fall's front-runner status and isn't broadening her coalition into a unifying movement that could go all the way. And while Sanders remains a viable threat to win the nomination, he didn't demonstrate anything like the runaway strength his backers hoped for and his opponents feared. After spending $50 million in the last three months of the year, it looks as though the Vermont senator will end up drawing about half the level of support in Iowa that he did four years ago. That means a lot of his 2016 followers switched their allegiance—hardly the stuff of "revolution."
Moderate and centrist voters may have it even worse. While Biden's strength in national polls has been the one constant throughout the past year, his poor caucus showing, scattershot organizing, and lackluster fundraising bring new doubts about whether voters will ultimately decide that the 77-year-old former vice president has the stamina to face off against Donald Trump. The map will soon improve for Biden when Southern states start voting, but he'll have to stave off an exodus of support before then.
Sanders rose to the top of Iowa and New Hampshire polls because he faced nothing like the attacks on his policies that Biden—and Warren and Buttigieg—have endured and suffered from. Now, amid the cloud of confusion and recriminations from the Iowa results, some Democrats say he may escape that fate until it's too late for centrists to stop him. "Warren spent two months undergoing rigorous scrutiny for [supporting] Bernie's Medicare for All policy, scrutiny that was never applied to him," says Brian Fallon, a former top Hillary Clinton aide who's neutral in the race. "It's a symptom of the failure of D.C. Democrats to take his chances of winning the nomination seriously enough."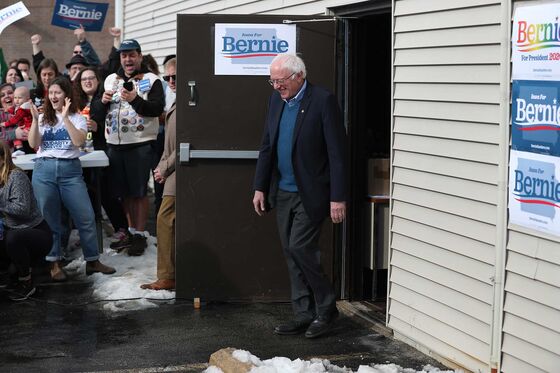 Sanders's fundraising strength and passionate base of supporters make him a serious contender, even if it takes a little longer to secure the nomination. That's left establishment Democrats struggling to embrace the possibility of a socialist standard-bearer. "Bernie would have a hard time winning the election," says former Pennsylvania Governor Ed Rendell, a Biden supporter. "But if he wins the nomination, I'd do the best I could for him. I'd be all in for Bernie. It's a wild thought."
Could Buttigieg parlay his Iowa showing to rival Sanders in upcoming contests? Perhaps. In the weeks leading up to Monday night's first-in-the-nation Democratic contest, Sanders had seemed to be pulling away from the field. Buttigieg appeared to be sinking, especially after Warren branded him a privileged enabler of tech and finance titans who showered him with money in a lavish "wine cave" fundraiser. Yet the 38-year-old former mayor of South Bend, Ind., relied on his moderate appeal and dedicated turnout operation to overperform in rural and suburban areas across the state.
Betting that fortune favors the bold, Buttigieg also relied on moxie, marching out amid the caucus-night chaos to declare a victory that was far from certain, infuriating the Sanders campaign and other top finishers. "We don't know all the results," he declared to the crowd, auto-tuning his rhetoric to match the soaring cadence of former President Barack Obama. "But we know, by the time it's all said and done, Iowa, you have shocked the nation—because by all indications, we are going on to New Hampshire victorious!"
Buttigieg's stubborn unpopularity among the black voters who'll be critical in deciding South Carolina and Super Tuesday states poses what still could be an insurmountable hurdle. And thanks to the delayed caucus results, Buttigieg, for whom developing a national campaign infrastructure was already challenging, can't expect to benefit from the sudden influx of money and support usually directed at the Iowa winner.
This could open the door for someone who already has a national campaign team, virtual control of the TV airwaves, and almost unlimited resources: Michael Bloomberg. A late entrant to the field who didn't compete in Iowa, the former New York City mayor has a message of competent managerial centrism and a willingness to spend $1 billion to defeat Trump, which could be newly attractive to Democrats spooked by the debacle they just witnessed. (Bloomberg is the founder and majority owner of Bloomberg LP, the parent company of Bloomberg Businessweek and Bloomberg News.)
His viability at this point is still theoretical: To be the Sanders-slayer and centrist alternative to Biden and Buttigieg, he'll first need to persuade primary voters to pull the lever for him. At the first sign that voters are willing, he'll also have to contend with a populist backlash from energized partisans on the left wing.
Besides the failure to clarify much of anything, the Iowa caucuses amplified a set of issues that Democratic officials are quietly worried about. A full year of campaigning has done nothing to settle the central debate within the party between those who believe a nominee must steer leftward to excite and attract new voters and those who believe that such a course would guarantee President Trump another term. Iowa's neck-and-neck finish between Buttigieg the moderate and Sanders the radical is the party's conundrum come to life.
Then there's the matter of excitement—or lack of it. On a day when Gallup measured Trump's approval rating at an all-time high of 49%, Iowa Democrats showed up to caucus in only modest numbers. Not long ago, state party officials expected turnout to rival or exceed the record level of 240,000 set during Obama's first run in 2008. Instead, turnout was closer to 2016's level of 170,000. Democrats are counting on a growing blue wave of enthusiasm to oust Trump. Iowa denied them that, too.
 
Read more: 'We Feel Really Terrible,' Says CEO Whose App Roiled Iowa Caucus
To contact the editor responsible for this story: Joel Weber at jweber66@bloomberg.net, Wes Kosova