One Legacy of Coronavirus Is a Return to Activist Government
(Bloomberg Businessweek) -- Today's political leaders, from Angela Merkel to Donald Trump, are in rare agreement that the fight to defeat the novel coronavirus is a challenge unique since 1945. "We are at war," is French President Emmanuel Macron's refrain. In the U.S., Trump has proclaimed himself a "wartime president."
Yet, as Winston Churchill discovered, it's possible to win the war and lose the peace. At the conclusion of World War II, Britain surprised the world by voting out Churchill—who'd led it through the conflict—in favor of the opposition Labour Party and its promise of a welfare state and a national health service. A similar shift from traditional budgetary priorities—such as military spending—to dealing with basic health and welfare issues may be in store for the governments of the world.
Even after the disease has peaked, governments will be confronted with ravaged economies, a traumatized public, and what promises to be an altered political landscape. It's a societal change that will test existing models and, in all likelihood, reshape government for years to come. "Western economies will be set back by years, and government spending constrained as a result," says Tim Huxley, executive director for Asia at the International Institute for Strategic Studies. That raises the prospect of demands for "a fundamental reexamination of governmental priorities and a rethinking of what 'security' means."
The Covid-19 crisis has marked the return of activist government in a way not seen in peacetime. But it's also exposed markedly different degrees of success in containing the virus, with performance measured in numbers of hospital beds, rather than aircraft carriers and missile-defense systems or gross domestic product.
Recriminations are already underway. In the U.K., even the Conservative government's traditional media allies joined the criticism of its many U-turns during the outbreak, while the fragile coalition in Madrid is under pressure for a response that saw Spain overtake Italy as Europe's epicenter. Japan waited until April 7 to declare a state of emergency, then initially allowed some bars and nightclubs to stay open. As the U.S. suffered more than a quarter of the world's cases, Trump feuded with state governors and blamed the "very China centric" World Health Organization for having been slow to react to the initial outbreak in Wuhan.
The U.S. spends more money on health care than any country in the Organization for Economic Cooperation and Development, in both dollar terms and as a share of GDP. But it ranks second-to-last among the OECD's 36 nations in coverage for its citizens; only Mexico's is worse. Average life expectancy, at 78.6 years, is closer to eastern European nations than to western countries such as Germany.
The British public applauded workers for the National Health Service in the streets; an already infected Prime Minister Boris Johnson joined in the clapping from Downing Street. But what is a source of national pride suffers capacity problems, and its staff is poorly paid. The government has been accused of a chaotic response amid reports that frontline NHS workers were denied virus tests and lacked protective equipment. An appeal to British industry to produce ventilators for the NHS drew more than 5,000 offers of help, but deliveries remain weeks away.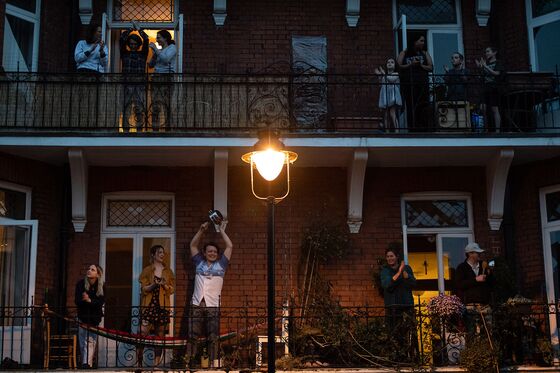 Germany has fared better, relatively speaking, with a death rate almost half that of the U.S. and more than three times lower than in the U.K. This has been ascribed to widespread testing for Covid-19. Britain's government conceded that it is falling well short of its testing targets.
According to Huxley at IISS, one possible outcome of the crisis is that countries will face pressure to channel spending away from defense and toward health and welfare. Whether coincidence or not, Germany spends less on its military than either Britain or the U.S. Certainly, Trump's aim to badger transatlantic allies into raising their defense outlays, preferably by purchasing American weapons, looks to be an early casualty. As of 2019, just nine of NATO's 29 members met the minimum recommendation for 2% of GDP, with Spain and Italy among the lowest-spending members. Since they are also among the worst affected by the virus, finding additional money for military hardware will be politically untenable. Who knows? It may even prove hard for a U.S. administration to maintain its current level of spending—at 3.4% of economic output, an estimated $730 billion last year and the highest in NATO by far—when it struggled to procure enough face masks for medical professionals.
Channeling more funds into health care will pose problems for governments such as those in Iran and Venezuela, where security is anchored in a strong military backed up by police keeping a lid on restless populations. In Iran, which suffered the highest death toll in the Middle East after the ruling clerics reacted slowly to the spread of Covid-19, the government has said that the pandemic could add 5 million to the ranks of the unemployed. Coupled with a cratered economy already hit by U.S. sanctions, that's a recipe for social disorder.
Germany has been pushing for overseas development aid to be included with traditional defense spending as a measure of national security. That argument might gain traction as the virus spreads to Africa, which has yet to suffer the ravages seen elsewhere. Oxfam warns that the economic hit from coronavirus could send half a billion people into poverty worldwide. German Development Minister Gerd Mueller is urging fellow European Union members to mobilize €1 billion ($1.1 billion) for a Covid-19 program to aid low-income countries, arguing that Europe has a great interest in securing stability in North Africa and the Middle East, where the virus could cause "famine, outbreaks of violence, and even civil wars," forcing refugees to flee toward Europe.
It seems remarkable now, but health made it onto the Group of 20 agenda only in 2017, at Germany's behest. Similarly, when Merkel's government begins its six-month term in rotation at the EU's helm later this year, it is expected to focus the bloc's agenda on dealing with the coronavirus. European leaders, who are in the process of negotiating the EU's €1 trillion-plus budget through 2027, are likely to face pressure to reorient it toward economic recovery, health care, and a greater emphasis on research and development.
European Commission President Ursula von der Leyen has already said the bloc will allocate money remaining in this year's budget to an emergency fund to secure medical equipment and scale up virus testing; she hinted at a shift in priorities in the next seven-year spending plan. "Just as the world looks very different from the way it did just a few weeks ago—so must our budget," she said in an April 4 op-ed in several European media outlets. Von der Leyen's grand plans for a more muscular commission with a greater global role has been derailed, according Daniel S. Hamilton, professor at the School of Advanced International Studies at Johns Hopkins University. "This will be the coronavirus commission for its tenure," he says.
A return to a more maternal government style does not exclude invasive Big Brother practices. The virus has allowed governments to assume wide-ranging powers to keep people under control, and it may prove hard for relatively autocratic leaders to relinquish them. In India, police beat people in the street if regarded as not observing strict lockdowns, while China extended its experience of Communist Party control to monitor citizens. Even in France, police drones patrolled the skies of Paris and handed out fines for simply sitting on public benches. In Germany, where sensibilities over state monitoring are more pronounced due to its wartime experiences and oppression in East Germany, the country's strict data-privacy laws are out of step with attempts to track the virus by smartphone app and may need to be revisited.
For all the shared experience of the coronavirus, countries have opted to go their own way on isolation, allowing some kind of economic activity, and reopening. Italian Prime Minister Giuseppe Conte is one among many to warn that insufficient solidarity among member states to speed the recovery could spell the demise of the EU. China, which produces 25% of the world's face masks, is making a diplomatic as well as humanitarian point as it ships medical supplies to countries in need: It's back, as omnipresent as ever. The U.S., meanwhile, has been notable in its international absence—except when sparring with Canada over the export of N95 face masks.
Gerard Araud, who served as France's ambassador to the U.S. until 2019, says this is the first time there has been a lack of consultation between the U.S. and its allies when faced with such a global challenge. The coronavirus has further exposed the gulf between Europe and the U.S. under Trump and underlined the atomization of international cooperation. "This crisis is really confirming there's no West. There's no transatlantic community," he says. "In a sense, it is defining the crisis as a moment of every country for itself."
In the U.S., there was no national lockdown; that decision was left to the states. A University of Washington study found that Republican governors were slower to implement social distancing restrictions than their Democratic peers, with implications for the virus spread. All holdout states were Republican. Trump's early dismissal of the threat and his sowing of political division has challenged the relationship between the federal government and the states, but that's not unique to the U.S. According to a report by the German Marshall Fund, relations between Turkey's central government in Ankara and the municipalities, many of them opposition-controlled, have gone from cooperation to confrontation. In centralized France, by contrast, the crisis strengthened Macron and the government in Paris. In Germany, Merkel's frank address to the nation helped direct the overall response to a public health crisis that would normally have fallen to the states.
The epidemic's focus in Italy's wealthier, more autonomy-minded north helped bridge a traditional divide with the south, spurring calls to return health policy to Rome, says German Marshall Fund Fellow Dario Cristiani. Problems coordinating between Rome and the regions, as well as public opinion, "will be the drivers of a likely change in Italy, shifting the balance between regional and central government in favor of the latter," Cristiani says.
Crises make or break leaders. The repercussions of the coronavirus are likely to be long-lasting, but polls already offer a snapshot of voter sentiment. Spain's coalition is approved by just 28% of the population, while the ratings for Brazil's President Jair Bolsonaro are below those of two state governors who clashed with him over containment measures. Support has surged for governments in Australia and Germany—fanning speculation, probably unfounded at this point, that Merkel might ditch her planned retirement and seek a fifth term next year.
The most immediate challenge is to channel aid to businesses and keep the economy afloat, then kick-start recovery once the pandemic passes. Economists such as Erik Nielsen of UniCredit say they've been impressed by government determination to shield populations as far as possible with "eye-watering fiscal policy initiatives." Beyond the big numbers, though, success in funneling the money to its intended targets has been uneven. In the U.K., a survey by the British Chambers of Commerce published on April 8 found that just 1% of businesses had managed to access the government's emergency coronavirus loan program.
With projections of economic contractions in some countries reaching 25% or more, entire systems of economic governance are likely to be questioned—and not just by the likes of what Trump calls 'far-left Democrats' such as Representative Alexandria Ocasio-Cortez of the U.S. Congress. Free-market economies are often hailed for a flexibility that spurs innovation and allows easy hiring and firing. But what are regarded as assets in normal circumstances look like liabilities at a time of mass job losses. Germany, for example, leans on its own style of capitalism, known as the social market economy, a system in which, unlike the free-market traditions of the U.S. or the U.K., government is seen as a natural partner in economic success. It's credited with fueling Germany's postwar economic miracle and with enabling the country to bounce back from the financial crisis of 2008.
Almost a million Britons claimed universal credit welfare payments in the U.K. in just two weeks, while in the U.S. some 16.8 million workers signed on for unemployment benefits in the past three weeks. The German government dusted down a safety net known as "Kurzarbeit," which encourages companies to furlough workers at the state's expense, rather than sack them. A record 470,000 companies applied in March. International approval came from an unlikely source: Fox News host Tucker Carlson spoke in favor of adapting some version for the U.S.
Imagine that: The legacy of the coronavirus could be a German-style social market economy in Trump's America. —With David Wainer