Not Even Hindsight Could Have Helped You Make Money This Year
(Bloomberg Businessweek) -- Every December, I visit the managers at Hindsight Capital LLC, an imaginary hedge fund that always invests with the best possible strategy for beating the market—in hindsight. These managers live in a world perpetually 12 months in the future; the only limit to their trading ability is that they must explain why their trades could have been foreseen 12 months in the past.
Usually this is a fun exercise that reveals surprising truths about the market, and Hindsight cleverly finds ways to double or triple its money. This year, however, was a tough one even for Hindsight. Almost nothing—not stocks, not bonds, not commodities, and certainly not crypto—made money.
Hindsight was able to exploit one big theme: "America First." A combination of aggressive trade rhetoric and Federal Reserve tightening on the part of the U.S. made life harder for everyone—and Hindsight, therefore, bet against anything that fell afoul of U.S. policy. Shorting Chinese technology and going long in U.S. technology with popular ETFs netted 49.5 percent. Buying world exchange stocks while shorting euro zone banks yielded 56 percent. Buying T-bills while shorting U.S. homebuilders netted 46.7 percent. Going long on the U.S. health-care sector (which is relatively immune to the economic cycle) and short on the world mining sector (which was hit by fears about demand from China) yielded 30.5 percent.
In all cases, it was only by combining investments with shorts that Hindsight could make such handsome double-digit total returns. The winners won in single digits, and the losers lost in double digits.
Hedge funds bet that volatility would continue to decline and ignored obvious speculative bubbles. Only Hindsight Capital had the guts to bet against the status quo.
● Location, Location, Location
The all-world stock index at MSCI was down 8.7 percent in dollars—but it rose 87% in Argentine pesos.
U.S. utilities weren't affected by the trade spat with China, but Japanese marine shippers were hammered. Going long on the one and short on the other made Hindsight 50 percent.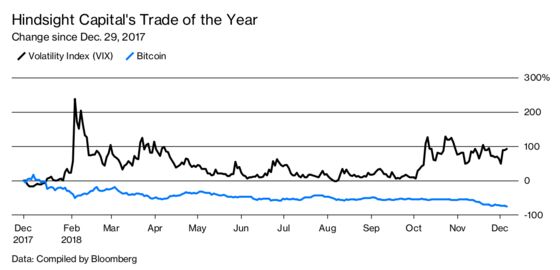 At the dawn of 2018, volatility for a year had been historically low, while Bitcoin was in the throes of a blatant bubble. Shorting Bitcoin and putting the proceeds into the VIX volatility index had made Hindsight Capital 791 percent as of Dec. 14.
 
—Authers is a senior editor for Bloomberg News
To contact the editor responsible for this story: Jillian Goodman at jgoodman74@bloomberg.net