Musk Now Has Real Competition in the Rush to Deploy Internet in Space
(Bloomberg Businessweek) -- Richard Branson had snuck off into the corner of the room to buy a peaceful moment, but his scraggly blond mane and thick goatee are the opposite of a disguise. One by one, people approach, apologize for approaching, then rotate their bodies into a hug as they raise their phones for their obligatory photos. Branson can't escape the steady stream of selfie takers, even at another company's rocket launch.
The other company is OneWeb, a satellite maker that's raised more than $2 billion from Branson's Virgin Group and the likes of SoftBank, Coca-Cola, and Airbus to build a "space internet." The idea is to fire an estimated 1,980 satellites into orbit to beam signals below. On Feb. 27, Branson was one of a couple hundred spectators who joined OneWeb founder Greg Wyler at the edge of the Amazon rainforest in Kourou, French Guiana, to watch the first six satellites leave Earth.
Wyler started OneWeb in 2012 and persuaded Branson to help bankroll it soon after, when the two were palling around on the British mogul's Necker Island. While satellites have been used to relay internet data for decades, the existing services are slow and expensive, because the conventional sedan-size models are unwieldy, run on outdated technology, and orbit the Earth at about 18,500 miles up, making coverage spotty. Wyler's pitch: Use more advanced gear to put thousands of cheaper satellites the size of washing machines into orbit 750 miles above the planet. In theory, the larger network of satellites should cover everybody, including the more than 3 billion people who can't yet be reached by high-speed fiber optics.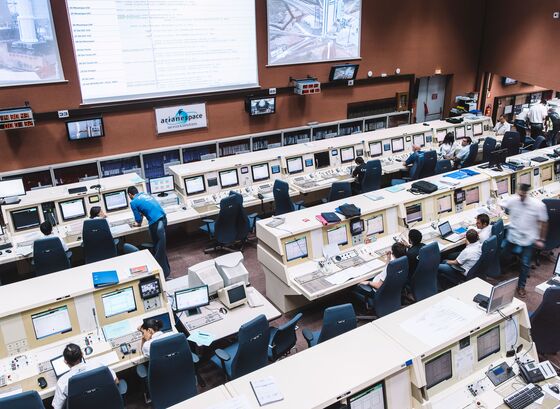 The OneWeb founder promised to make low-cost antennas that could be placed on homes, schools, hospitals, and emergency services outposts and pull data down at an incredible clip. For the first time, the world would be surrounded by a type of computing shell that would give a Rwandan high school access to the same information and tools as a school in Mountain View, Calif., and make it possible for a climber to fill her Instagram feed from atop Mount Everest.
The sheer expense of Wyler's project, including some pricier-than-expected technology, as well as some skeptical investors, have forced him to massage his ambitions for now. In the revised plan, the recently launched satellites will be joined by about 650 more over the next couple years. This first fleet will be aimed at making money by delivering high-speed internet to airplanes, cruise ships, and governments willing to pay to modernize their infrastructure.
Wyler says he hopes such customers will cover the costs of the global network, which will total billions of dollars more than he's already raised. "This is the world's largest civilian space project," he says while driving around the grounds of the Guiana Space Centre. "We are not funded by NASA or a government, and it can't run at a loss. We want to bring the internet to the poorest people in the world and have built the world's most expensive system to do it, and the expansion of the service needs to pay for itself." Branson, flanking Wyler, insists with characteristic optimism that the era of billionaires like him losing money on space ventures is over. "I think the time has come for space companies to succeed," he says.
Companies with names like Telesat and LeoSat have similar plans for internet-beaming satellite constellations, but Wyler's biggest competition has been Elon Musk, chief executive officer of SpaceX and Tesla Inc. and a Branson frenemy. (The two play-fight about their respective rocketry achievements while chilling together on Branson's island.) SpaceX sent two space internet test systems into orbit last year, and its battle with OneWeb is fraught with extra helpings of bitterness and enmity. "My issue with SpaceX is personal," Wyler says.
He and Musk were once friends who slept over at each other's houses while planning to build OneWeb together with financial help from Google. In 2014, Wyler spent months laying out his ideas for Musk, only to find one day that SpaceX had decided to build a similar project of its own and had taken Google on as a financial backer. SpaceX said in a statement that the concept of a space internet long pre-dates both companies' projects, that its system will work far better than OneWeb's, and that Musk declined to work with Wyler due to disagreements over technical architecture and spectrum rights. "Mr. Wyler and Mr. Musk have never been friends," a SpaceX spokesperson said.
The OneWeb founder says he's the one who has a huge technological lead, citing the low-cost antennas from a company he's invested in called Wafer. "I haven't found any other technology that is close," he says. "It's at least one to three years ahead of everything else." (Note: After publication, Wyler said he meant to say the technology is five years ahead.) OneWeb also secured valuable wireless spectrum rights for its service well ahead of its rivals. If the satellites from the recent launch work as billed, the company will hold on to those broadcast frequencies for decades. Competitors will have to find spectrum of their own and persuade the United Nations' International Telecommunication Union that they won't interfere with OneWeb's service.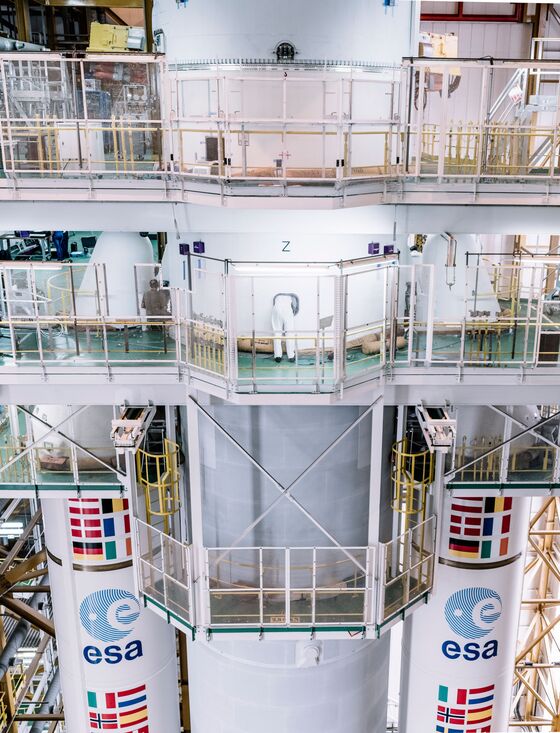 French Guiana provides an all-too-symbolic backdrop for Wyler and Branson's quest to bring the trappings of modernity to poor and remote locales. The economy of the French territory, located in northeastern South America, is stuck in neutral, with limited farming and a heavy reliance on imports and subsidies from its colonizer. Many people are as likely to get around by canoe as they are on the dilapidated roads. Even the beaches struggle to lure tourists because of their biting sand fleas and murky, mud-colored waters. And the rainforests, which carry a hearty helping of yellow fever, offer more adventure than most outsiders seek.
Built in the 1960s, the Guiana Space Centre presents a study in contradictions with its surroundings. Its home city of Kourou is about an hour's drive north of the capital, Cayenne, and was once home to the notoriously brutal Devil's Island penal colony. To reach the spaceport, you travel on two-lane highways past densely packed rainforest and modest, brightly colored houses with tin roofs. Billboards along the highways alternate between plugs for potato chips and satellites. The facility takes up 266 square miles, employs thousands of people, and serves as the launch site for rockets from Europe. Arianespace, a European aerospace company, operates three launchpads: two for its own rockets, and one for a version of the Russian Soyuz, which carried the OneWeb satellites.
From a physics standpoint, Kourou has a lot going for it. It's on the coast just 300 miles north of the equator, which means the rockets receive an added boost—the Earth spins fastest at its midpoint—and that most debris from a mishap is likely to fall into the ocean. In a typical year, Arianespace will send up about one rocket a month, although keeping up with OneWeb will require it to work faster. OneWeb has contracted with the company for more than 20 launches. By October, Wyler expects to witness one every three weeks or so, with each rocket carrying about 34 OneWeb satellites. If he's right, he'll quickly break by a wide margin the record number of satellites launched by a single company.
Launch days remain a special occasion here, even though they've been taking place for decades. Before blastoff, the French Foreign Legion clears the forest and seas and provides security on-site. As the event draws near, hundreds of people, including men in uniform and women in bright sundresses, arrive at a theater attached to the glass-enclosed mission control while an announcer delivers play-by-play commentary. Branson found himself taking selfies near a concession stand doling out fruit juices, finger sandwiches, and desserts.
When the launch happens, everyone runs out to a balcony to watch as a giant rocket streaks across the sky and to listen as its thunderous rumble cuts through the humid air. The event has the feel of game day in a small Texas town that runs on football.
For Europe, Kourou is the ideal place to launch rockets. All the inherent danger has been offloaded to a faraway land, and the aerospace operations dominate the economy, providing Arianespace and other space agency bodies with unequaled influence. This can embitter locals who've been left out. Unemployment rates of 20 percent or higher are common in French Guiana, schools are underfunded, and rates of poverty and murder are high. Protesters in 2017 blocked access to the spaceport and disrupted a launch as they voiced their concerns about the poor economic conditions.
Wyler has spent the past 20 years trying to improve the lot of the less fortunate and bring more economic balance to overlooked areas. He made millions as a tech entrepreneur and investor, then went to Rwanda after the genocide there to lay fiber-optic cables and modernize the country's infrastructure. Later, he started a company called O3b (as in "other three billion") to create a satellite network that could deliver high-speed internet access to islands and nations near the equator. OneWeb is both an admission that these past projects didn't work out as well as planned and an attempt to correct their technological shortcomings. "There is a lot of hope in this rocket," Wyler says on launch day.
As with the site itself, the optics of Wyler and Branson's own lifestyles can appear at odds with deeper societal issues. Both men flew into French Guiana on their private jets and flew off after the launch to their island getaway homes. It's not crazy for skeptics to wonder whether OneWeb's wealthy backers will make sure the service lives up to its original vision. Wyler could end up with merely a zippy internet system for the traveling elite.
Without question, though, it's only through force of will that Wyler and Branson have brought this project and the promise it carries as far as they have. Huge satellite networks have been notoriously bad investments. Wyler had to coax investors from around the world to make OneWeb look and feel like a global effort, and he's had to fight against Musk's outsize persona in a complex public-relations war. "There have been a lot of people betting we fail," he says. He expects a limited version of the OneWeb service to come online by the end of 2019, more than a year behind its original schedule, and to roll it out to more customers throughout 2020. "I've been at this since 2012 and seen it all clearly in my head since then," he says. "I've communicated the vision, and now people are starting to believe."
To contact the editor responsible for this story: Jeff Muskus at jmuskus@bloomberg.net