Motorized Surfboards Are Great If You Have More Money Than Time
(Bloomberg Businessweek) -- It's April in Miami, and I'm flying through the air above Biscayne Bay on an electric hydrofoil surfboard, the same yacht club toy Mark Zuckerberg was seen riding last summer. As I accelerate toward the horizon, I almost forget what it means to live in a world with gravity. Five seconds later I'm tumbling headfirst in the bay, inhaling a nose full of salt water.
Since the pandemic began, motorized surfboards have emerged from relative obscurity to take beaches by storm, part of the boom in outdoorsy, socially distanced fun. Now they can be found almost anywhere water and wealth coexist.
I tested the two major types: an electric hydrofoil by Lift Foils ($12,000), the brand Zuck rode in Hawaii; and a couple of the more "traditional" motorized surfing options, the JetSurf Electric ($14,900) and the JetSurf Adventure DFI ($11,400), powered by a two-stroke engine. The Puerto Rico-based Lift says its global e-foil sales doubled last year, to about 2,500 units, and JetSurf says its volumes grew 60%, to 1,600 boards, most of the latter being gas-powered.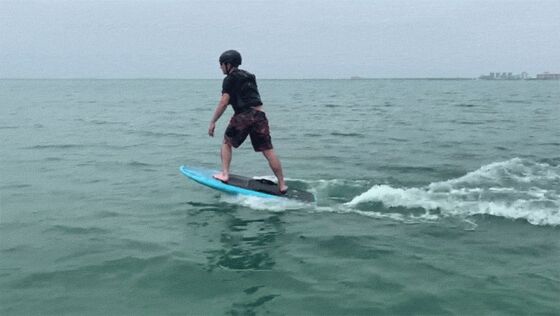 The Lift e-foil is similar to a hydrofoil boat, with a customizable winglike structure that sits under the water, attached via a 2- to 3-foot carbon-fiber mast, depending on your preference and skill level. The wings create lift as you accelerate, giving you the feeling you're soaring like Marty McFly in Back to the Future Part II. (In the movie, the hoverboards didn't work on water, though.)
Riders pilot the e-foil using a wireless, waterproof hand controller that has a sort of pointer-finger-operated, joystick-like trigger. As competent riders accelerate, the board levitates above the water, going as fast as 30 mph with almost no resistance—that's the essence of foiling. Even on a windy day with a lot of chop, the board cuts through the water like a knife.
As a novice, I was able to have fun almost from the outset but not quite ride it as intended: I'd get airborne for a few seconds, then—because of my poor weight distribution—the nose of the board would splash back into the water. Many times I took harmless plunges into the bay. The electric motor automatically stops, and it's not hard to climb onto the board from the back or side. For the most part, it was too exhilarating for me to pay attention to my battered ego.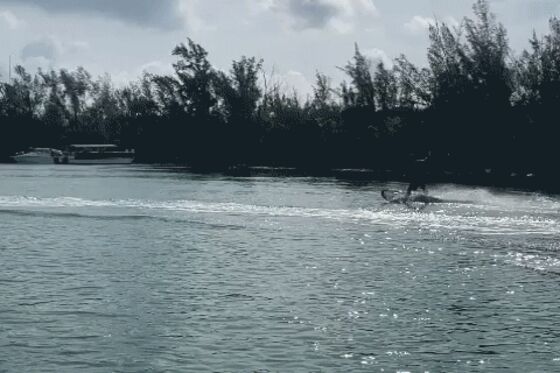 After trying out the e-foil, I found the motorized surfboards from JetSurf in the Czech Republic to be relatively easy. Foot bindings and a handle with an attached trigger throttle make them natural for tight turns and tricks and aquatic-motorcross-like races. During my demo, JetSurf USA Chief Executive Officer Petr Vencovský did some pretty spectacular aerial flips off the wake of his boat. From a safety standpoint, I preferred its jets over the Lift's exposed propellers, which are a threat to the toes of absentminded novices if they accidentally engage the throttle getting on the board from behind.
Ride time is the downside: The electric JetSurf gives you about 35 minutes, and the two-stroke can go for about an hour, vs. as long as two hours on the 2021 Lift3, which also has an increased top speed that puts it close to JetSurf's models. And though the gas-powered board can be refilled in seconds with a standard fuel mix, the electric battery takes more than two hours to recharge. (Or you can spring $3,500 for an extra.)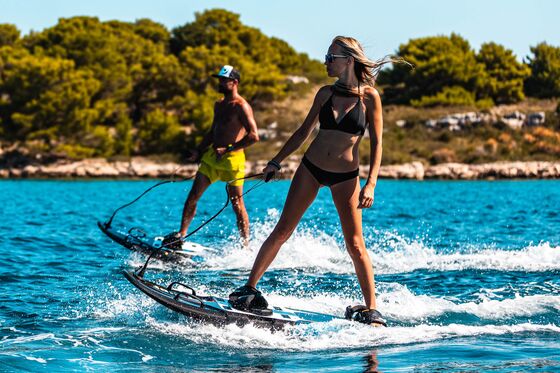 Ultimately the products will attract different riders. If your aim is to take a leisurely tour around the perimeter of an island, you're better off foiling—it's more efficient and a smoother ride once you know what you're doing. It's quieter, too, though the JetSurf boards weren't half as loud as I imagined they would be, and most of the gas models come standard with a silencer. The motor is more present, yes—including faint fumes and engine warmth as you lie on the board—but it's not a distraction, and motorcycle buffs or extreme sports fans might consider it a bonus.
I came to wave-propelled surfing while living in Brazil in adulthood, and I'm pretty terrible at it. Compared with my first time doing that—and, frankly, even my last—I had a significantly better fun-to-frustration ratio on all the motorized boards. But motorized surfing isn't ever going to dent interest in the real thing, which you can get into for a few hundred bucks. Surfing is beloved for its inherent challenges: It's a serious workout and requires an excellent understanding of the ocean to excel.
Still, I suspect gas- and electric-powered surfboards are here to stay, especially around Miami and other places where water and wealth are abundant and the waves are so gentle that surfers can hardly ever rip unless a hurricane is blowing in.