No, You Still Can't Bring Your Gun on a Plane
(Bloomberg Businessweek) -- The Transportation Security Administration has gone to great lengths to get the message through to Atlanta airport passengers: Don't bring your gun through security. It's plastered signs on checkpoint walls. It's blared announcements over loudspeakers. It's thrown a warning up on video screens for passengers to stare at while they wait in line.
And yet, 298 firearms were seized at Hartsfield-Jackson Atlanta International's security checkpoints in 2018, the most at any U.S. airport that year. According to a Bloomberg Government analysis of TSA records, gun seizures there have tripled since 2014, when then-Governor Nathan Deal signed a law that allowed Georgians to carry a firearm in more places. Even as a percentage of the almost 26 million passengers who passed through security there last year, the number of gun seizures put Hartsfield-Jackson flyers in a virtual tie with those at Austin-Bergstrom International Airport in Texas for worst-offender status among the nation's 30 largest airports.
Overall, the 10 major airports with the highest gun seizure rates are in states that, like Georgia and Texas, either don't require a permit to carry a concealed weapon or require officials to issue a permit to all law-abiding applicants, while 8 of the 10 with the lowest rates are in states that allow the government more discretion to deny permits, according to an analysis of National Rifle Association data. Nationwide, the number of guns confiscated at TSA checkpoints jumped about 92% from 2014 to 2018; the number of passengers screened increased 22% in the same period. Seizures so far this year are running close to 2018 levels.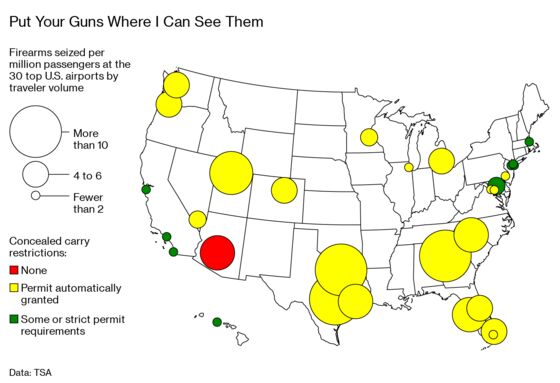 Putting a gun in checked baggage is legal as long as it's empty of bullets and properly secured. But it's illegal to carry a gun into a plane's cabin, even unloaded. If an agent finds a firearm in a carry-on, they'll stop the screening line and call local police. Many offenders, TSA officials say, have simply forgotten their gun is there.
The frequency of guns being brought to security checkpoints has hampered efforts to check travelers quickly. "Assuming that all those people who are caught with a firearm aren't terrorists, that's a huge distraction from the mission of TSA to keep terrorists off planes," says John Pistole, a former TSA administrator who's now president of Anderson University in Indiana. TSA agents halted screening processes after detecting guns in carry-on bags more than 4,200 times in 2018, a record. More seized guns than ever are also loaded: about 86% of those confiscated last year. More than a third had a bullet chambered, creating the risk the gun could go off accidentally at a checkpoint or inside a plane.
The increase "has nothing to do with the population of travelers," says David Chipman, senior policy adviser at Giffords, a gun violence prevention group, and a former U.S. Bureau of Alcohol, Tobacco, Firearms and Explosives special agent. "It has everything to do with the frequency of people carrying guns outside their home."
As of the mid-1980s only a handful of states operated under so-called shall-issue concealed carry permit laws. Today more than 40 states have passed such laws or allow concealed carry with no permit. Most of the states whose airports have the highest rates of TSA seizures—Georgia, North Carolina, Utah, and others—have passed additional laws expanding firearm-carry rights in recent years, including those that allow guns in bars, churches, buses, schools, and courtrooms.
In Texas, home to three of the top six airports for guns seized per 100,000 passengers, those with the proper license have been allowed to openly carry their handguns in a hip or shoulder holster since 2015. Since then, the number of seizures at Dallas's DFW Airport, a key hub for American Airlines, has increased 43%. Meanwhile, 33 million people passed through security last year at John F. Kennedy International Airport in New York, which has some of the strictest gun laws in the country. The number of guns seized: two.
Knowing where your gun is at all times is a crucial lesson taught in firearm safety classes, says Alan Gottlieb, founder of the Second Amendment Foundation, a gun-rights group. Keeping your firearm loaded when it's not in your control is "careless," says Dave Workman, an editor at the Second Amendment Foundation's online publication, TheGunMag.com. "That has always just stunned me that people do that."
Even though Democrats said gun control would be a priority after Congress's return from its summer recess, no legislation related to guns in airports has been introduced. And with Democrats attempting to balance a Trump impeachment inquiry with legislation on drug pricing and trade, it's unlikely any bills will be offered before the end of the year. At the state level, there weren't any bills relating to TSA checkpoints and firearms as of mid-September, according to the National Conference of State Legislatures.
House Homeland Security Committee Chairman Bennie Thompson, a Democrat from Mississippi, says that while he supports more technology upgrades to help the TSA screen for weapons, for now he's satisfied the agency is confiscating firearms. "I see it as a positive in a sense that we are catching the people, even if we catch it more," he says. And yet the agency has struggled for years to detect bombs and weapons in covert tests. In 2015 agents failed to uncover a weapon in 95% of internal tests, according to data leaked to ABC News.
The agency has improved its rate since then, acting Deputy Administrator Patricia Cogswell told reporters on Sept. 11 following a Senate oversight hearing. She declined to share its current fail rate. TSA Administrator David Pekoske says the agency is monitoring the rise in seizures and will consider potential action if the issue continues to escalate over the next year.
Tim Peek, who heads Atlanta's airport police team, suggests airlines should offer more detailed gun policy reminders to customers when they're buying plane tickets. "Ultimately it's not our goal to have to deal with it," he says. 
Michael R. Bloomberg, founder of Bloomberg News parent Bloomberg LP, is a donor to groups that support gun safety, including Everytown for Gun Safety.
To contact the editor responsible for this story: Jillian Goodman at jgoodman74@bloomberg.net