Turkey May Target Mormons Next After Case Against U.S. Pastor
(Bloomberg Businessweek) -- The apartment where Kenneth and Marilyn Abney once worked as Mormon missionaries sits opposite the local high school for Alsancak, a lively neighborhood in Izmir, western Turkey. They were also just a few hundred yards from fellow American Andrew Brunson, the evangelical pastor currently on trial for his alleged involvement in a terrorist plot to destabilize the country. A police cordon marks the home where he still lives, under house arrest.
Alsancak's tiny world of missionaries and converts seems an unlikely setting for so vast a conspiracy. And yet prosecutors allege that Abney, a retired U.S. special forces major, conspired here with Brunson to coordinate a group of malefactors that included not only evangelicals and Mormons—that is, members of the Church of Jesus Christ of Latter-Day Saints (LDS)—but also the Muslim Fethullah Gulen faith group (designated as terrorists by Ankara after Turkey's failed 2016 military coup), the Kurdish-Marxist PKK terrorist organization, an Israeli, an Iranian, and current and former agents of the U.S. Central Intelligence Agency. Abney has not been indicted, but prosecutors say he is "under investigation."
The Brunson case has taken on wide geopolitical significance, becoming the focus of a dispute between two of the world's more impulsive presidents: Turkey's Recep Tayyip Erdogan and the U.S.'s Donald Trump. "You dare to sacrifice 81-million Turkey for a priest who is linked to terror groups?" Erdogan thundered at the U.S. in a speech last month. He threatened to abandon ties with the West, turning his country to "new markets, new partnerships, and new alliances."
For all the political fireworks, when the two leaders met backstage at the United Nations on Sept. 25, they shook hands. They had seemed to get on well until last month, when Trump imposed sanctions on Turkey because, in his view, Erdogan welched on a previous deal to release Brunson. On Sept. 21, Secretary of State Mike Pompeo said he thought the pastor could be released as early as this month.
But even if the pastor is freed, the danger to the U.S.-Turkish alliance is likely to remain. So will the threat to Turkey's Mormons, who play a surprisingly large role in the Brunson case's complex alleged conspiracy.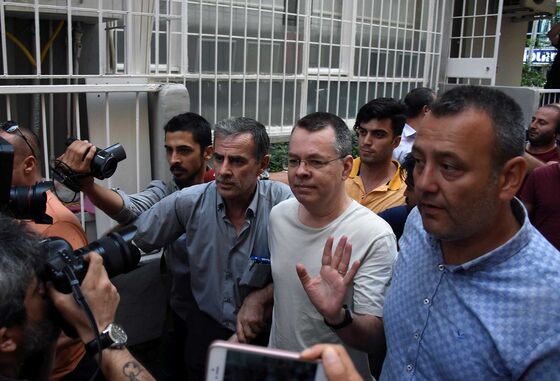 The pastor is merely a symptom of the rot that's afflicted the relationship for years. Since the failed coup attempt, two Turkish U.S. consulate officials have been arrested, and a Turkish-American sentenced to jail. In March, a New York court jailed a Turkish bank executive for helping Iran to evade U.S. sanctions. Fines against the state-run lender itself are expected. Congress, meanwhile, is threatening sanctions on Turkey over its planned purchase of a missile defense system from Russia. The two supposed allies are also at odds over whether to arm or destroy Kurdish fighters in Syria. More recently, Erdogan has sought to deflect responsibility for a collapsing domestic economy onto an alleged U.S.-led "economic war."
In those circumstances, Turkish law enforcement is more likely to roll out than roll up foreign conspiracies. "The case won't be over" if Brunson is released, says Cem Halavurt, Brunson's defense attorney. "There are so many accusations. I think they will start an operation against the other religious groups."
The indictment, filed in May, ties Brunson to three alleged coup attempts against Erdogan since 2013. Yet the sole evidence for the Brunson-Abney meetings at the center of the prosecution's conspiracy argument consists of cellphone tower records showing that, on the days the planning allegedly occurred, the two men's phones were in Alsancak. Given that both men lived there, that would have been true most days of the year. "We never met Brunson" or even knew of his existence until his 2016 arrest, says Abney, now 71 and on a Mormon mission in the U.S. Nor, says Abney, had he conspired in any way against Turkey. "We just wanted to help people," he says, by bringing wheelchairs to the disabled, pomegranate trees to poor villagers, and computers to schools.
According to Abney, the main witness against Brunson is almost certainly a former LDS member whom the prosecution has code-named "Dua," a word meaning "prayer," to protect his identity. Some of the evidence Dua produced comes from the Abneys' computer, according to Kenneth Abney, who says the laptop was taken for repair by an interpreter who was later expelled by the church for allegedly embezzling $10,000.
Dua makes some spectacular claims—for example, that an umbrella organization for Christian churches that's led by Mormons but involves the CIA, FBI, and National Security Agency controls the deployment of all U.S. Christian missionaries; that they identify each other in the field with a secret handshake, a curl of the middle fingers into the palm; that LDS members sent to infiltrate Turkish military high schools as language teachers all had a finger missing; that Mormons make up 40 percent of the U.S. military stationed overseas; and that evangelicals and Mormons are driven to Turkey by a common desire to bring about the end-of-days prophesies in the Bible's Book of Revelation, by reuniting the Kurds—the lost 13th tribe of Israel.
"It's all crazy," says Murat Cakir, an Istanbul LDS church member who is named in the indictment. For one thing, according to the U.S. Department of Defense, only about 18,000 (1.3 percent) of the 1.4 million American active-duty personnel were Mormons in 2009, the year the Abneys arrived in Izmir. That makes Dua's figure for Mormon servicemen overseas statistically impossible.
Many evangelicals do believe in the prophecies in Revelation but not Brunson, according to Erich Wieger, who used to preach at the same evangelical church in Izmir. "We had quite a few friendly arguments about that," Wieger said by phone from California, where he now lives. Brunson, he said, is "anti-millennial," meaning someone who considers the Book of Revelation to be allegorical. Wieger denied an allegation in the indictment that he is a U.S. intelligence agent.
In Turkey's judicial system, where Halavurt says defense lawyers have been battling cases concocted to meet political demand since long before Erdogan came to power, crazy can also be scary. Dua has addressed the court by video, his face and voice obscured. He alleges that Cakir met Brunson and Abney for three secret meetings in late summer on a Sunday in three consecutive years, 2010 through 2012. Cellphone tower records placing all three men in Alsancak on those Sundays are the sole evidence so far produced to support the claim. Yet not only were Abney and Brunson full-time neighbors, Abney had left the country by the time of the alleged third meeting in 2012. Cakir says he has never met or spoken to Brunson. He does confirm being in Alsancak one Sunday a year—to attend church when he and his family are at the nearby home where they spend part of their annual summer holidays.
It was at their alleged secret meetings that, Dua said, Brunson and Abney discussed a list of gas stations. Prosecutors conclude in the indictment that the list was collected as "entirely an act of espionage" to identify logistics centers for a future occupation force. But there is a simpler explanation: It was drawn up by Turkish LDS staff moonlighting for a British data collection company.
The company, now called Kalibrate Technologies Ltd., confirmed in a letter reviewed by Bloomberg that in 2004 it hired an LDS interpreter named Ara Topakian to survey gas stations across Turkey. Contacted by phone at the company's office in Manchester, the executive who signed the letter explains that the company collects data on gas station locations, their opening times, and basic facilities such as shops and carwashes. Kalibrate then sells the data to energy companies that use it to identify gaps in the market, and to companies that produce satellite navigation systems for cars. "We've done this work in virtually every country around the world," including Australia, Morocco, and South Africa this year alone, says the Kalibrate executive. "We've not tried to take over any of those countries." Topakian, who fell out with the LDS and is suing the church for lost income, didn't respond to emailed requests for comment. His cellphone has been disconnected.
Much of the indictment concerns the LDS community, and many of the most salacious allegations against them have gone unchallenged in court because Brunson's legal team is focused on proving he had nothing to do with his alleged co-conspirators, rather than contesting what each of them is alleged to have done. Cakir worries that prosecutors will harness the public distrust generated by the case to fuel a campaign against the LDS church next.
On a recent Sunday, six LDS worshipers gathered in a small room on the ground floor of the Izmir hotel that serves as their church. It's a short walk from there to the Abneys' old apartment. The small group of foreign tourists, NATO families, and one or two local Turks sang together in their own languages. Others joined by Skype. None gave their names for fear of reprisals. One said some Turkish members had stopped coming to services after police stopped them to ask if they were spies.
The prosecutor's office didn't respond to a request for comment. Through their lawyers, Brunson and his wife, Norine, declined to comment for this article. When a reporter visited the Brunsons' packed church in Alsancak on a recent Sunday, Norine asked him to leave.
"They're good people," says Ali Demir Kent, a 54-year-old cobbler whose store sits next to the Brunsons' church, of the congregation. He says he's never seen the Kurdish flags that witnesses in the indictment said are flown inside the sanctuary. Still, many Turks are convinced of Brunson's guilt, not least because he worked with Kurdish refugees and his godson is a Syrian Kurd who openly supports PKK-linked militias fighting alongside the U.S. in Syria.
Brunson has now been in jail or under house arrest for almost two years. His case is being heard in a former prison basketball court, converted to accommodate 270 defendants in a separate mass trial connected to the 2016 coup attempt. The pastor cuts a solitary figure amid the rows of empty seats in the court's vast dock, speaking up mainly to protest the lack of evidence for the allegations against him, to signal to his wife, and to ask to go home. "It reminds me of the courthouses the military junta built in the 1980s," says his attorney Halavurt, who sits so far away from the judge he has to push a button to ask permission to object to prosecution arguments. "The moment you enter, it tells you there is no justice here."
To contact the editor responsible for this story: Howard Chua-Eoan at hchuaeoan@bloomberg.net, Matthew Philips