In the Post-Pandemic Recovery, Mid-Cap Stocks Emerge as Winners
(Bloomberg Businessweek) -- After global markets plummeted in March 2020, stocks took off on a 15-month rally that pushed many shares to new heights. At first the recovery was led by so-called stay-at-home stocks—companies that benefited from millions of people sitting on the couch all day. More recently, investors have shifted their focus to businesses poised for a rebound in a reopening economy. Midsize companies, it turns out, are key constituents of both groups. The S&P MidCap 400 index has outpaced the S&P 500 by about 35 percentage points since the market bottom.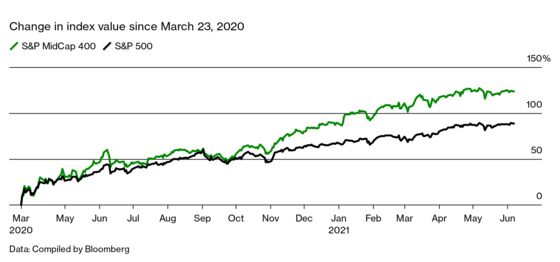 Why Mid-Caps?
Among the 331 members of the S&P MidCap 400 that break out foreign and domestic sales, 60% of revenue is from the U.S., compared with a little more than half for the much bigger companies that make up the S&P 500. The global reach of larger companies means they haven't benefited as much from optimism about U.S. economic growth. And they're more exposed to disruptions in international supply chains and increased antitrust activities in some jurisdictions. Mid-cap companies, with their U.S. focus, have raised their full-year revenue guidance more than at any time since at least 2017.

What's Next?
With its relatively successful vaccination drive, the U.S. is reopening faster than most places. This progress is sparking optimism on Wall Street that the U.S. economy will outpace its global rivals—which should play to the strengths of midsize companies. "I'd expect mid- and small-caps to outperform large-caps because they're more exposed to U.S. growth," says Callie Cox, senior investment strategist for Ally Invest. "With the market sputtering, mid-caps benefit because investors have to juggle a better U.S. economic outlook with uncertainty about inflation."

Here are six stocks that have soared since the market's nadir last spring, along with the share of their revenue that came from the U.S. in their last fiscal year.

Scientific Games
Revenue from the U.S.: 67%
Share price from market bottom to June 7: ▲920%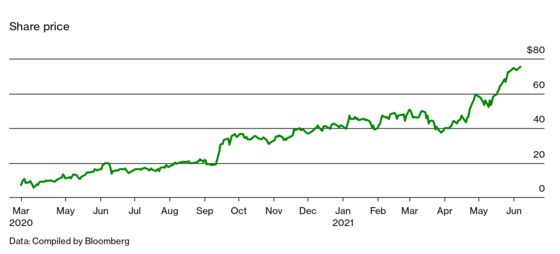 This Las Vegas maker of slot machines and digital gambling games was left holding a losing hand after the Strip locked down. But it also produces instant lottery games such as the $1 scratch-off tickets consumers turned to when they were told to stay at home.

Dick's Sporting Goods
Revenue from the U.S.: 100%
Share price from market bottom to June 7: ▲472%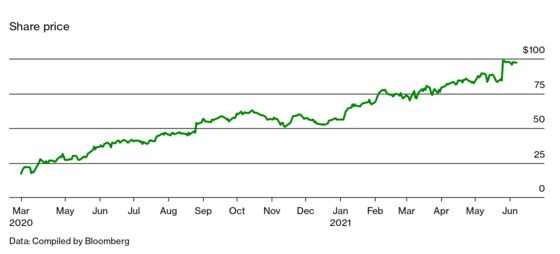 When gyms and yoga studios shut their doors, Americans snapped up weights, stationary bikes, and gear for golfing, hiking, and cycling. With 851 stores across the U.S., Dick's benefited from this pandemic-inspired home health boom.

Williams-Sonoma
Revenue from the U.S.: 94%
Share price from market bottom to June 7: ▲356%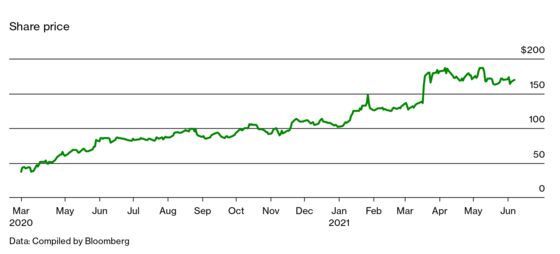 What to do when you're stuck at home 24/7? Redecorate, of course. As consumers eased the lockdown blues by installing kitchen cabinets, hot tubs, and backyard grills, they juiced the shares of this home-furnishings retailer.

Toll Brothers
Revenue from the U.S.: 100%
Share price from market bottom to June 7: ▲352%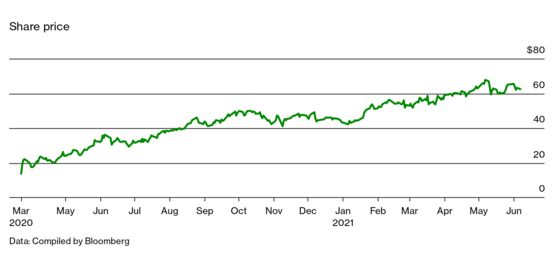 The luxury U.S. homebuilder has seen record orders amid a housing crunch that's sent real estate prices climbing faster than they have since the financial crisis. That surge means Toll Brothers is making money despite rising costs for materials such as lumber and concrete.

Six Flags Entertainment
Revenue from the U.S.: 94%
Share price from market bottom to June 7: ▲324%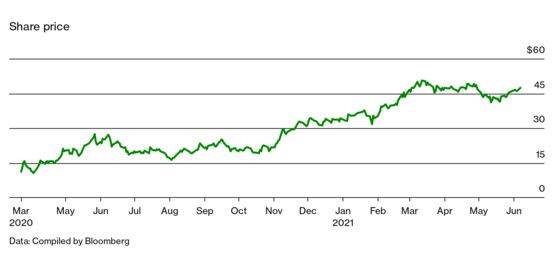 The theme park operator dropped almost 80% in the market collapse, but its roller coaster has come roaring back as investors expect big crowds this summer. After a couple of rough years, though, Six Flags stock remains 30% below its 2018 peak.

AutoNation
Revenue from the U.S.: 100%
Share price from market bottom to June 7: ▲257%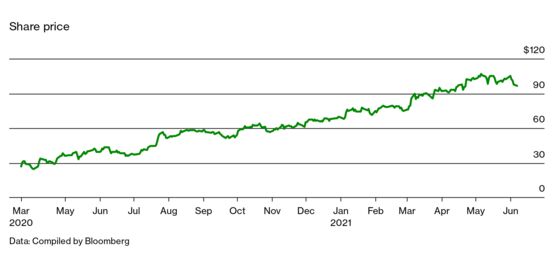 The largest U.S. auto retailer, with hundreds of stores in 18 states, has benefited as prices for used cars soar. Supply problems have slowed production of new vehicles just as consumers are returning to showrooms. —With Tom Contiliano