Miami Mayor Tries to Build a Tech Mecca, One Tweet at a Time
(Bloomberg Businessweek) -- The viral moment that turned Francis Suarez, the mayor of Miami, into a tech recruiter happened on Dec. 4, shortly before 9 p.m. Miami time. On Twitter, Delian Asparouhov, a Founders Fund venture capitalist, had mused: "ok guys hear me out, what if we move silicon valley to miami"?
"How can I help?" Suarez responded.
His tweet started bounding across the internet. Suarez printed T-shirts with the phrase, in Miami Vice pink and blue. A venture capitalist with Miami ties, Shervin Pishevar, papered a billboard with the mayor's face and a pitch—"Thinking about moving to Miami? DM me."—on the Bay Area stretch of U.S. Highway 101. Suarez even started a YouTube talk show, Cafecito Talk, where he interviews Miami boosters and would-be migrants. (Cafecito is a Spanish word for coffee.)
Given that he's become Miami's most visible hype man—tweeting with Elon Musk at 3 a.m. about boring a tunnel under the Miami River—you'd never guess he has a relatively powerless job. Suarez, 43, doesn't personally control a budget or a major workforce and dedicates significant time to his side gig as a real estate lawyer. That's a relatively common arrangement in South Florida, where the tiered government structure generally means that the county mayor reigns supreme. And in Miami, a city manager, not the mayor, directs day-to-day municipal operations. Yet Suarez has slipped into so many buzzy narratives in the past year that his fame has become a power unto itself.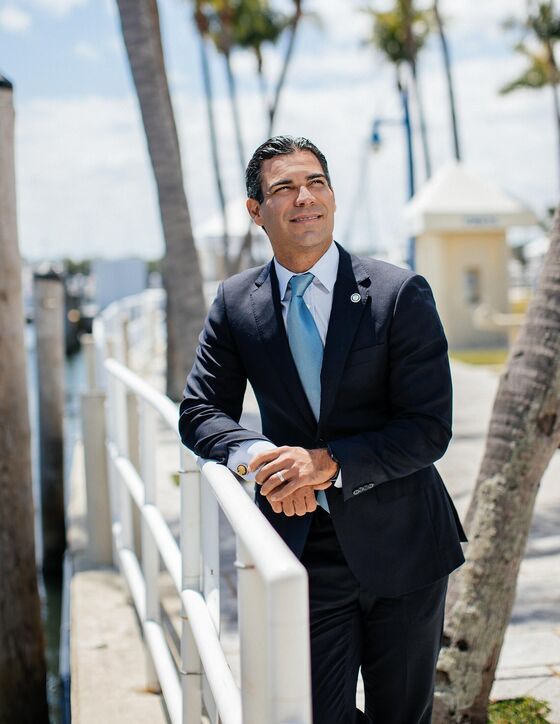 Although the Miami mayor's office is officially nonpartisan, Suarez is a moderate Republican who protested Donald Trump's border policies and criticized GOP Governor Ron DeSantis for his handling of the pandemic. A second-generation mayor (his Cuban-born father, Xavier Suarez, led the city through much of the 1980s and '90s), he captured national attention last March when he contracted one of the area's first known cases of Covid and gave dozens of interviews during his 18-day quarantine, including on The View and The Rachel Maddow Show.
The chisel-jawed Suarez has found a way to stay in the limelight. He tweets relentlessly and throughout the night about Miami's merits as a hub for industry; answers inquiries from seemingly everybody; and latches onto ideas, like the Musk tunnel, that generate headlines, even if the odds of their coming to fruition are long.
Tech and crypto leaders are listening. Sam Bankman-Fried, chief executive officer of FTX Crypto Derivatives Exchange and one of the world's largest crypto traders, says Suarez's efforts helped persuade him to pursue the pending $135 million branding rights deal for the Miami Heat basketball stadium. "One way to have impact on a community is to fill a role that has official authority," Bankman-Fried says. "Another way is by trying to lead in what you say, what you communicate and what you push for."
In other words, maybe sunny, low-tax Florida doesn't need new legislation to lure the next generation of innovators; it just needs better marketing. The notion that high-earning jobs in technology and finance could migrate to the Sunshine State took flight during the pandemic. Initially most of the talk centered on Wall Street, and it was Suarez who helped expand the pitch in earnest to Silicon Valley. He says he saw a window to bring better opportunities to an area known for its low-paying hospitality jobs and trade, but not cutting-edge entrepreneurship. South Florida has one of America's largest pockets of extreme wealth, with $30 million mansions and Ferrari dealerships up and down the coast, yet many of the state's billionaires are part-time residents and make their money elsewhere.
"Miami for many decades has been an intellectual talent exporter," says Suarez, who went to a local prep school and attended college and law school in Florida. "I have many, many friends who grew up, didn't go to school here, didn't come back."
Still, it's far from clear that Silicon Valley is ready to move en masse to South Florida, much less to the City of Miami, a 468,000-person swath of the metropolitan area. The city is home to a thriving financial district and many cultural amenities, but some of the area's most popular neighborhoods for the wealthy are in separate jurisdictions such as Miami Beach and Coral Gables.
LinkedIn Corp. has proprietary data on migration based on changes to workers' profiles, and its principal economist Guy Berger says there has "definitely been a large percentage increase in tech migration to Miami" from the San Francisco Bay Area. Yet, he says, the total back-and-forth flow of such people between the Bay Area and greater Miami is still less than one-tenth what it is on average between San Francisco and New York, Los Angeles, or Seattle.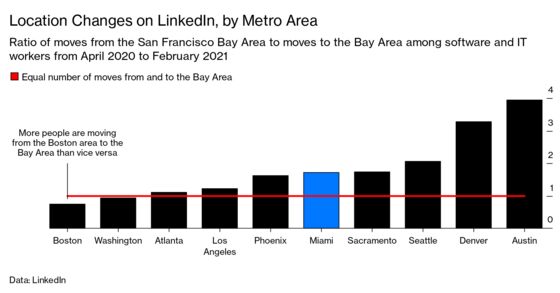 The hope—or fear—that the rich would leave high-tax states for ostensibly cheaper ones has been around a long time. Florida boosters predicted the state would lure large numbers of wealthy migrants after the Tax Cuts and Jobs Act of 2017, which capped deductions on state and local taxes and made Florida an even better deal when compared with, say, New York. Yet lawmakers in Washington are now mulling rolling back that same change, and it's not even clear whether Florida ever saw much of a benefit. Many Wall Street financiers decamped to Florida after April 2020, but many have also started to return. Such industry clusters as Wall Street, Hollywood, and Silicon Valley take generations to build and aren't easily replaced.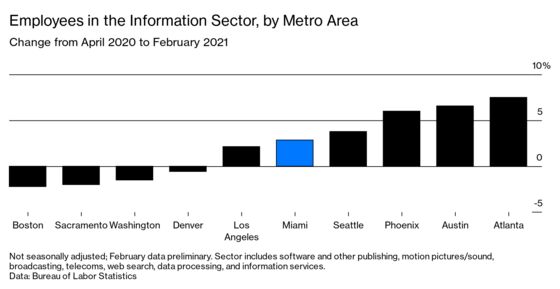 There are doubts about Suarez's more revolutionary goals, too. He doesn't have a vote on the Miami City Commission, so he depends on alliances within the body. At a Feb. 11 meeting, he promoted a resolution to potentially pay some municipal workers in Bitcoin, accept taxes in the cryptocurrency, and maybe invest city funds in it.
The idea created a flurry of press, but the proposal was neutered when it arrived at the commission, whose members would only agree to look further into the matter at some unknown future date. As Commissioner Joe Carollo noted, but Suarez had failed to mention, it's illegal for local governments in Florida to invest their savings in assets as volatile as Bitcoin. "I'm going to tell you what the city did," Carollo says. "Nothing."
Carollo, a fellow Republican, has portrayed the mayor as naive for his pursuit of a deal with Musk's Boring Co. to build a tunnel to alleviate traffic between downtown Miami and the Brickell financial district. Suarez traveled last month to meet with Boring executives, but Carollo believes the project would cost a fortune. The water table is so high in South Florida that there are hardly any basements, let alone tunnels, save for the one at the Port of Miami.
"We're always open to innovation, but I'm not going after every shiny new thing," says Miami-Dade County Mayor Daniella Levine Cava, whose government has jurisdiction over area roads.
Suarez says his accomplishments speak for themselves. He points to SoftBank Group Corp.'s recent commitment to provide $100 million in funding to Miami area companies. On Bitcoin, he notes that the City of Miami would have already turned a significant profit had it invested in the surging cryptocurrency when he suggested. And he vigorously defends the tunnel idea, saying he's "very, very bullish" on the Musk technology. "Listen, you never can do anything innovative, you can never do anything special if you always find a way to doubt yourself out of it," he says. "Sometimes it's better to have a big idea and push the envelope."
Suarez faces an election in November, and so far he has scant competition. Assuming he wins, he'll also head the U.S. Conference of Mayors next year. He says he won't rule out running for governor of Florida at some point, but "I don't want to be presumptuous, and I have a reelection and I'm going to take that seriously."
Levine Cava says she celebrates the "welcome messages from Mayor Suarez." She oversees a much larger population and budget but has one-third of his Twitter followers. It was Suarez—not Levine Cava, a Democrat—who got invited to speak at the White House in February.
 
Read next: The Work-From-Home Boom Is Here to Stay. Get Ready for Pay Cuts