An Oil Scion Is Giving a '60s-Era Dune Buggy a New Lease on Life
(Bloomberg Businessweek) -- The centerpiece of Phillip Sarofim's Los Angeles home is his garage. The immaculate space holds two of the most collectible cars in the world: his Ruf CTR Yellowbird and Lancia Stratos Zero, a wedge-on-four-wheels in burnt caramelized orange.
It's fair to say the venture capitalist, oil scion, and former Avril Lavigne paramour has access to pretty much whatever his heart desires. But his recent acquisition of Meyers Manx LLC runs slightly counter to the image of that blue-chip garage.
Sure, the fiberglass-tubed Manx dune buggies gained global attention when Steve McQueen drove one in 1968's The Thomas Crown Affair. An edition from that year sold for $55,200 at an RM Sotheby's auction in 2019. But at 1,200 pounds, just 90 horsepower on its four-cylinder engine, and not even the courtesy of a radio, the open-top rambler with knobby wheels is better suited to cruising deserted beaches than the Monaco promenades where you'd find that Lancia.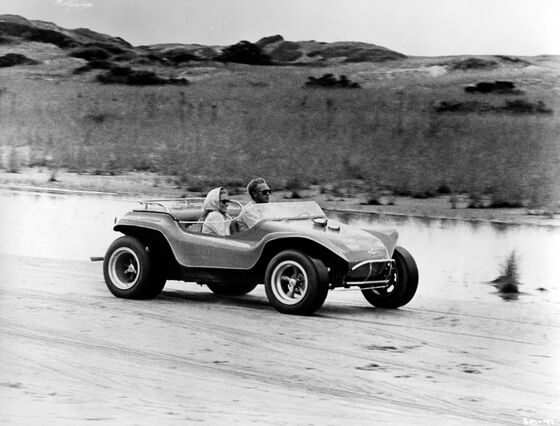 Its humble pedigree has no bearing on just how fun the Manx is to drive, Sarofim says: "It's a very pure sensation." The 34-year-old is the son of Fayez Sarofim, the billionaire part owner of the NFL's Houston Texans and one of the largest shareholders of pipeline company Kinder Morgan Inc. Trousdale Ventures LLC, based in Los Angeles and Austin, which the younger Sarofim founded, completed the acquisition of Meyers Manx on Nov. 9.
The buggies come with seating for two or four, a gleaming metal roll bar, and happy, round headlights that sit high on the short hood. Designer and company founder Bruce Meyers started building them in the 1960s while he was hanging out with surfers and abalone divers around California's Pismo Beach.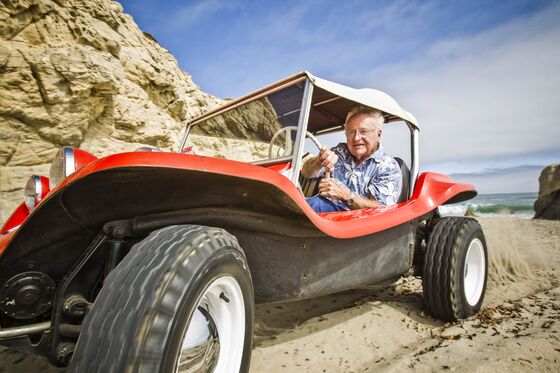 A prolific artist and musician, Meyers also built some of Cal Yachts' first mass-produced fiberglass sailboats. For his dune buggies, he cobbled components together from Volkswagen Beetles, Chevrolet Corvairs, and whatever else he could get his hands on. The DIY aesthetic captures "the essence of that 1960s period of freedom and love," Sarofim says.
He bought the brand from Meyers, now 94, and his wife, Winnie, on the recommendation of a mutual friend, the auto designer Freeman Thomas. Sarofim declined to disclose the price, though previous reports note most Trousdale Ventures deals have been valued at $1 million to $5 million.
"The Manx is all about the '60s love and rebellion," says Thomas, who's credited with designing Volkswagen's New Beetle and will lead the Manx team. "We want to capture that." He's known the Meyers since the 1990s, but the acquisition still took two years to complete. "Bruce had a lot of people trying to pursue the brand," he says, "and everybody just really didn't understand what it meant."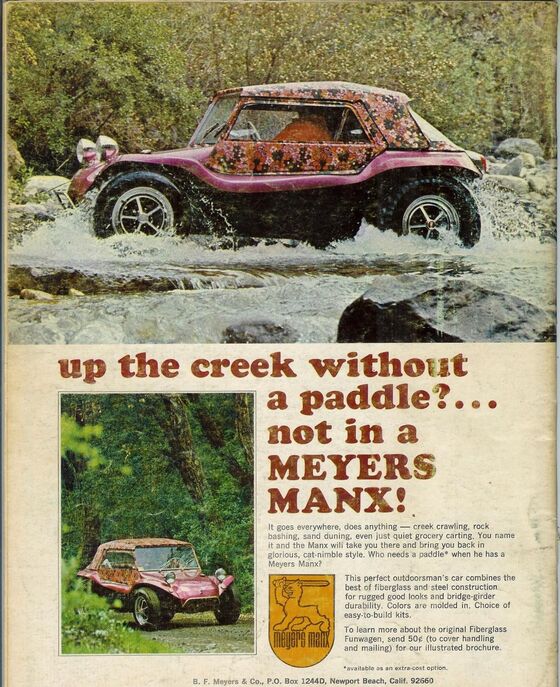 Manx is the latest in a spate of fresh funds reigniting aging automotive brands—similar to the way investment firms have been tapping nostalgia through acquisitions of heritage fashion brands such as Halston and Borsalino hats.
In 2009 former Fiat executive Gian Mario Rossignolo purchased De Tomaso, famous for its 1970s Pantera supercar, which spawned the band of the same name. But in February 2019, Rossignolo was sentenced to five years in prison for misappropriating government funds. Hong Kong investment fund Ideal Team Ventures acquired the branding rights in 2015, and this October it announced the company headquarters would relocate from Italy to Detroit in 2021.
In November, Rezam Mohammad Al-Roumi announced he had added Bizzarrini, aka the "thinking-man's Ferrari," to his Pegasus Brands, which owns a 50% share in Aston Martin Works. Neither has produced a modern road-going model yet.
Consumers tend to grant prolonged honeymoon periods for such storied names, though. Cars from the heritage brands "are spectacular, and there is a lot of appeal to that," says David Gooding, president of the Gooding & Co. auction house. "The Manx in particular is such a time-transcendent object that it makes a lot of sense, too. It's a great product. With the new life and enthusiasm that Phillip will bring to it, it's got a lot of potential."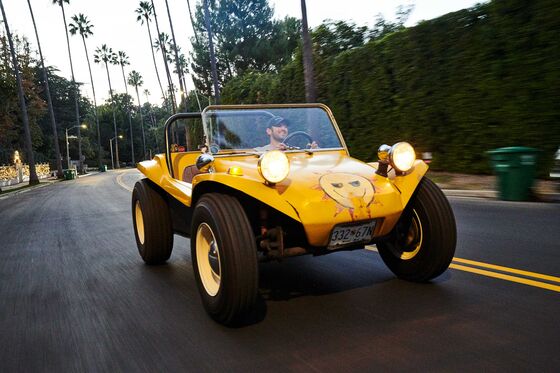 Sarofim comes by his love for the Manx honestly. He's owned them for nearly two decades, including his current stash of a yellow 1964 model nicknamed "Sunshine" and a 1967 version in emerald green. "They put such a smile on my face, and others'," Sarofim says. "It's the only car I own that my 5-year-old daughter even cares about going for rides in. She is just crazy over it."
The first objectives for the brand new LLC include overhauling the archaic website and building an online configurator; the primary focus for new products will be an electric version. "There is no fun EV on the market, so we intend to change that," Sarofim says. (True, the Moke is an open-top EV, but it's more similar to an urban golf cart for riding around St. Barts than a rugged dune buggy.) Eventually, he plans to add powerful, street-legal models that can carve Mulholland Drive, as well as off-road versions suitable for desert racing.
Pricing will remain as accessible as when the Manx made its debut—a base model then cost about $600. New ones start at $2,400. But you'd better be good with a wrench: They'll ship in parts, so full assembly is required.