Meet the Bro-och: The Lapel Jewelry That's Taking Red Carpets by Storm
(Bloomberg Businessweek) -- On the red carpet at the Golden Globes in January, it was impossible to ignore Aquaman star Jason Momoa. The 6-foot-4-inch titan was wearing a plush green blazer by Tom Ford over a tank top, of all things, which he revealed with gusto later in the evening as he draped his jacket around wife Lisa Bonet's shoulders. But the most eye-catching item on his outfit was the cluster of diamonds, onyx, and emeralds on his left lapel—a dazzling art deco brooch by Cartier, one of many pieces of jacket jewelry storming Hollywood of late.
The old-timey brooch is back, and this time around, it's not only dowager countesses embracing the trend. "Men are adding lapel pins as the finishing accessory to their evening attire," says Elizabeth Doyle of the New York vintage jewelry store Doyle & Doyle. "Recently we have seen a resurgence in the popularity of brooches for men in more whimsical styles."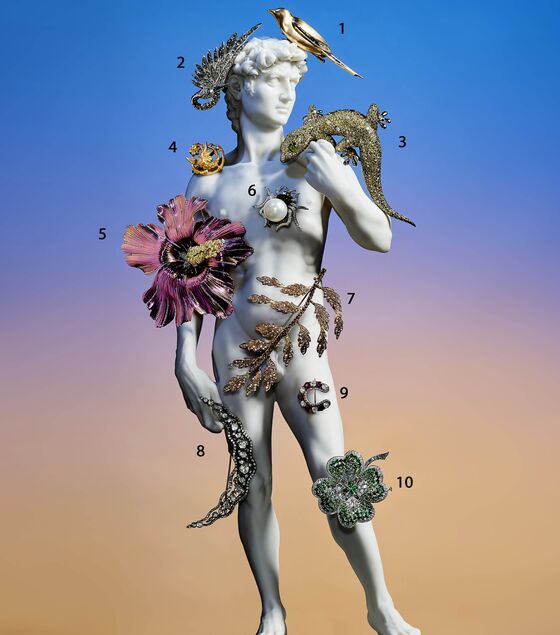 Lapel pins have a long tradition, worn for centuries to confer status or membership in a group. Fiona Druckenmiller, the owner of Manhattan's FD Gallery, which specializes in one-of-a-kind 20th century pieces, explains that historically "many important men used jewelry, and specifically brooches, to share with others their personal narratives: their wealth, their station in society, their military rank."
The late designer Karl Lagerfeld pioneered the renaissance of the brooch, wearing them on his famous black ties. But it was Pharrell Williams who gave brooches contemporary credibility when he wore a diamond camellia at the 2017 Academy Awards. Jeff Goldblum donned a dramatic star brooch for the recent launch of Tiffany & Co.'s men's jewelry collection, and the brand included several in its 2019 Blue Book of high jewelry. And recently brooches have appeared on tastemaking actors and musicians such as Chadwick Boseman, Common, Jared Leto, Alexander Skarsgard, and country music duo Dan + Shay.
"Brooches are not just for black tie," Doyle says. "They can work equally well for a casual look and are great on a denim jacket, either alone or worn in a cluster." Styled as such, or in a hatband, they're a great way to infuse personality into a simple wardrobe staple.
"I am being asked more frequently to design brooches for male clients," says jewelry designer Shaun Leane. "They add a layer to their personas and make for great conversation pieces."
His personal favorite is a 22-karat gold beetle brooch, which he says adds character to his suits. "It's exciting to see men becoming more experimental in the jewelry they wear," he says. "It comes after a long period of them being afraid to express their personality through jewelry."
To contact the editor responsible for this story: Chris Rovzar at crovzar@bloomberg.net, James Gaddy