Mallorca's Soft Sausage Is Becoming a Secret Weapon for American Chefs
(Bloomberg Businessweek) -- Sobrasada faces one major roadblock on its way to world domination: its name.
The soft, brick-red-colored sausage from Mallorca is frequently confused with its better-known, distant Italian cousin ­soppressata, the dry salami familiar to anyone who's ever sampled a charcuterie platter.
But sobrasada fans, who appreciate its pungent spiciness mixed with a melt-in-your-mouth richness, believe it will become as popular as its Italian counterpart. Chef Fabio Trabocchi uses the sausage in a few ways at his elegantSpanish restaurant Del Mar in Washington, D.C. "It's the next nduja," he says, referring to the trendy, spreadable pork product from Calabria that chefs use to punch up pasta, pots of mussels, and pizza.
Sobrasada is made from cured raw pork mixed with salt, pepper, and hot paprika. Like nduja, it has the benefit of a soft texture. "It's more useful than hard sausage," says Trabocchi, who stirs it into the base of a roast duck paella and offers it at brunch in a rich tomato sauce on sunny-side-up eggs. His preferred service is as charcuterie, where he takes advantage of the smooth fattiness by serving it tableside from a warmed spoon, so it melts ever so slightly on the plate.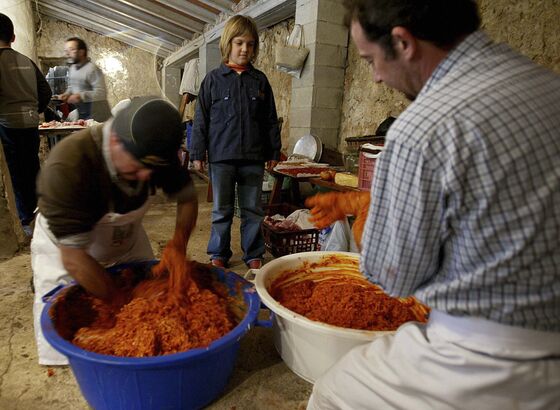 Sobrasada may be relatively new to the U.S., but it dates to the Renaissance, when the technique of compressing ground meat with salt and spices to preserve it—­sopressa in Italian, or pressed—became prevalent around the Mediterranean. By the 1600s, sobrasada was a signature product of Mallorca, one of the Balearic Islands east of Spain. Climate dictates the charcuterie that a region produces. Mallorca, like nduja's home, Calabria, is hot most of the year; before air conditioning, it was dangerous to hang meat to cure long enough for it to become dry and hard. In 1996 the European Union officially recognized Mallorcan sobrasada as a geographically protected product, like Parmigiano-Reggiano.
Now Spanish menus across the U.S. feature it. The stylish La Vara in Brooklyn serves it on toast with honey. Rincon Español in Miami uses it as a sandwich filling.
Home cooks can find sobrasada at the Spanish Table website for $12.99 a pound. Trabocchi says Chicago's 'Nduja Artisans is making the best commercial version; owner Tony Fiasche started making sobrasada about two years ago for José Andrés's vaunted Spanish restaurant Jaleo in Las Vegas. To create it, Fiasche used top-of-the-line Iberico pigs and pricey smoked paprika.
"At first people didn't know what sobrasada was," he says. "Now it's hard to keep up with demand."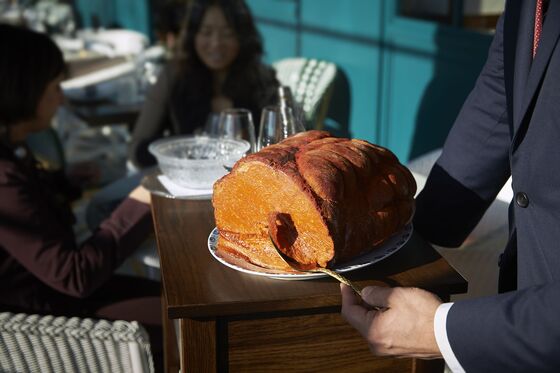 To contact the editor responsible for this story: James Gaddy at jgaddy@bloomberg.net, Chris Rovzar