Campaign Snapshot: Maine Race Is a Test of Democrats' Rural Appeal
(Bloomberg Businessweek) -- Republican Representative Bruce Poliquin of Maine was giddy as he brandished a large pair of scissors to cut the ribbon at the unveiling of a new cancer research facility in Ellsworth on a bright August afternoon. The newest branch of Jackson Labs, a Maine medical research company that dates back a century, would soon begin breeding millions of cancerous mice, and Poliquin, the local congressman, couldn't stop extolling the virtues of "these fabulous critters," as he called them.
Politicians love ribbon-cuttings because they symbolize economic vitality. For Poliquin, the 350 new jobs Jackson Labs will create are especially welcome. In Maine's vast 2nd Congressional District, which stretches from the Canadian border to the "Down East" coast, good new jobs are hard to come by. And like many Republican incumbents this cycle, Poliquin, a 64-year-old businessman first elected in 2014, has reason to worry about his own job.
In November, he'll face off against Democrat Jared Golden, a 36-year-old state lawmaker and Marine Corps veteran, in what's expected to be one of the tightest House races in the country. The race is significant not only because it could decide control of the House, but also because it's a rare example of a Democrat running competitively in a rural district. While many urban and suburban areas have shown a pronounced swing away from Republicans since Donald Trump's election, rural districts have mostly held fast. A poll in August suggested the race was neck and neck. But a Sept. 14 New York Times/Siena College poll had Poliquin up 47-42.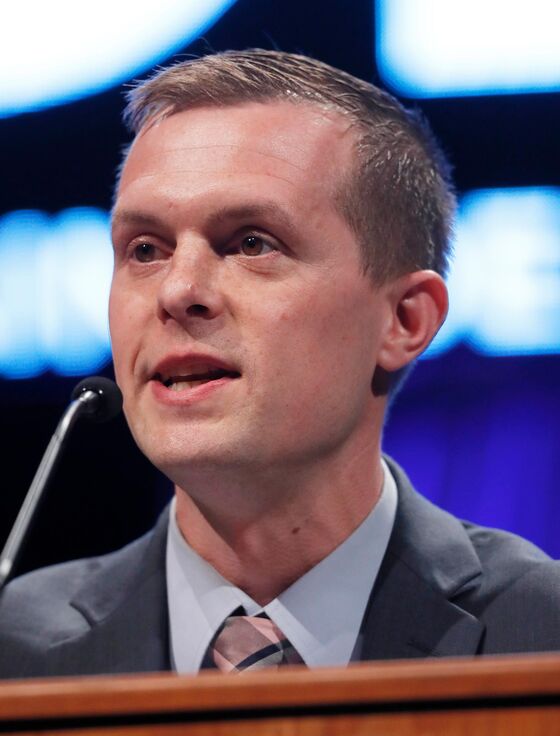 Poliquin is determined not to feed the national narrative about a backlash to Trump, even as Republican and Democratic super PACs pour millions of dollars into the race. When he stepped off stage after the ribbon-cutting, Poliquin claimed to see no evidence of a blue wave and met questions about Trump's influence on the race with the feigned ignorance common among GOP congressmen. "You know, I don't focus on him," he said. Even so, Poliquin's race will be a bellwether for where politics stands at the midway point of Trump's first term, as well as an indicator of whether Democrats can win back some of the heavily white, rural, working-class areas they've lost.
Maine's 2nd District exemplifies the sharp swing from blue to red seen elsewhere in the country. In 2012, Barack Obama won by a comfortable 10-point margin. Four years later, Trump's message of restoration struck a chord, and he carried it by seven points. Hollowed out by globalization, with many of its paper mills shuttered, the state's interior suffers from what James Myall, an analyst at the Maine Center for Economic Policy, calls "a rural Great Depression." Maine's economy lags behind the rest of New England and the nation, and the 2nd District still hasn't recovered from the 2008 crisis. "If you drive along rural Maine," said Poliquin, "these buildings are still standing: boarded-up, old brick mill buildings. It's a reminder that the business climate—the smokestack industries in Maine—have for the most part left."
Poliquin's answer has been to push the national Republican agenda, including the tax cut and the unsuccessful effort to repeal the Affordable Care Act. That's a particular risk in Maine, which has the oldest population of any state and recently passed a ballot initiative to expand Medicaid coverage. (The Republican governor, Paul LePage, has held up the expansion, citing funding issues, and the matter is tied up in court.) "When you're the oldest state, you need a lot of health care," said Golden, who has embraced the national Democratic focus on the issue. Furthermore, he added, "the health-care industry is the fastest-growing job creator in the state." In interior regions where other industries have collapsed, hospitals often represent the largest employer.
Hanging over this race, like every other, is the specter of Trump, whose campaign signs still dot the rural backroads. While both candidates prefer to focus on local issues, Trump's trade war threatens to take a bite out of the state economy. Chinese retaliatory tariffs on U.S. seafood have hit the lobster industry, which is now centered in the 2nd District port of Stonington. The political impact is still unclear. "Ask any fisherman on any given day, and depending on how he voted in 2016 he'll tell you that prices are down, either as a result of tariffs or greedy dealers or fuel costing too much," said Dan Bookham, a business development expert in Rockland. "There's concern, but it hasn't translated into guys putting boats up on the beach yet."
With both Poliquin and Golden agreeing that job growth is the vital economic issue, the race could come down to a question of who more authentically represents the district. Poliquin insisted he's not "a part of that mess down there" (meaning Washington) and suggested Golden is "a nice young fella with a career in politics." Democrats believe the race is close because Golden—whose forearms bear prominent tattoos of Celtic crosses and Jesus, mementos of his Marine Corps days—quite clearly isn't a career politician.
If he makes it to Washington, Golden will represent a new path forward for Democrats. And that's not all. "I've been told that if I win," he said, "I'll be the most tatted member of Congress."
To contact the editor responsible for this story: Matthew Philips at mphilips3@bloomberg.net