Madrid Is Trying Out E-Scooters in Its Quest to Beat Traffic
(Bloomberg Businessweek) -- Growing up, Javier Asensio rode the bus to school and around town on weekends. Then, when car-sharing arrived in Madrid a few years ago, he started driving more frequently. But for the past year he's shifted to another option: electric scooters in a rainbow of bright colors available across the city. "Scooters are by far my first choice," says the 27-year-old management consultant. "Traffic and parking are easy, and I love riding them."
A half-dozen companies have flooded Madrid with electric versions of Vespa-type sit-down scooters. Riders pick them up and drop them off anywhere in the city center and surrounding areas, paying about 25¢ per minute. They're booked and billed via a smartphone app, which can guide users to the nearest bike, track how long they've been riding, and e-mail a bill moments after they park. The city has about 5,000 scooters, up fivefold from a year ago—the world's biggest fleet, says Enrico Howe, an analyst at mobility consulting firm MotionTag. Madrid is "the capital of scooter-sharing globally," he says.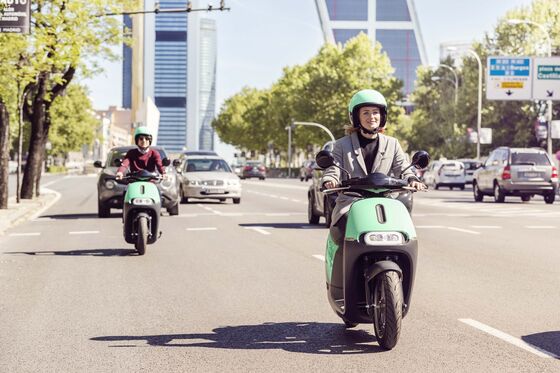 For Madrid, it makes sense. The city has long struggled with soul-crushing traffic and the resulting noise, pollution, and productivity loss. The government has fought back with various measures: electric car-sharing, zones where combustion engines face restrictions, and a proposal for free Metro rides on particularly bad days. E-scooters will be an integral part of the strategy, and Madrid wants to make them easier to find and ride, says Paz Valiente, the local official responsible for mobility. The city has made it legal for scooters to use bus lanes, allowed them to push ahead of cars at traffic lights, and is seeking to expand the areas where they can be used. "Car-sharing introduced people to electric mobility and shared vehicles," Valiente says. "Now that's helping boost the expansion of scooters."
For the companies that provide the services, Madrid has become a testing ground as they eye expansion across Europe and beyond. The city's dry climate and compact-but-congested center make it a good place to try out equipment and better understand what users want. And with so many operators jumping into the market, they'll all be forced to hone their efficiency if they hope to survive, says Luis González, head of the local operations of Coup, a unit of Germany's Robert Bosch GmbH that arrived in Madrid last year. This year, Coup expects to increase its fleet in the city by 60 percent, to more than 1,300 bikes. "With so much competition, the bar is higher," he says. "The lessons we learn in Madrid will be surely applied elsewhere."
In many ways, electric technology is a better fit for two-wheelers than for cars and trucks, making shared scooters a harbinger of things to come. Cars weigh at least 10 times as much as the passengers they carry, but scooters are about the same weight as a person, so riders haul less metal as they move through the city. Scooters are more nimble and take up less space, both when moving and when parked. Few people use them for much other than commuting, largely eliminating range anxiety. And the batteries are small enough to carry inside overnight for charging, so the lack of a garage or designated refueling point isn't a problem. "We don't need to bring the bikes to recharging stations," says Ramón Piñeiro, head of new business at Acciona SA, a Spanish construction giant that last year introduced a scooter service in the capital and today has a fleet of 1,000. "We just take a van out and swap the batteries wherever they are."
The scooter companies are starting to encounter hurdles, though, particularly competition from other electric two-wheelers. The city runs its own service of pedal-assisted e-bicycles, BiciMAD, which has 2,500 bikes on the streets and 70,000 users. And the city has issued permits for 10,000 electric stand-up scooters. About 20 companies, including Acciona, Lime, and Jump Uber have applied for them, and hundreds of the scooters have already popped up on the streets. Both of those alternatives are cheaper to buy and operate than sit-down scooters—though they don't go quite as fast and they're more easily damaged.
María Eugenia López Lambas, a professor at Polytechnic University of Madrid, says that if the growth rate continues, all of the options are likely to face new rules. "Regulation today is meant to encourage this kind of service," she says. "But some kind of restrictions will be needed if they keep expanding."
To contact the editor responsible for this story: David Rocks at drocks1@bloomberg.net, Eric Gelman