China Is Leveraging Its Vaccine Diplomacy Beyond Covid Shots
(Bloomberg Businessweek) -- The pandemic made China the world's top exporter of Covid-19 vaccines, mostly to nations that haven't been able to afford or procure more effective ones from the U.S. and Europe. Now the country is using that newfound leverage to make an aggressive overseas push for its vaccines against other diseases such as Japanese encephalitis and pneumonia, competing with giants including Pfizer Inc. and Merck & Co.
Studies have found the Chinese Covid shots to be less effective than some Western ones, such as the mRNA vaccines from Pfizer and Moderna Inc., and there have been repeated questions about the transparency and data standards of its vaccine makers. Even so, developing nations that have had little access to other coronavirus vaccines are poised to grow more dependent on Chinese companies for shots against other ailments.
The expansion marks a dramatic ascent for China's pharmaceutical industry and could give poor nations cheaper access to life-saving shots. It will also help President Xi Jinping's administration wield more soft power globally. Serbian President Aleksandar Vucic has already said Xi may get a statue in the capital of Belgrade for supplying the country with more than 4 million doses of Covid vaccines, supporting local businesses such as the steel industry, and providing geopolitical backing.
China's state-run Sinopharm is a partner in a sprawling factory being built near Belgrade that Serbian Premier Ana Brnabic says "will be able to make vaccines for other diseases … not only in Serbia, but also for export." In Morocco, China's Walvax Biotechnology Co. is selling a vaccine against childhood pneumonia. Other Chinese companies are selling inoculations—for diseases from flu to hepatitis—to places such as Indonesia and Egypt, building on the success of Covid vaccine exports. "China historically has not been a vaccine exporter, so this shift in the midst of the pandemic is one of the ways in which this pandemic has changed the world," says Thomas Bollyky, director of the global health program at the Council on Foreign Relations. "It has enabled China to be a global player in vaccines in a way it has not before, and I suspect that will stick."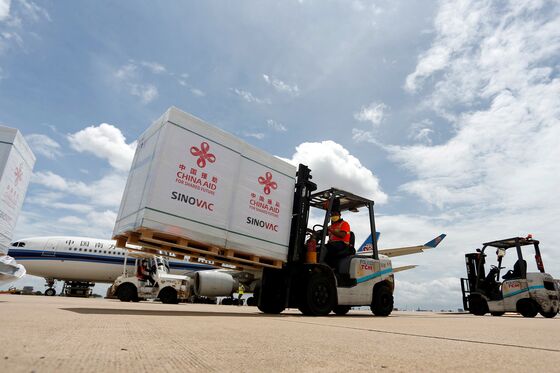 Covid has shown just how quickly the Chinese pharma industry can mobilize. China has exported more than 1.5 billion doses of Covid vaccines across the globe, with Sinovac Biotech Ltd. becoming the world's No. 1 provider by shipping a total of 1.9 billion doses at home and overseas, topping Pfizer's 1.5 billion in late September.
That determination is on display at Walvax, which began in 2001 in the southwestern city of Kunming. It started with so little funding that it had to borrow from loan sharks at exorbitant rates to pay salaries. The company went on to participate in government-funded programs to master new vaccine technologies. Today it has a market value of $13.5 billion and sells shots for meningitis, pneumonia, and other diseases in China and overseas.
A couple years ago, Walvax Vice Chairman Huang Zhen became eager to challenge Pfizer's leadership in pneumococcal vaccines to protect against childhood pneumonia, whose sales bring the New York-based company $5.8 billion in annual revenue. For Walvax, accelerating the trials for its own shot was a costly endeavor. To persuade the company to move more quickly, Huang promised to liquidate his stock in Walvax and cover its expenses of 75 million yuan ($11.7 million) if the vaccine failed.
The company went on to introduce a competitor to Pfizer's Prevnar 13 in China in 2020. Its shot sells for 598 yuan per dose there, about 15% less than Pfizer's. The U.S. company has since lost more than 40% of its market share in China for the inoculation, according to government data. Huang predicts similar success for its pneumococcal vaccine in developing nations, where he says it could be an alternative in places unable to secure Prevnar 13. Pfizer declined to comment. Although the company lost market share in China since Walvax introduced its pneumococcal vaccine, volume of Prevnar-13 has still increased 35%, because the market for the shot is getting bigger with new entrants driving more usage of such shots. "In 5 to 10 years' time, some of the Chinese companies will rise as serious contenders globally," Huang says. "Covid really shows the potential of Chinese vaccine makers."
Merck also faces a threat to its blockbuster Gardasil vaccine against the human papillomavirus, which causes cervical cancer. China's Xiamen Innovax Biotech Co. last year began distributing an HPV vaccine in China. The World Health Organization backed the shot in October, paving the way for it to be registered and purchased across the developing world. Innovax already has an agreement to sell to Thailand. "In terms of quality, I'm confident we are not bad at all," says Wendy Huang, Innovax's director of business development. But "it takes time for a Chinese company to become more engaged with the rest of the world."
The high demand for HPV shots from wealthy countries and the limited supply of approved brands have caused setbacks for the WHO's goal to eliminate cervical cancer. International organizations such as Gavi—an alliance led by the WHO, the World Bank, the United Nations Children's Fund (Unicef), and the Bill & Melinda Gates Foundation to supply vaccines to poor children globally—have already been touting the Innovax vaccine as an option for affordable access. Still, it protects against fewer varieties of HPV than Merck's shot. Merck in a statement said Gardasil sales haven't been hurt in China, where demand for the vaccine is high. It said it believes its vaccines bring additional benefits, helping prevent more HPV-related cancers and diseases by covering more HPV types.
Covid shot leader Sinovac is also building a portfolio of vaccines, including some for chicken pox and polio that are being reviewed by the WHO. Sinopharm already sells Japanese encephalitis vaccines in India and Southeast Asian nations. To gain a global footprint for their non-Covid shots, the Chinese companies are often selling them for less than Western brands and seeking "prequalification" from the WHO, a widely recognized guarantee of safety and effectiveness for governments in poor countries. WHO approval also makes drugs eligible for procurement by international organizations such as Gavi and Unicef.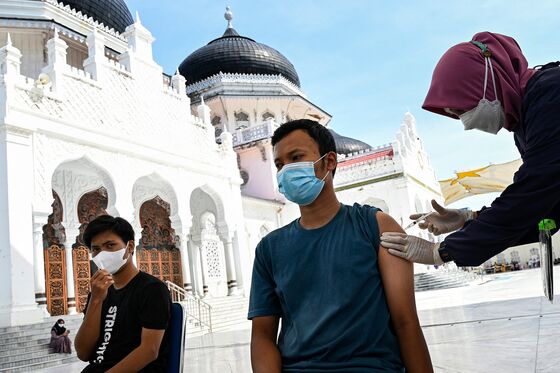 For now, China's main advances are likely to be in low-income countries, meaning its pharma companies will compete mainly with those of low-cost Indian suppliers in the developing world, Bollyky says. Still, questions have persisted over the ability of Chinese Covid vaccines to prevent infections, given their lower efficacy in clinical trials and the number of new cases many countries continue to experience despite mass vaccination. Some nations relying on Chinese vaccines, including Thailand and Brazil, are now turning to more potent mRNA shots developed by Western companies.
Chinese drugmakers and government health authorities have publicized few details about safety issues with the homegrown shots, despite anecdotal evidence of some people suffering severe allergic reactions or dying after receiving them, though it's unclear whether the inoculations played any role. "One of the concerns that a lot of people have is the lack of transparency around the manufacturing, safety, and efficacy," says Anna Durbin, professor of international health at Johns Hopkins University's Bloomberg School of Public Health.
Studies have shown the Chinese vaccines to be safe, and Sinovac has repeatedly said its shot has reduced hospitalizations and deaths by more than 80%. But Chinese companies also say the pandemic has taught them vital lessons on managing international trials and following scientific protocols. "We are learning from Pfizer, learning from Moderna, to do everything just as rigorously and along the same standards," says Walvax's Huang.
The pandemic has also showed that vaccines can be lifesavers for poor nations, even if they aren't the most potent ones available. Chinese companies stepped in to provide hundreds of millions of Covid shots to the WHO's Covax vaccine program for mostly poorer countries when India curbed exports.
"If Africa is a healthier continent and a more prosperous continent because of China," says Barbara Nattabi, a research fellow at the University of Western Australia's Africa Research and Engagement Centre, "that gives China a way in." —Bruce Einhorn and Dong Lyu, with Misha Savic
 
Read next: Australia Braces for Life After Covid Zero