Lula's Comeback Roils Brazilian Politics and Chills Investors
(Bloomberg Businessweek) -- The battle for Brazil's top office is likely to be fought between two men whose careers were made—or were thought to have been ended—by the landmark anticorruption probe known as Operation Car Wash.
On March 10, former President Luiz Inácio Lula da Silva blasted the probe, declaring himself a "victim of the biggest judicial lie in 500 years" of the nation's history, before taking aim at his chief rival and accusing current President Jair Bolsonaro of turning Brazil into a Covid and economic catastrophe. Lula refused to say whether he'll seek the presidency next year. "That's a discussion for the future," he told reporters.
But he didn't have to. Two days earlier a Supreme Court justice tossed out a pair of graft convictions that had put Lula, a leftist who was Brazil's president from 2003 to 2010, behind bars and had permanently banned him from elective office. Now the growing consensus among investors, legal scholars, and even would-be opponents is that Lula is probably back to stay.
The decision is not final, and Bolsonaro's hand-picked prosecutor general is already challenging it. But even the president recognizes that the appeal is unlikely to succeed and a 2022 matchup with Lula is a real possibility. Bolsonaro considers the leftist Workers' Party as his main adversary in next year's election, and he isn't afraid of facing Lula, according to close adviser Onyx Lorenzoni. "Lula will suffer the biggest defeat in his life in 2022," Lorenzoni said in an interview at the presidential palace.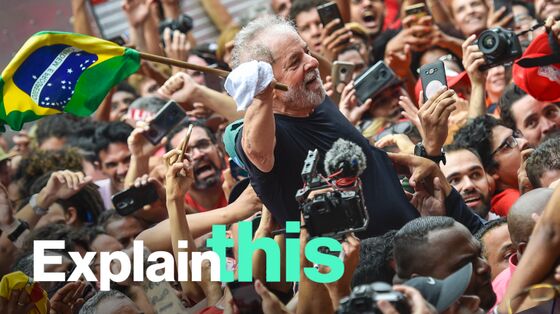 After the ruling, the Brazilian real sank as investors guessed that the prospect of vying for voters against Lula would lead Bolsonaro, a hard-right populist, to set aside his promise to fix ailing public finances. They fear the candidates will pledge more spending in the middle of a protracted fiscal crisis.
In his address—his first public appearance since his convictions were annulled—Lula accused Bolsonaro of fueling one of the world's worst Covid‑19 outbreaks with a business-over-lives attitude. The normally mask-wary Bolsonaro appeared on television hours later with his face covered. "We have been and are tireless when it comes to combating the pandemic," he said.
Early polls are mixed. (Officially the campaign kicks off in the second half of 2022.) But veteran politicians say that given the political weight of the two men, there's now much less room for a third candidate, even though a lot of voters have reservations. "Both Bolsonaro and Lula have a strong electoral base, which indicates polarization," says Congressman and former House Speaker Rodrigo Maia. "At the same time, there is huge rejection of the Workers' Party and bolsonarismo." São Paulo Governor João Doria, once seen as a top contender, indicated he may no longer seek the presidency. "Polarization won't bring any benefit for Brazil," he said in an interview.
A onetime trade unionist, Lula held office in an era of relative plenty fueled by a commodity boom and expanding social programs. A subsequent economic slump and the graft charges have left a lasting stain on him and his long-ruling Workers' Party.
Lava Jato, or Car Wash, was born out of a 2014 inquiry into money laundering at a gas station in the capital, Brasília. Prosecutors unraveled a web of kickbacks and illegal contracts centering on state oil giant Petrobras, and ensnaring some of Latin America's most elite executives and leaders—including Lula. According to Brazil's prosecutor general's office, hundreds were arrested and more than 4.3 billion reais ($770 million) in ill-gotten funds were recovered.
Bolsonaro may be hoping to sell himself as the clean candidate once again. Back in 2018, he was a political outsider who found an opening when Car Wash-related charges ended Lula's candidacy. But after years of jaw-dropping revelations about their leaders, analysts say, Brazilians have become jaded about corruption and are much more concerned about the pandemic. There are also many doubts about Bolsonaro's own graft-fighting bona fides. Perhaps most glaring is that he ended Car Wash, declaring last year there is "no more corruption" in Brazil's government. The office of the president declined to comment on its closure of Car Wash. Yet Geert Aalbers, a partner at Control Risks in Brazil, says there has been backsliding in anticorruption enforcement since Bolsonaro took office.
One of the biggest doubts about the Car Wash probe is the fallen-star judge Sergio Moro, who spearheaded the operation. He became Bolsonaro's justice minister in 2019. A series of hacked phone messages published by the Intercept showed apparent coordination between Moro and the case prosecutor, casting doubt on his methods and motivations. (Moro later quit the administration and has denied wrongdoing.)
In the March 8 ruling that involved Lula, Supreme Court Justice Edson Fachin annulled two convictions of corruption and money laundering (and two pending cases) on the grounds they were tried in the wrong jurisdiction. Other cases are pending. Still, it's very unlikely that the government could retry one of the nation's highest-profile cases and get two convictions before Election Day, and given statutes of limitations, 75-year-old Lula is likely to walk, says Michael Mohallem, a professor of law at the Getulio Vargas Foundation in Rio de Janeiro.
The bigger worry, legal experts and antigraft activists say, is that the Supreme Court will soon decide if Moro was a biased judge. The fear is that there would be grounds to do away with any conviction he ever obtained. It "could—and this is an extreme—undo a very large part in terms of convictions that Lava Jato achieved over the past six or seven years," Aalbers says. —With Marisa Wanzeller