Luckin Scandal Is Bad Timing for U.S.-Listed Chinese Companies
(Bloomberg Businessweek) -- Say a new company promises to achieve a goal so ambitious it's eluded a more established competitor for two decades. Say that goal is to sell lots of coffee in China, a nation of resolute and happy tea drinkers, and the competitor it promises to defeat is Starbucks Corp. The way it's going to do so is by offering lower-priced coffee, primarily for takeout and delivery. Because there will be an app, the startup can call itself a tech company and boast about being a disruptive force. And because investors like apps and disruption, some won't even notice that the coffee isn't great.
Some venture capitalists lost interest after they sampled what the company, Luckin Coffee Inc., was selling. But within a year of its founding in 2017, one of the biggest VC firms in China, Joy Capital, as well as the Singapore sovereign wealth fund GIC, had put serious money behind Luckin, valuing it at $1 billion. Luckin opened 5,000 locations in Beijing, Shanghai, and other cities across China and last year reported sales of as much as $200 million a quarter. Its success drew in big international investors such as BlackRock Inc. and support from banks including Credit Suisse Group AG. Luckin went public in the U.S. in May 2019, raising $561 million. Company executives flooded the Nasdaq stock exchange stage on the big day; some wore barista aprons. Confetti fluttered past their smiling faces.
Last July, Joy Capital's managing partner, Liu Erhai, walked onto another stage, this time at a tech conference in Hong Kong. In New York, Luckin was valued at more than $4 billion. Liu came with the requisite triumphal marketing video and slide deck highlighting the company's plan to operate 10,000 locations by the end of 2021. Then he looked up from his tablet. "It's unbelievable," he said in heavily accented English. "So how can they achieve astonishing performance within a short period?"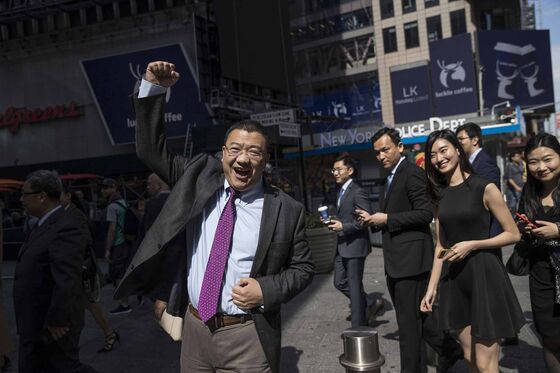 The most prominent man behind the plan to beat Starbucks in China was Lu Zhengyao, Luckin's chairman and co-founder. He's about 51 years old and stout, with a buzz cut and gap-toothed smile. Like many entrepreneurs of his generation, he's an opportunist, moving from one industry to the next. He started, as many did, as a bureaucrat (in a municipal government in Hebei province, outside Beijing), then joined the booming private sector in the 1990s. First he traded gear in the expanding telecommunications industry. Then he sold insurance in the expanding auto industry. In 2007 he founded Car Inc. to provide rentals to the increasing number of Chinese drivers.
Lu became known for blitzscaling companies. At Car, he raised hundreds of millions of dollars from international investors, then used the money to undercut the competition and grab market share. With that kind of strategy it didn't take long for Car to become China's largest rental provider. In 2013 it confirmed its dominance in a complex deal with Hertz Corp., which bought roughly a 20% stake in the company and merged its own mainland operations into it. Car went public on the Hong Kong exchange in 2014. But by 2016, Hertz had sold the bulk of its holdings. Lu didn't respond to recent requests for comment amid a collapse in Car's share price.
In late 2017, Lu invited a group of journalists to the Beijing offices of Ucar Inc., a ride-hailing service he'd spun off from Car. There he introduced Jenny Qian, a longtime executive with Car. Qian told the group that her long workdays had turned her into a coffee fanatic—and convinced her that more Chinese would become fanatical about coffee, too, if only it were more affordable and more convenient than it was at that other coffee chain. Qian would become chief executive officer at Luckin, a new venture whose goal, she said, was to "defeat Starbucks" in the world's most populous country.
Persuading Chinese consumers to drink more coffee—or any at all—has proved a frustrating pursuit. Starbucks has been trying ever since it opened its first cafe in Beijing in 1999. Now it operates more than 4,000. But in 2018 annual per capita coffee consumption in China had reached just about six cups, compared with more than 200 cups in Taiwan and 388 in the U.S. Plenty of people would regard those numbers as proof there would be no easy or fast way to change Chinese preferences. Luckin regarded those numbers as evidence that there was plenty of opportunity for growth, citing them in its own prospectus ahead of its initial public offering.
Starbucks had prospered in China by selling much more than just coffee and offering a comfortable place outside the home or office to meet friends or study. Luckin did the opposite: Most of its locations are more like kiosks, with little or no seating. Orders have to be placed and paid for with Luckin's app. That was supposed to allow the company to save on rent and minimize labor costs. It even announced plans for a "smart vending machine" that would eliminate the need for stores or staff altogether.
Luckin's real advantage, though, was supposed to be affordability. Its app constantly pushes freebies and discounts to customers, making it difficult to know exactly what it charges. But it's definitely far cheaper than Starbucks, where a grande latte goes for about 32 yuan ($4.57). That kind of discounting requires a lot of cash—more than what Luckin was saving on headcount and real estate. In 2018, Luckin disclosures show, its operating expenses were almost triple its sales.
That same year, Starbucks formed a partnership with Alibaba Group Holding Ltd., giving it instant access to the retailer's huge delivery network. Later it introduced a ministore format called Starbucks Now designed for speedy takeout and delivery. So in some ways Luckin was changing, or at least anticipating, what Chinese customers wanted.
In early 2019, Luckin hired investment banker Reinout Schakel to be its chief financial officer; he was the only senior executive who wasn't Chinese, and he was responsible for dealing with Western investors. Luckin wasn't profitable, and wasn't sure when it would be. The business plan was to spend more to keep expanding and offering discounts to increase brand awareness, as Luckin described in its IPO prospectus.
Schakel's former employer, Credit Suisse, led the effort to take Luckin public in the U.S., along with Morgan Stanley and two Chinese banks. Bank of America Corp. was slated to be one of the underwriters, but it withdrew from the deal late in the process after Luckin executives disagreed with its method for valuing the coffee chain. A spokeswoman for the bank declined to comment. "We have done what most people do in 15 or 20 years," Schakel boasted before trading began on May 17. After the opening bell, the price of Luckin's shares jumped almost 50% from the $17 offer price.
Carson Block watched Luckin's rising share price with skepticism. Block is a short seller whose firm, Muddy Waters Research, came to prominence a decade ago by exposing fraud at Sino-Forest Corp., a Chinese timber operator that had gone public in Canada. Now Block wondered if he'd found another problem company. In the fall of 2019, Luckin reported an almost sixfold increase in quarterly sales. Block suspected some of Luckin's sales weren't real.
But proving that would be expensive. He'd have to hire a significant number of on-the-ground researchers to monitor stores, an investment he wasn't keen on making. Then in late 2019, Block says, a fund manager contacted him with an unusual proposal. The manager was overseeing a probe into Luckin's operations and preparing a research report, but said he didn't want to bear the fallout that might come from the company's backers for publishing it. Would Muddy Waters release it instead?
In January, just before the novel coronavirus began roiling China's economy, Luckin's stock reached $50 a share, almost triple its offer price. On the last day of the month, Muddy Waters shorted the stock and went public with the report it had received.
The 89-page document was remarkable. It purported to be the work of more than 1,000 investigators who monitored sales and foot traffic at Luckin locations, gathering more than 25,000 receipts from customers and providing a detailed analysis of customer behavior. The investigators had even recorded video of some transactions. The report claimed that Luckin was inflating the number of items sold per day by 69% in the third quarter of 2019 and 88% in the fourth. Since all orders are placed through its app, each has a sequential pickup number. But Luckin, the document said, seemed to be intentionally skipping numbers during the day to give the appearance of higher volume. It also concluded that the average cost of items sold was lower than the company had reported. In other words, Luckin looked like a fraud.
Block identified the author only as "someone who has a lot of resources and who I respect in this space." (According to people familiar with the situation, the document was created by a Hong Kong-based firm called Snow Lake Capital Ltd. A representative for Snow Lake declined to comment.)
Luckin denied the allegations. Its stock price plunged immediately after the report came out, but it recovered most of the loss in February, even as the coronavirus was spreading.
But beyond the public's view, Luckin was also under scrutiny. As auditors from EY reviewed Luckin's 2019 accounts, they found evidence that some managers had been fabricating transactions. In a later statement, EY said these supposed sales had inflated the company's income, costs, and expenses for nine months in 2019. On April 2, Luckin said that Chief Operating Officer Jian Liu and some subordinates might have faked more than $300 million in revenue, more than a quarter's worth of reported sales. Now, the company said, a special committee would conduct an internal investigation.
For a brief moment, it seemed Luckin would try to grow its way out of trouble. It continued opening stores—as many as 10 per day—as co-founder Lu tried to make amends. In a May 20 statement, he said that "my style may have been too aggressive and the company may have grown too fast, which has led to many problems." But, he continued, "I by no means set out to deceive investors." Luckin declined to comment beyond its previous statements. Liu, of Joy Capital, declined to be interviewed.
Accounting scandals have been a feature of Chinese capitalism for decades, many of them attracting little notice outside the country. Luckin, however, is different. It's not a huge company, but it's a prominent one that attracted ostensibly sophisticated Western investors eager to buy into what they thought was one of China's most robust consumer brands. And its collapse comes at a time when China is trying to make sure its businesses, already hampered by rising tensions with the West, can still access foreign capital. According to people familiar with the matter, who asked to remain anonymous because they aren't permitted to speak publicly, Vice Premier Liu He has personally asked for an investigation into the scandal, expressing concern about its impact on investor confidence. The national securities regulator did not reply to a request for comment. Chinese media has reported that Lu could face criminal charges. Beijing regulators have also offered to cooperate with the U.S. Securities and Exchange Commission.
If Luckin survives, it will be in greatly diminished form. Its shares will be delisted from Nasdaq; for now they're trading at less than $3 apiece. Shareholder suits are expected. Qian was fired as CEO in May, and shareholders ousted Lu as chairman in July. Qian hasn't spoken publicly and couldn't be reached. Lu didn't respond to requests for comment. Schakel, who hasn't been accused of involvement in the fraud, remains at the company.
The more important consequences could be for the Chinese economy as a whole, and especially for mainland companies hoping to tap U.S. capital markets to fund growth. Luckin "refreshes the story that Chinese equities are dangerous," says Paul Gillis, an accounting expert at Peking University's Guanghua School of Management. And, he says, the example of misconduct could make it easier to kick other Chinese companies off U.S. exchanges. In May the Senate overwhelmingly approved a bill that would require Chinese companies with U.S. listings to submit to scrutiny by the Public Company Accounting Oversight Board, a body created in response to the collapse of Enron. As California Representative Brad Sherman, a Democrat, said when he introduced a corresponding measure in the House: "Had this legislation already been signed into law, U.S. investors in Luckin Coffee likely would have avoided billions of dollars in losses."
A representative for Muddy Waters declined to comment on its profit from Luckin's fall. Block argues that until U.S. regulators are able to enforce rules for Chinese companies—which the Chinese government says would violate its sovereignty—high-profile frauds will continue. In China, he says, exaggerating performance is often the only way to raise capital—a consequence of being "the most cutthroat business environment on Earth."
But he places much of the blame for scandals like Luckin's on the U.S. investors who choose to believe stories of ever-faster growth. "I don't blame drug dealers for people's addictions. I blame people who get caught up in them more," Block says. "We have a thirst for fairy tales from China." —With Cathy Chan, Jinshan Hong, Melissa Karsh, Crystal Tse, Daniela Wei, and Steven Yang