Looking Toward 2020, Democrats Shift Focus From Health Care to Mueller
(Bloomberg Businessweek) -- Democrats built a midterm electoral wave by centering their message around health care. But since the Nov. 6 election, many Democratic ads have shifted focus from protecting health insurance to protecting special counsel Robert Mueller.
In the past several weeks, prominent Democrats have run thousands of Facebook ads urging viewers to sign petitions in support of Mueller, who may be vulnerable to political interference by the Trump administration after the resignation of Attorney General Jeff Sessions. They include Senators Kamala Harris of California, Elizabeth Warren of Massachusetts, and Cory Booker of New Jersey and billionaire activist Tom Steyer, along with a super PAC tied to former Massachusetts Governor Deval Patrick.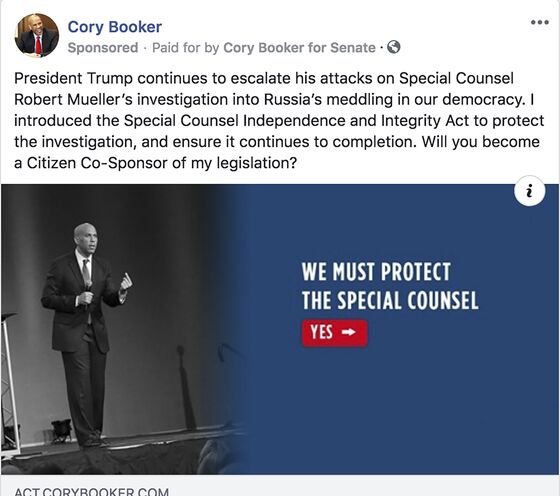 Focusing on health care made sense during the fall campaign, when Democratic candidates were seeking support form independents and Republicans, along with their own voters. Polls consistently showed health care was a top issue for midterm voters. Having leveraged that broad-based appeal to make big midterm gains in Congress and statehouses, 2020 presidential hopefuls are now targeting grassroots activists, whose support will be critical in the upcoming presidential primaries.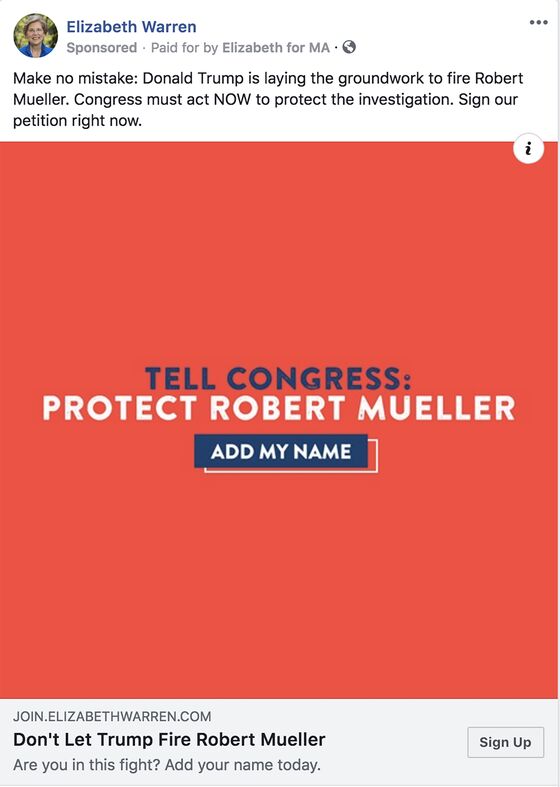 "The 2020 presidential campaign is going to be a competition for people's votes, support, volunteer hours, and dollars," says Rachel Thomas, communications director at Acronym, a nonprofit that works to elect progressive candidates and studies digital advertising trends. "This is one way you lay that groundwork, by bringing people into your community and making sure you have a direct link to as many as possible."
Sessions's forced resignation on Nov. 7 and the refusal of his replacement, acting Attorney General Matt Whitaker, to recuse himself from the Justice Department's Russia probe sent a panic into Democrats who believe Whitaker may try to shut down Mueller's investigation. That's why so many Democratic ads have focused on Mueller. "What the campaigns are trying to do is put up acquisition ads that are relevant to the news cycle," says Tim Lim, a Democratic consultant and former partner at Bully Pulpit Interactive, an agency that places digital ads for Democrats. "Because of what happened with Sessions, that's what's relevant now. The primary purpose is to get more people onto the email list and thereby get dollars from them."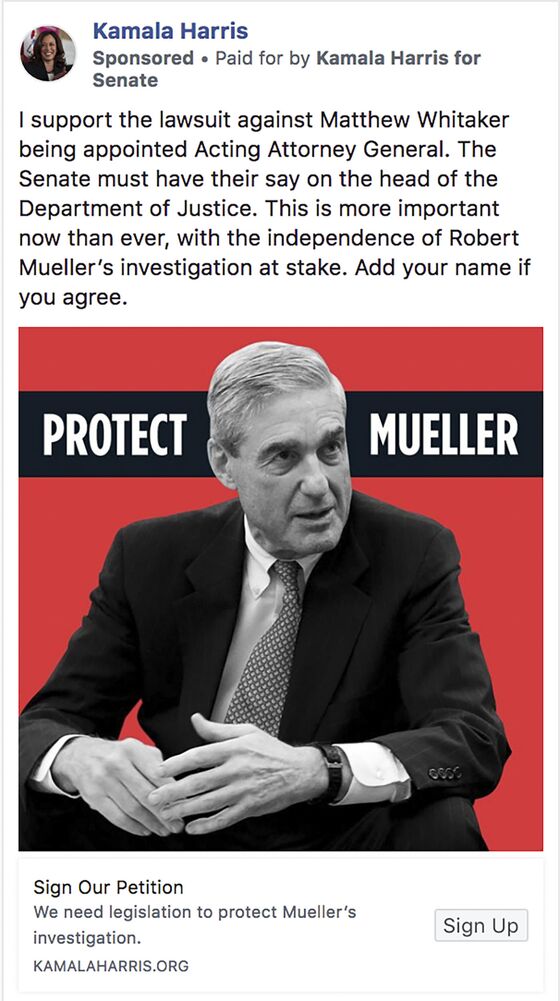 The scramble to exploit the threat to Mueller, Lim says, reflects a lesson Democratic strategists learned during the 2018 cycle: the earlier candidates start list-building advertisements, the better the returns they see from that investment. And surfing the partisan news cycle can juice those returns even faster.
"These are the issues that fire up the Democratic base," says Tara McGowan, Acronym's founder and chief executive officer, "and those voters are the ones who will determine who has an early and sustainable lead going into the 2020 elections. Engaging them in an ongoing conversation—while also highlighting your own leadership on these issues—is smart for anyone looking to build a coalition of support for a campaign, presidential or otherwise."
That advice, Thomas notes, is something her own organization has taken to heart. Along with all the presidential hopefuls, Acronym has recently run its own Mueller ads on Facebook to build out its list of contacts.
To contact the editor responsible for this story: Jillian Goodman at jgoodman74@bloomberg.net