Loan Sharks, Gangsters, and Paltry Job Prospects Greet Guatemalan Deportees
(Bloomberg Businessweek) -- Ramón Salas left Guatemala in June, accompanied by his 13-year-old grandson. He returned alone.
This month he followed a line of deportees filing from an airfield tarmac into a room at a Guatemalan air force base, where government functionaries recorded his name and the date he headed to the U.S. and handed him a brown bag with two sandwiches, juice, corn chips, and cookies. Walking outside, he was greeted by a tumultuous scene. Smugglers offered to take him back to the border, currency traders waved sheaves of quetzales, and loan sharks circled, looking for customers. The crowd also contained relatives hoping to be reunited with loved ones. But the face Salas wanted to see most wasn't there. "I can't sleep, I can't eat, I can't do anything," says Salas, 59. "I just want to know where my grandson is, and no one is telling me anything."
It is here and at similarly mobbed air hubs across Central America where migrants like Salas confront their personal and economic fates. With no jobs and little money, newly arrived deportees must first figure out where they'll bed down that night and where their next meal will come from. Next, they must ponder how they'll repay the money they owe to smugglers and how they'll support their families. The answers drive many back north. "Crossing is hard," says Salas, who was desperate to find Irvin Estuardo Salas, who was separated from his grandfather after the two crossed the border on foot and were apprehended by Border Patrol agents in McAllen, Texas. "That Trump guy is tough, but it's our best option."
President Donald Trump in April instituted a policy of prosecuting all migrants who cross the border without papers. More than 382,000 people, many fleeing violence and poverty in Central America, have been detained at the southwest border since Oct. 1, according to U.S. Customs and Border Protection. That's up from 328,450 during the same period last year.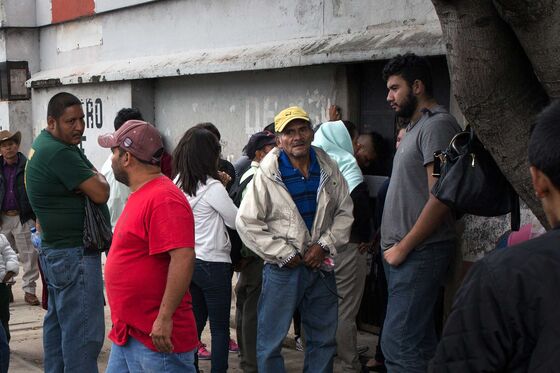 There are about 1.3 million Guatemalans living in the U.S., according to the Pew Research Center. They sent back a record $8.2 billion in remittances last year, equal to almost 11 percent of the country's gross domestic product.
The conditions the migrants are escaping are dismal. Guatemala's economic growth in 2017 slowed for a third straight year, to 2.8 percent. An estimated 70 percent of the labor force is engaged in informal work, and many rural residents earn less than the minimum wage of about $400 per month.
The weak and corrupt government delivers scant services, particularly in poor areas. Criminals have filled the void, providing tenuous peace at a steep price in blood and treasure. Gangs extort millions of dollars every year from businesses, often killing those who don't pay. Buses, restaurants, farmers, and small convenience stores have all been targets of attacks.
Salas, who scratched out a living growing corn and jalapeño peppers in Santo Domingo Suchitepéquez, a town near the Pacific coast, hoped to find better-paying work in the U.S. and enroll his grandson at a school where he would learn English. The money he planned to send home to his wife, 30-year-old daughter, and 19-year-old son would help keep them safe from gang members, who have been demanding extortion fees of $300 to $500 per month from the family.
"I have nothing here," he says. "We work by pure machete and can't save. They come and take away everything we have worked for."
After Salas and his grandson dashed across the border near McAllen, U.S. guards detained them and took them to separate facilities. Salas spent 15 days in custody before being deported. He says he received no information on his grandson's whereabouts and had no communications with him during that time. More than 2,000 minors were separated from their families as part of Trump's zero-tolerance policy. The White House ended forced separations on June 20, in the face of widespread condemnation from lawmakers, including some from Trump's own party, and public protests.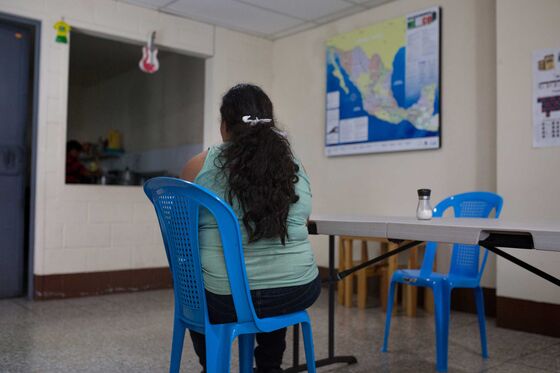 Vice President Mike Pence and Secretary of Homeland Security Kirstjen Nielsen have both visited Guatemala in the past month to dissuade migrants from attempting the journey.
Boeing 737s and MD-80s chartered by U.S. Immigration and Customs Enforcement take off daily from cities including Mesa, Ariz.; San Antonio; and Alexandria, La. The planes, carrying as many as 135 deportees, land in places like Toncontín International Airport in Tegucigalpa, Honduras, and Monseñor Óscar Arnulfo Romero International Airport in El Salvador. In Guatemala City, the deportation flights—as many as five a day during weekdays—land at La Aurora International Airport, whose single runway the Guatemalan air force shares with commercial airliners bringing tourists and cargo planes hauling Amazon.com orders.
Along with scores of other migrants, Salas paced the sidewalk that hugs the air force base's cracked, gray walls. He thought about the $3,000 he had borrowed from an acquaintance to pay the smuggler who sneaked him across the U.S. border and what he would tell his wife, daughter, and son once he walked through the door of his house.
Luis Ovalle, 38, waited nearby to pick up a son deported after living in Arkansas for a year. He still owes 28,000 quetzales, about $3,800, to a smuggler and estimated that, after interest, he could pay almost $12,000. He said he would pay "little by little, whenever and however I can," or risk losing the land where he grows crops.
The deportees "return disoriented, without paperwork, without a résumé, and many don't have a place to live," says Jose Andres Ordoñez, co-founder of Te Conecta, an organization that helps them find work. Many attempt the journey again and again, according to Carlos López, administrator of the Casa del Migrante shelter in Guatemala City where many of the new arrivals spend their first night back. "It's no longer a dream, it's a nightmare," he says.
Marvin Castañeda, 41, was deported for a second time in November 2016 after almost three decades living in Arizona, Louisiana, and Alabama. He applied for political asylum after two of his brothers were killed by gangsters in Guatemala but was turned down in 2009. Since his return, he has been taking computer classes at Te Conecta and updating his résumé, and he dreams of returning to the U.S. "If you don't have any money here, people turn their backs on you," he says. "I would like nothing more than to go back."
Salas asked another farmer which buses went where and how to find a phone. "I need to figure out what I'm going to do," he says. Another charter flight was scheduled to arrive in two hours. He asked a guard stationed at the entry of the base if his grandson would be on board.
To contact the editor responsible for this story: Stephen Merelman at smerelman@bloomberg.net, Cristina Lindblad