The 'Peloton of Boxing' Is a Great Way to Not Get Punched in the Face
(Bloomberg Businessweek) -- The morning after the coal-black, 6-foot-tall Liteboxer was delivered, I walked into the living room and found my cat, at a cautious distance, staring up in wonder at this strange intruder. It reminded me of the scene in 2001: A Space Odyssey when the apes encounter the black monolith.
I, too, had reason to be wary. The $1,495 Liteboxer is already being called the "Peloton for boxing," a reimagining of the traditional punching bag. Yet in my living room, I couldn't decide if the enormous free-standing device looked more like a high striker that a carnival strongman might pound with a sledgehammer or a personalized teleporter standing ready to beam me up to the USS Enterprise.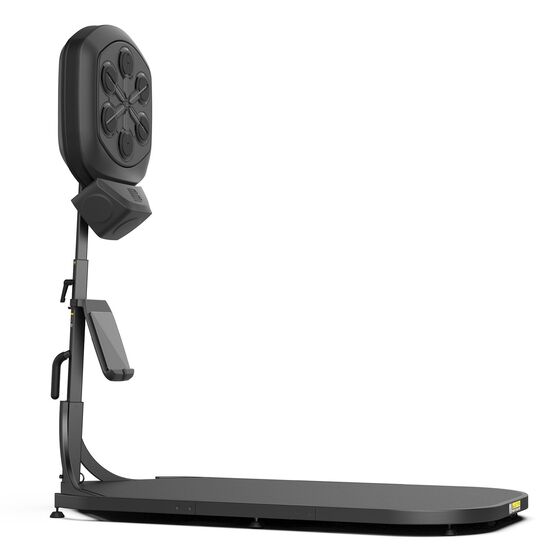 Co-founded by Jeff Morin, an MIT-educated engineer and certified personal trainer, and Todd Dagres, general partner at Spark Capital, Liteboxer raised $6 million in an attempt to replicate the experience of a sparring workout at home. I've been intimately involved in boxing around the world for the past 26 years—as an amateur fighter, trainer, and journalist covering the sport—and I found myself bracing for something like Hasbro's Simon game, Whac-a-Mole, and Dance Dance Revolution all rolled into one for my fists.
The cat and I watched the "feature tour" video, which sounded as if it was scored by Hans Zimmer for a Christopher Nolan white-knuckler. Green LED lights indicate where and when you're supposed to strike, and force sensors track your power and accuracy. An interactive display broadcasts trainer-led workouts or quick challenges, while the software's patented Rhythm Technology syncs punching combinations to dance and pop music.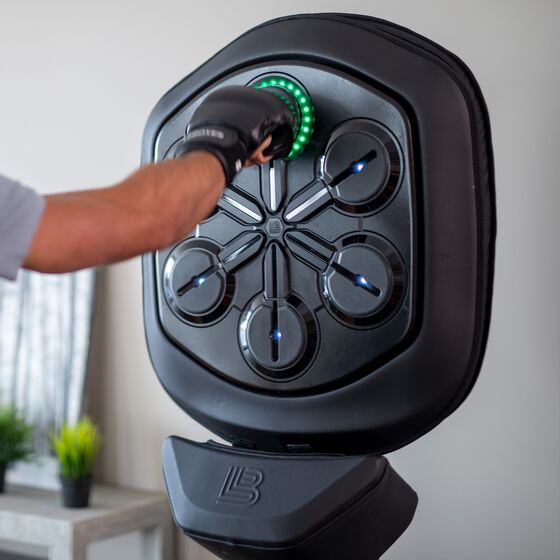 You can compete against friends and family members on the same workout and compare results. Or download the Liteboxer app ($29 a month after a three-month free trial) and choose from expert-led lessons and other options, including 15-minute "quick hitters" as well as endurance-focused 45-minute sessions built around various tempos and rhythms of punch combinations.
The app holds a decent selection of songs to accompany a round, but my first three choices crashed it. To my dismay, only Gold Digger, from former third-party presidential candidate Kanye West, allowed my fitness journey to continue.
I found the equipment to be highly effective in offering a stimulating workout to burn calories and break a sweat, but any background in actual boxing tends to hinder rather than reward its use. The Liteboxer is a stationary platform with targets that in no way replicate the anatomy of a human being, let alone one with any mobility. Even the swaying of a humble punching bag requires rhythm, balance, movement, and constant adjustments to maintain an optimal range for striking.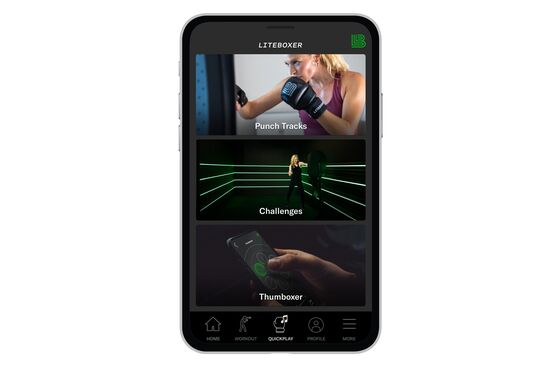 Likewise, footwork is the foundation for boxing, but once you settle on an effective strike stance with the Liteboxer, it doesn't allow your feet to move anywhere so you can reset your balance and deliver more punches. Remaining stationary is antithetical to almost all the training I provide for my students. The lighting system telling you where to punch and the sensors measuring force, accuracy, and timing took me out of a boxing gym and into a retro arcade.
For many users this will very likely add to its appeal. Case in point: When I tested it out with two of my students (one intermediate, one beginner), they had a great time syncing the flow of their punches with the beat of the music. When I asked my intermediate student how our one-on-one workouts involving focus mitts and light sparring compared with using the Liteboxer, he said, "It's basically the difference between seeing a lion on safari in the Serengeti vs. at the Bronx Zoo."
That sounds about right to me. For anyone understandably intimidated by the prospect of entering a boxing gym—much less an actual ring—the Liteboxer offers a narrow version of what the sweet science has to offer. It'll be a perfect fit for those who love the thrill of throwing punches to relieve stress and get a good burn without all the drawbacks of, you know, getting punched in the face.