Lawsuits Against China Escalate Covid-19 Blame Game With U.S.
(Bloomberg Businessweek) -- President Trump has joined a chorus of calls for China to cough up damages from the Covid-19 pandemic, saying his administration is exploring ways to make the country pay. ("We haven't determined the final amount yet. It's very substantial," Trump said at a press briefing on April 27.) His remarks followed several bills proposed by Republican members of Congress seeking to strip China of its sovereign immunity protection in U.S. courts. That would potentially leave China open to lawsuits seeking billions of dollars in compensation for its handling of the novel coronavirus outbreak.
Those lawsuits are multiplying. Two proposed class-action suits have been filed in federal court in Miami, and similar ones have been filed in California, Nevada, Pennsylvania, and Texas. The state of Missouri has filed a federal suit seeking damages, while Mississippi has also said it will file a case. Next may be Florida: The state's chief financial officer, Jimmy Patronis, wrote of that intention to the Chinese Embassy in Washington, saying that in the meantime, he'll seek to seize any payments Florida owes to Chinese vendors as well as any unclaimed property of Chinese-owned companies "to offset the debt" that the Chinese Communist Party owes the people of Florida.
For sure, there's a large element of political theater in riling up sentiment against China—especially before the U.S. presidential election in November, as Republicans seek to shift blame from Trump for a U.S. death toll above 70,000, 10,000 more deaths than he'd previously suggested might be the maximum. A strategy memo for Republican campaigners obtained by Politico said as much: "Don't defend Trump, other than the China Travel Ban—attack China." And it's not difficult when 72% of Republicans—and 66% of Americans overall—hold unfavorable views of China, according to a Pew Research Center poll conducted in March.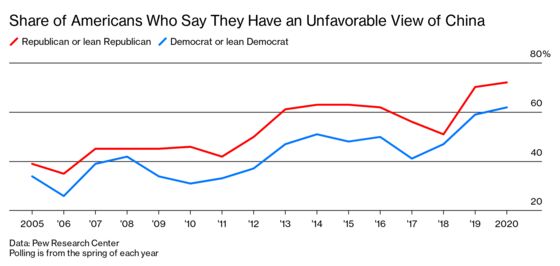 China is playing its own blame game, with officials taking to Twitter to deflect from Beijing's failings and to highlight U.S. missteps, even going so far as to posit that the U.S. military introduced the virus to Wuhan. China's attempts to skew discussion of the origins of the coronavirus provided fuel for Trump, who repeatedly called it the "Chinese virus" until a phone call between him and President Xi Jinping in late March calmed things down temporarily. By early May, Trump was promising a "conclusive" report on the virus's origins. 
Calls for Covid-19 damages started growing in April. Since then, China's Foreign Ministry has responded with veiled threats of retaliation, stating that the U.S. has never been made to pay for the damage wrought by the AIDS epidemic, the 2008 global financial crisis, or the 2009 H1N1 flu strain, which was first detected in the U.S. and killed 200,000 people in more than 200 countries. (China's ambassador to the U.S. wrote in the Washington Post on May 5, "To ask a victim for compensation is simply ridiculous.") Any attempts to claim damages from China, Foreign Ministry spokesman Geng Shuang hinted, could be met with reciprocity.
Rather, he said, U.S. officials are simply playing politics. "They have only one objective: to shirk their responsibility for their own poor epidemic prevention and control measures and divert public attention," he said at an April 28 press briefing in Beijing. "This is political manipulation." 
It's also opportunism. More than 10,000 people have signed up online as plaintiffs in one of the Florida suits, which names the Chinese Communist Party along with the Chinese government as defendants, a move lawyers hope will bypass sovereign immunity. "The CCP is a separate organization that controls the government but is not the government," says Matthew Moore, the lead attorney for the Florida suits at Berman Law Group in Boca Raton. "It's not subject to sovereign immunity because it is not the state."
The lawyers also plan to argue that two exceptions in the 1976 Foreign Sovereign Immunities Act—for commercial activity that causes damage in the U.S. and for "tortious acts" that cause harm to Americans—render China's sovereign protections invalid. The suits allege that China's early handling of the outbreak constitutes such activity. The first hearing in the Florida cases is scheduled in the Southern District Court in Miami on Sept. 4.
The Florida lawyers say that in the event of a favorable judgment, they will attempt to seize Chinese bank accounts, state-owned properties, and buildings such as the Waldorf Astoria New York hotel, which in February was handed over by Chinese regulators to a state-owned insurance company. Communist Party branches are part of strategic decision-making in Chinese state-owned enterprises as well as large private companies. Chinese investment in the U.S. totaled $36 billion as of last June, according to the Rhodium Group, an advisory firm.
No matter whether it's the party or the Chinese government that's sued, legal experts say the efforts are unlikely to succeed. In the past, U.S. courts have ruled that the exceptions to sovereign immunity apply only if the "tortious acts" were committed in the U.S., according to Christopher Whytock, a law professor at the University of California at Irvine. In addition, asserting that the Communist Party isn't the state would likely just lead the Chinese government to argue that it is, since the law extends immunity to any "political subdivision" or "an agency or instrumentality of a foreign state," Whytock says.
One way through this legal barricade: Passage of one of the bills before Congress would make legal exceptions to the Foreign Sovereign Immunities Act unnecessary—just as FSIA was amended after Sept. 11 to allow state sponsors of terrorism to be held legally liable in U.S. courts. And despite the lawsuits' long odds of success, it's conceivable that, as Yale law professor Stephen Carter wrote in Bloomberg Opinion in March, "a handful of U.S. judges might insist that some special aspect of the pandemic means that the Chinese regime is liable under FSIA after all."
Any U.S. judgments against China for damages—even if overturned on appeal—would open a Pandora's box of retribution against U.S. interests in China, where American investments totaled $117 billion as of 2018 and rose an additional $6.8 billion in the first half of 2019, despite the trade war.
Sovereign immunity protections work only because they're reciprocal, and an erosion on either side is likely to lead to continued friction. "We're heading onto a path where both the American and Chinese leaders have domestic politics at play in driving a tougher nationalist policy against the other," Eurasia Group consulting firm founder Ian Bremmer wrote in a recent note to clients. "All of this will serve to further exacerbate political tensions." —With Patricia Hurtado and Edvard Pettersson
 
Read more: Pandemic Lawsuits Will Ask: Is the Coronavirus an Act of God?