Rents Sink Toward Reset Moment in Cities With Smoke-Filled Skies
(Bloomberg Businessweek) -- The One Year, One Neighborhood series follows small businesses in the Pike/Pine corridor in Seattle, the first coronavirus hot spot in the U.S., to get a sense of what cities will look like as they reopen.
 
The Solis, a new 45-unit apartment building in Seattle, has everything a young urban professional would have wanted six months ago. It's in the heart of Capitol Hill, a walkable neighborhood full of restaurants, bars, and entertainment. The building has ample bike parking and a landscaped roof deck with a fire pit and outdoor couches. But what the developers are now promoting is its elaborate air filtration system. A sandwich board outside reads, "OUR AIR IS BETTER."
It's a pitch tailor-made for a pandemic caused by an airborne pathogen in a city that's blanketed with wildfire smoke. Few are taking the bait, though. "It's been really slow," says Brian Heather, chief executive officer of SolTerra Capital Inc., the company that developed the property. A building he once thought would fully lease in three months this spring is only about 60% full.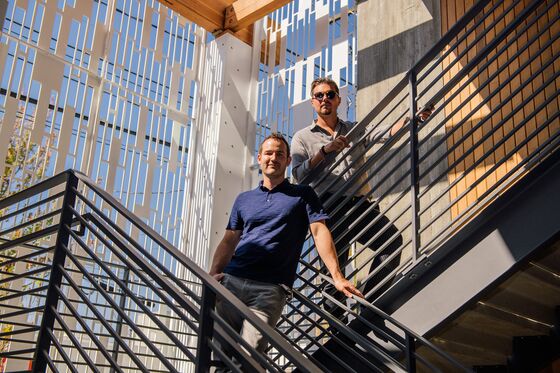 A half-year since the novel coronavirus triggered lockdowns across much of the U.S., landlords in several of the country's top rental markets have lost their pricing power. It isn't only the fear of contagion that comes from living cheek by jowl. Months of remote work has left young professionals craving extra space. Some are taking advantage of historically low mortgage rates to buy homes. Others are deciding it makes little sense to pay a premium to live in a neighborhood where so many of the benefits are gone—or, worse, one where tear gas occasionally wafts in through the windows.
After years of strong growth, rents in U.S. urban areas have decreased 2% since February, according to Zillow Group Inc. In New York, San Francisco, Seattle, and other high-cost cities, the decline has been almost twice that. (Other surveys show even steeper drops.) Landlords are trying to keep units filled by offering weeks or months of free rent, concessions that crimp revenue now but don't permanently lock in lower lease prices.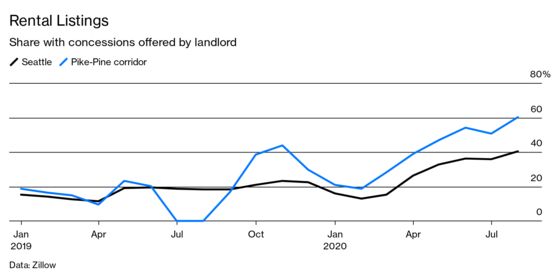 In few places has this shift been as dramatic as Capitol Hill, where developers have steadily converted the city's former Auto Row along East Pike and Pine streets into gleaming new apartment blocks. Some of the biggest landlords in the country, including Equity Residential and AvalonBay Communities Inc., planted a flag in the neighborhood to capitalize on the thousands of knowledge workers coming to the city for jobs at Amazon.com Inc. and other tech employers—a process that's led to angst over gentrification.
Some of that exuberance is starting to look irrational. The inventory of units in the Pike-Pine corridor, where the Solis is located, has soared 125% since February, outpacing the 83% climb in Seattle as a whole, according to Zillow. Rents have declined 10%. The drop might have been bigger but for a sevenfold increase in concessions that landlords offered.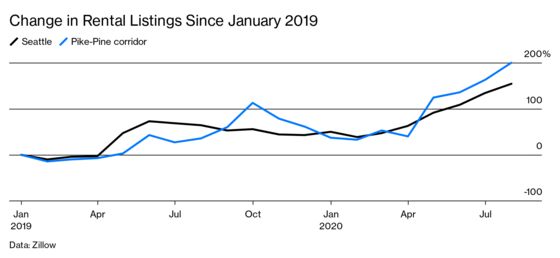 The coronavirus isn't the only reason. Since June, Capitol Hill has been a near-constant site of street protests. At one point in June, demonstrators carted away the garbage dumpsters at the Solis to make barricades for a six-block cop-free zone that received widespread media coverage and drew angry tweets from President Trump. The internet and phone provider CenturyLink "wouldn't come out to set up fiber for over two months, because they thought it was too dangerous," Heather says.
Owners of the Sunset Electric apartments handed out $500 gift cards after weeks of protests right outside the building in June, including some where police doused demonstrators with tear gas, according to Anthony Green, a resident. It wasn't enough to keep many from moving out. The building had 21 available units ready for move-in on Sept. 15.
Liz Dunn, who owns a 24-unit apartment building in the neighborhood, counts herself lucky: Only three of her tenants decided to move out during the most intense stretch of protests in June, when she offered to put people up in hotels. Most of the departures would have happened anyway, she says—the Covid-19 recession and the protests simply accelerated the turnover. She's managed to fill the vacancies, but only by being straight with prospective tenants about the quality-of-life issues they could face. "We felt an obligation to tell people our neighborhood is really messed up," says Dunn, whose security service recently went through six fire extinguishers one night after demonstrators set fires in the street. "Everyone knows we're not raising rents this year."
Even some of the neighborhood's more affordable rentals have struggled to find takers. "Usually there's a line out the door to live here," says Ethan Harrington, the property manager at the Pine Street Apartments. The 25-unit building had four vacancies in August that he filled only after cutting the rent 10% for a one-bedroom, to $1,395, and waiving things like pet fees. Writing ads for Craigslist has become a challenge, Harrington says. Normally he'd emphasize the nearby bars and restaurants, many now closed or offering limited service, as well as Cal Anderson Park, which has become a magnet for protesters and the homeless. "What recommends the neighborhood anymore?" he asks. "It's a bunch of angry people moving the garbage cans around at night."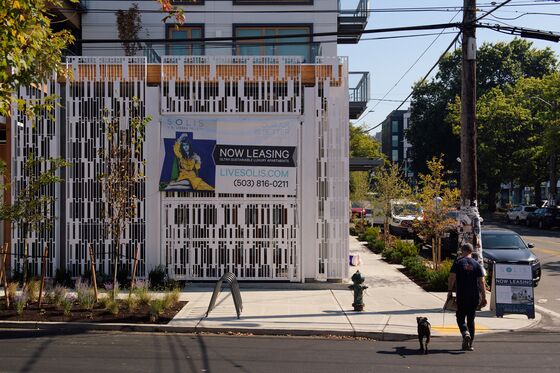 As much as the plunge in demand is hurting urban landlords, a reduction in rents could be a good thing for New York, San Francisco, and Seattle in the long run, says Richard Florida, an urban theorist on the faculty at University of Toronto's Rotman School of Management. "What we need is cheaper housing," he adds. "This offers us an opportunity to reset."
College graduates will stream into these places again when virus-related restrictions are lifted, because they'll want the freedom and opportunities that cities afford, Florida argues. Artists and creative types may be able to regain a foothold after being priced out. Employers will play a hand in the revival of Capitol Hill and neighborhoods like it, as well. "At some point, Amazon will have people come back," says Igor Popov, the chief economist for Apartment List, a website that helps people find rentals.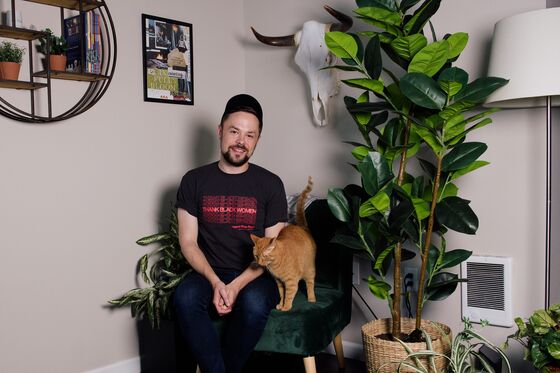 Some people aren't waiting. When Nathaniel Amos needed a new place to live in July, he picked a loft-style apartment about a block from the Seattle Police Department's East Precinct building, which has been a focal point of protests this summer. "I get phone calls regularly from friends and family back East, asking, 'Are you OK?' " says the 34-year-old, who works as a therapist. But he hasn't felt unsafe, and the $1,950 monthly rent was too good to pass up after a stint living in a more suburban part of Seattle, Amos says. "I just missed the pulse of the city."
SolTerra, the developer of the property with the purified air, is betting that more people like Amos will relocate to the neighborhood as local businesses reopen. One optimistic sign: The three commercial spaces at the base of the Solis have been leased by a bakery, a salon, and a wine-and-chocolate shop. "We're trying to see through the clouds," says Chief Operating Officer Marc Coluccio. When it's safe to do so again, renters will "want to live where there are restaurants and vibrancy and people out."
 
Read next: Coronavirus Will Not Slow Global Warming