Land Rover's New $83,000 Defender Is an Alpha Male Still in Beta
(Bloomberg Businessweek) -- A few hours into driving through 117-degree heat in the California desert, I got the distinct impression I was in over my head.
I'd just floored the new Land Rover Defender 110 up the side of a five-story-high sand dune near the Salton Sea, giddily ignorant of any actual threat, when one of my fellow drivers got his Defender stuck so far into the sand he couldn't open the door.
Serious contemplation commenced. Then gentle rocking, as it pushed into reverse. A few minutes later, true to its Lawrence of Arabia roots, his truck was no longer stuck.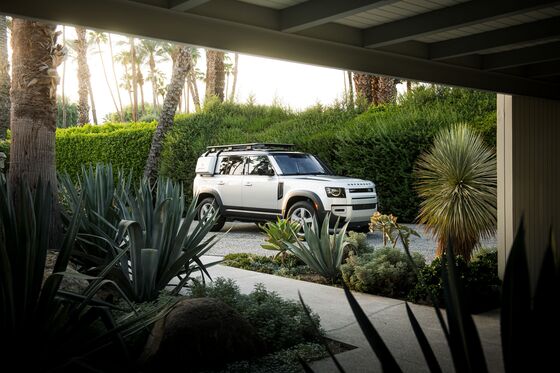 The Land Rover mystique begins in 1948, when British farmers, hunters, and expat explorers adopted the World War II-influenced boxy ride for its practicality and reliability. By 1983, a 110 emerged, and in 1990 it was renamed Defender. U.S. sales began in 1992 but were discontinued by 1997 because of increasingly strict emission guidelines. Worldwide, the last one left the production line in 2016.
Since then, SUV and truck sales have increased to 70% of U.S. automobile sales, and brands are trying to capitalize: Ford Motor Co. reintroduced its Bronco. General Motors Co. is releasing an electric version of its Hummer. The 2020 Land Rover Defender 110 actually made its debut last year at the Frankfurt motor show, and customers began receiving them in June.
After testing its mettle in the desert in October, I can confirm that the Defender merges the solid, brutish DNA of its 72-year-old history with the vehicle-as-appliance ethos that dominates car culture today. With 7 terrain modes, 11 variants, and more than 170 clever accessories—ladders, snorkels, exterior cargo boxes—it provides maximum capability out in the sticks. The Defender is easily the leading option for those who want heft and heritage bundled in a 4x4 package.
There are two available engines (inline-four or inline-six) and two powertrains (turbocharged or turbocharged with electric boost), with up to 395 horsepower and 406 pound-feet of torque. Seating suits from five to seven people. It will ford water 35 inches deep, carry 1,984 pounds, and tow 8,201 pounds—esoteric stats, as most owners will never push its limits past the slopes of their local speed bumps.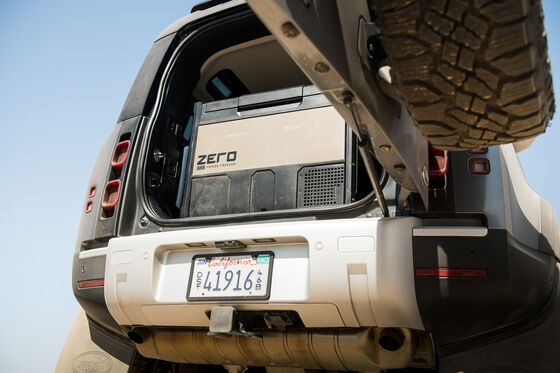 I drove up and down boulders on three wheels, over dusty gravel shards, and through dry creek beds, and it remained so unflagging I was unnerved. All I had to do was push the right buttons in the center console to adjust ride height, axle response, and other driving systems, then press onward. In the original Defender, drivers had to lock the central differential manually; in the new one, it's controlled via touchscreen.
The Defender 110 "X" I drove is the range-topper, a fully loaded $82,900 cabin of comfort—at a significant price premium, considering that a fully equipped Ford Bronco Sport costs less than $40,000. A basic 110 starts at $49,900.
Blasting down the highway from the dusty outpost of La Quinta, Calif., past the casinos and truck stops that litter the desert highways, it was both commanding and comfortable, with multiple USB outlets, generous cup holders, rubberized flooring, and Meridian sound. The interior feels suitably high-end, with supple Windsor leather and a 30% wool-blend textile that accents the sides. (Miko suede is also an option.)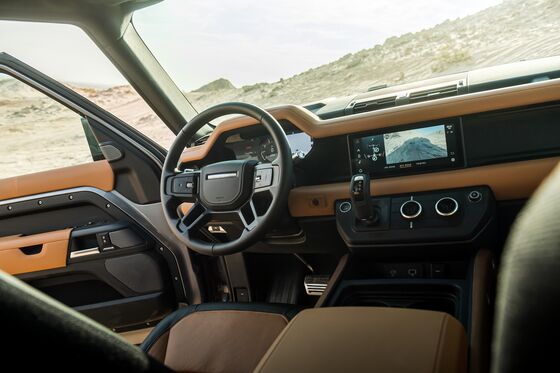 It's quieter and better-made than any Jeep Wrangler or Bronco I've driven; the 10-inch touchscreen with standard Apple CarPlay and Android Auto is particularly intuitive. My experience validated the Defender's fundamental selling point of rugged, push-button simplicity in an upscale package that, however far it takes you into the wild, it will get you out, too.
The design is polarizing to some. I'd describe it as a rather bloated caricature of the original. And the gas range is abysmal—early reports are saying less than 13 mpg.
The bigger concern is the electronics. New owners have complained about minor, but annoying, glitches: a clock that works only intermittently, keyless entry failure, irregularities with the preprogrammed infotainment system, poor operation of the side-hinged rear door, even an engine stall at a stoplight when the stop-start function failed.
Although I didn't note any issues with the electronics or technology on my desert run, the reports I've heard of computer errors must temper my endorsement. When I asked the company about these problems afterward, it responded that corrective software updates are "the new normal" in the auto business. So, caveat emptor: After a top-to-bottom rethink, the alpha male of off-roading is still in beta.