Kraft Heinz Couldn't Stomach 3G's Relentless Cost-Cutting
(Bloomberg Businessweek) -- 3G Capital, the private equity firm co-founded by Brazilian billionaire Jorge Paulo Lemann, shook up the food industry with its ruthless focus on efficiency. After taking over H.J. Heinz in 2013, with financing help from Warren Buffett's Berkshire Hathaway Inc. conglomerate, the New York-based investment shop fired thousands of workers and shuttered factories, creating industry-leading profit margins in less than two years.
Then it bought Kraft Foods, also with an assist from Buffett, and started cutting there, too. Again, it slashed the workforce. It also used zero-based budgeting, a strategy that asks managers to constantly justify costs without regard to previous spending levels, to help eliminate $1.7 billion in expenses. The firm even yanked employee perks such as free cheese sticks and Jell-O. Wall Street cheered. Shares of the combined Kraft Heinz Co.—whose largest shareholders are 3G and Berkshire—steadily climbed, hitting a record $96.65 in February 2017.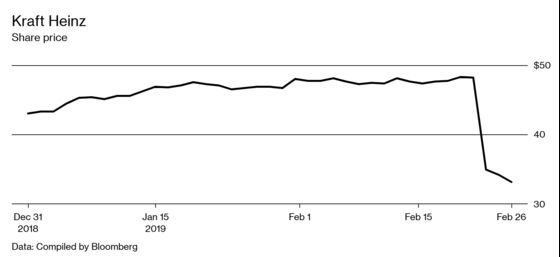 Two years later, the stock has fallen by about two-thirds, to $32 a share, wiping out more than $75 billion in market value. An earnings report released on Feb. 21 contained a slew of bad news, including a $15.4 billion writedown on the value of some key assets, including the Kraft and Oscar Mayer brands. The stock slid 27 percent in a single day.
The remarkable decline at Kraft Heinz has raised questions that go beyond the struggle to sell more products of megabrands such as Maxwell House and Oscar Mayer to today's more discerning consumers. The spotlight now is on 3G and whether its cost-cutting is an effective strategy for running a consumer company or simply an aggressive way to boost profit margins and chase returns on Wall Street. "They got a pass for a long time, but now you have to question the strategy," says Brittany Weissman, an analyst at Edward Jones. "You can't just cut and buy, cut and buy—it's a packaged-food company, all you have is the value of your brands."
The firm's approach may be backfiring in another way, by turning off potential acquisition targets. In 2017, 3G made a $143 billion bid to buy Unilever, the European consumer-products giant that makes Dove soap, Lipton tea, and Hellmann's mayonnaise. Then something unexpected happened. Unilever rebuffed the offer, counting on Buffett's known aversion to hostile takeovers. Since then, Kraft Heinz shares have been sliding, and the company hasn't been able to make a major acquisition.
That ratchets up the pressure to generate growth from a portfolio of brands that may be getting a bit tired. The problem is that 3G doesn't have expertise in remaking products. Chief Executive Officer Bernardo Hees, a Lemann protégé who previously ran Burger King and Heinz, defended the 3G strategy while continuing to tout the company's profit margins. "Our model is working and has a lot of potential for the future," he said on a conference call.
The 3G model is meant to create a meritocracy, rewarding hard work and results and weeding out employees who aren't pulling their weight while freeing up cash to invest back into the business. Everything from travel expenses to office supplies comes under scrutiny. After the 2015 merger with Heinz, managers removed refrigerators in the Chicago-area headquarters that had been stocked with Kraft snacks, such as the cheese sticks. The default setting on office printers: double-sided with black toner, according to a memo obtained then by Bloomberg News. Spending on meals during travel was limited to $50 a day.
Kraft Heinz has tried to boost sales and adapt to changing consumer tastes. It created an organic version of Capri Sun and expanded its condiment business into mustard and barbecue sauce. In 2016 the company spent at least $10 million to reformulate its Oscar Mayer hot dogs, removing nitrates and preservatives, and create new packaging. But that wasn't enough to shore up the value of that brand. "All these changes they've been doing to revitalize the top line didn't return any benefit at all," says Ken Shea, an analyst at Bloomberg Intelligence.
While the problems are most pronounced at Kraft Heinz, there's trouble elsewhere in the 3G universe. Co-founder Lemann also formed Anheuser-Busch InBev NV, the world's largest brewer. It's run by Carlos Brito, another of his protégés, and 3G partners are on the board. The company, grappling with declining beer consumption in the U.S., and particularly of top-selling brands such as Budweiser and Bud Light, recently cut its dividend in half, giving it more cash to help pay down debt that swelled with the 2016 acquisition of SABMiller. The stock has slipped about 25 percent over the past year.
3G has done better in the fast-food industry. It took over Burger King in 2010 and is credited with turning around the chain, in part by selling off restaurants to franchisees, a form of cost-cutting that's popular across the industry. Restaurant Brands International Inc., the Burger King parent company that counts investor Bill Ackman and Buffett among its largest shareholders, acquired the Canadian coffee-and-doughnuts chain Tim Hortons in 2014 and Popeyes Louisiana Kitchen three years later. Neither chain has taken off under its new owners. Still, investors have been a bit more patient with this 3G project. Restaurant Brands' shares have gained 20 percent this year, outpacing the S&P 500 so far in 2019.
For now, Kraft Heinz appears stuck. There's a chance 3G could try to take the company private, perhaps tapping a $10 billion fund it has, according to a person familiar with the situation. There also remains the possibility of a big acquisition. In the last few years, Campbell Soup, Kellogg, General Mills, Mondelez International, and Colgate-Palmolive have all been mentioned as targets. But with Kraft Heinz shares trading below $40 each and a balance sheet burdened by debt, it's hard to see the company making the kind of large purchase where it could again bump up margins by attacking costs. And even if 3G tries, Unilever may have laid out for other companies a playbook for keeping the buyout firm at bay.
Then there's the question of where Buffett stands. The iconic investor's stamp of approval, not to mention his cash, have been key for 3G's dealmaking. Buffett recently called Lemann "outstanding" while acknowledging that 3G and Berkshire had overpaid for Kraft and misjudged the competitive landscape in the packaged-food industry. He said he has no plans to sell Kraft shares but also didn't envision buying more. "The pendulum swung very quickly," says Weissman, the analyst. "It's interesting how fast the story fell apart the last couple of months."
To contact the editor responsible for this story: Larry Reibstein at lreibstein@bloomberg.net, Pat Regnier