Powell Wins a Place in Pantheon of Fed Chiefs Alongside Volcker
(Bloomberg Businessweek) -- Jerome Powell was a middle-ranking Treasury Department official in the early 1990s when he first encountered legendary central banker Paul Volcker. "I was frightened of even meeting him," the Federal Reserve chair recalled last year. "I was just so intimidated by this global figure. And he couldn't have been nicer."
Now, with just over 13 months remaining in Powell's four-year term, some former central bank officials are saying he'll go down in history as the institution's most transformational chairman since the 6-foot-7-inch, cigar-chomping Volcker, who died a year ago at age 92. That sounds presumptuous for a man whose term isn't even over, to be sure, and is without doubt a claim the modest, 5-foot-10-inch Powell would never make. Yet it's not without merit.
Powell was quick to recognize the economic devastation the coronavirus pandemic could cause and responded in March with the monetary policy equivalent of shock and awe. The Fed cut interest rates to zero and quickly rolled out a suite of emergency lending programs that extended well beyond the banking industry to include borrowers such as Main Street businesses and state and local governments. That went above and beyond what the Fed did during the financial crisis a dozen years ago. "We crossed a lot of red lines that had not been crossed before," Powell said at a webinar organized by Princeton University in May.
He also shunted aside the Fed's long-held concern about risking a loss of its political independence and aligned monetary policy with fiscal policy of tax cuts and spending increases overseen by Congress and the White House. Powell urged lawmakers to go big on relief for hard-hit households and businesses even as the central bank snapped up trillions of dollars in Treasury debt that such largesse would generate.
With the U.S. recovery sputtering as Covid‑19 infections hit new highs, Powell and his colleagues could use their last policy meeting of the year, on Dec. 15-16, to tweak that bond-buying program to provide the economy with even more support.
"I've always had Paul Volcker up on a special place, a special pedestal in terms of Federal Reserve chairmen," fabled investor Warren Buffett said in May. "Jay Powell, in my view, and the Fed board belong up there on that pedestal with him."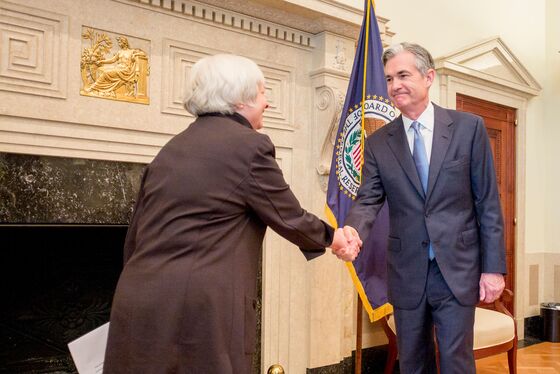 Powell's claim to a prominent position in the Fed's pantheon rests not only with his unprecedentedly rapid response to the coronavirus crisis. Under his watch, the Fed undertook a 20-month-long strategic review that culminated in August. The result: a radical rewrite of its blueprint for carrying out monetary policy that effectively turns the strategy Volcker is famous for on its head.
To extricate the nation from an inflationary wage-price spiral four decades ago, Volcker dramatically asserted the Fed's political independence by jacking up interest rates to as high as 22%, causing the economy to crater and joblessness to surge. Powell wants to lift too-low inflation by pushing joblessness down as far as possible and spreading the benefits of a tight labor market to Black and Hispanic people, as well as others who are frequently left behind. It's a plan uniquely suited to a time of heightened focus on racial injustice and income inequality, and it fits in with Powell's efforts to rehabilitate the Fed's reputation as protector of Wall Street, not Main Street.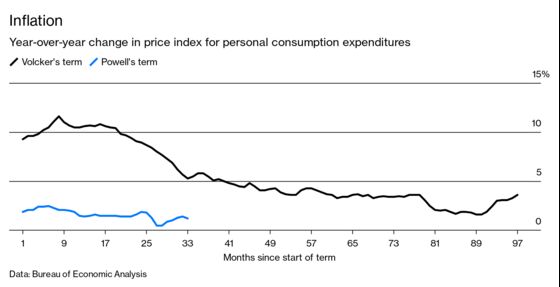 Powell has altered "the longer-term direction of policy in many ways, in as transformative a way as Volcker," says Peter Hooper, a 26-year veteran of the Fed who worked at the central bank when Volcker was chairman and is now Deutsche Bank AG's global head of economic research.
The all-in approach Powell is taking carries risks, of course. Ultraloose monetary policy—interest rates look to be stuck at zero at least through 2023—could reignite long-dormant inflation or, more likely, create dangerous buildups in corporate debt and perilous bubbles in the stock market and elsewhere. Compounding those dangers, monetary policymakers may find it exceedingly difficult to disappoint politicians—and investors—by pulling back the support they're providing the economy.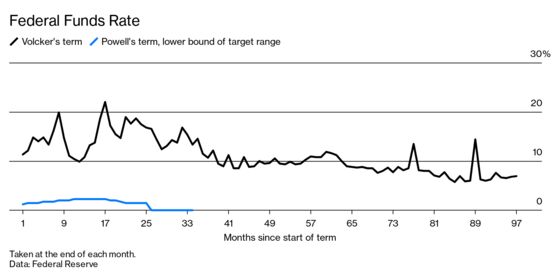 Despite being continually heckled by President Trump, Powell entered 2020 thinking the economy was in a good place and on course to extend a record 10 ½-year expansion well into the future. That changed during a trip he took to Riyadh to attend a Feb. 22-23 weekend meeting of finance ministers and central bankers from the Group of 20 leading nations, where he learned that a deadly new coronavirus was spreading beyond China's borders.
Realizing that the U.S. wouldn't be able to wall itself off, Powell instructed Fed officials to tee up a review of the central bank's options for dealing with an epidemic. When he landed back in Washington on Feb. 24, his cellphone was inundated with texts from central bank staffers. The stock market had opened down big-time that morning as investors grew concerned about the virus.
That set off a high-speed effort to prevent a financial market meltdown and cushion the blow to American households and businesses from the sudden halt in economic activity. Within a month, the Fed used money from the Treasury to backstop nine lending facilities and purchased about $1 trillion worth of U.S. government debt. It was former Fed Chairman Ben Bernanke's financial crisis playbook, on steroids. "He was early, he was aggressive, and by all accounts the Fed stopped a financial crisis single-handedly," says Julia Coronado, founder of research firm MacroPolicy Perspectives LLC.
In fashioning the central bank's new strategic framework, Powell again took the policy prescriptions of a predecessor, Janet Yellen, and went well beyond them. Yellen, whom President-elect Joe Biden has tapped to be his Treasury secretary, was an advocate of pushing unemployment lower, but only so far, because she feared a too-taut labor market would spark unwanted inflation.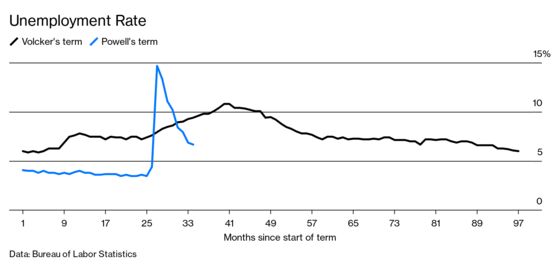 In what ex-central banker Nathan Sheets calls a "revolutionary" step, Powell decided that the Fed will no longer preemptively raise interest rates to head off higher inflation as unemployment falls. Instead, the central bank will allow joblessness to drop as far as possible until undesired price pressures materialize. And it won't just be seeking to lift inflation to the 2% target Bernanke adopted in 2012. It wants to push it above that for a stretch of time, to make up for past shortfalls. Lawmakers from both parties have praised the strategy.
Confronted by the deepest economic decline since the Great Depression and limited monetary ammunition to combat it, Powell elected to return the Fed to its pre-Volcker days of increased coordination with Treasury and Congress. "You need help from friends, so you have to renew acquaintances," says Vincent Reinhart, a former Fed official who's now Mellon's chief economist.
With more than 15 years experience working at the central bank, Yellen will be perfectly positioned at Treasury to "thread the needle so that cooperation can happen in a way that respects the Fed's independence," says Sheets, who's chief economist at PGIM Fixed Income. And as a former Fed chair, she will presumably play a key role in deciding whether Powell gets another term.
Powell can also draw on the goodwill he's built on Capitol Hill. He's spent far more time than either Bernanke or Yellen schmoozing with lawmakers and listening to their concerns.
The plain-speaking policymaker has worked to make the Fed more of a people's central bank, holding 14 "Fed Listens" events across the country in 2019. Unlike many economists, Powell, a lawyer by training, is interested in what people on the ground are thinking. Speaking on videoconference with small-business owners and community leaders in May, he asked detailed questions about how they were adapting. "You guys are all about hope," he told them. "We've got to help each other through this, and that's what we're going to do. So you'll always have our support." Reinhart calls it "retail monetary policy, something that hasn't been done in a long time, maybe ever."
Speaking to reporters shortly after Volcker's death, Powell praised the former Fed chief for conquering inflation. But he made clear he wanted to be remembered differently, as a jobs crusader. "We can sustain much lower levels of unemployment than had been thought," Powell said. "That's a good thing."
 
Read next: A Love Letter to the Fed From the Adoring Stock Market