Japan Has a New Guest Worker Program—Just Don't Call It an Immigration Policy
(Bloomberg Businessweek) -- Naosuke Sugihara runs a business that would have been unthinkable just a few years ago. Since 2016 he's been recruiting Filipinos, Vietnamese, and Chinese for low-skilled jobs at Japanese hotels, nursing homes, and food-processing plants. Despite the country's long-standing resistance to employing foreigners, Sugihara's company, Gaijinbank—gaijin means "outsider" in Japanese—is on track to place more than 500 people this year, about double what it did in 2018. "This is just the start," Sugihara says. "A big wave is coming."
As President Trump and other leaders in the West move to erect barriers to immigration, Japan is moving in the opposite direction. The number of foreign workers has doubled in the past five years, entering via a back door for student visa holders and overseas trainees. Beginning in April, the front door will open a bit wider as Japan starts officially issuing visas for unskilled guest workers, something it's never done before.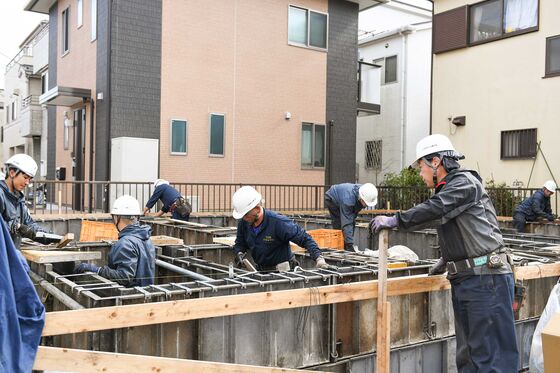 After years of insisting labor shortages could be solved by employing more women, increasing the retirement age, and using more robots, politicians have come to a grudging realization that those steps won't suffice. Japan's aging labor force is forecast to shrink by 23 percent in the next 25 years, according to projections by the Mizuho Research Institute. Vacancies already outnumber applicants by more than 3 to 1 for lots of key jobs. In caregiving alone, the government predicts 550,000 additional workers will be needed by 2025. "It just reached a point where it was clear there was no choice," says Atsuko Abe, a political scientist at J.F. Oberlin University in Tokyo. "The problem is they want the workers but not the people."
The new visa program, which Prime Minister Shinzo Abe pushed through parliament in December with scant debate, will grant five-year residency permits to as many as 345,000 low-skilled workers over the next five years. Although the terms are still vague, some who pass language and technical exams will be allowed to extend their visas indefinitely and bring their families.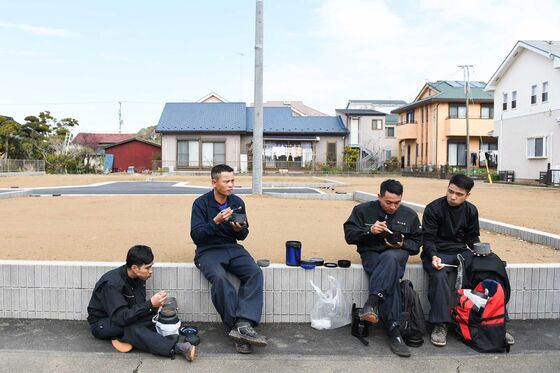 Gabriele Vogt, a Japan immigration expert at the University of Hamburg, says the country can learn from Germany's experience with guest workers, the gastarbeiter. Starting in the 1950s, millions of temporary workers from Turkey and Yugoslavia were invited in to build cars, clean homes, and sweep streets. Many stayed, married, and had children. "We're going to see the same thing in Japan," Vogt says. "It's silly to think you can just recruit workers and they'll come without all the human things attached to it."
Japan has plenty of job search sites for the tiny minority of expats who are in tech or banking but little for the 1.5 million foreigners who do less-glamorous work, like the gastarbeiter. Sugihara, who left a career in finance to start Gaijinbank, is trying to help those people. Many of them are spouses of Japanese citizens or students. Some are divorcees. 
To attract job candidates, Sugihara built a website translated into eight languages. To find employers, he cold-called restaurants, nursing homes, and hotels, using newspaper articles about worker shortages in various industries to look for leads. "Without foreign workers, we wouldn't have a business," says Daisuke Matsuyama, a manager at MM International, a janitorial service used by several big Tokyo hotels that's hired staff through Gaijinbank. "Japanese people just don't want to do these jobs."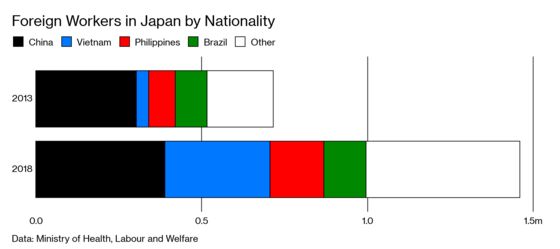 Foreign workers are also a lifeline for Kenichi Tanaka, who runs a 15-person company that lays foundations for Toyota Home. Desperate for laborers, he started hiring Vietnamese in 2014 through a technical trainee program that Japan set up in the 1990s, ostensibly to offer overseas development aid.
Critics say the program, which has brought hundreds of thousands of workers to Japan on three-year visas, is being used as a way to import cheap labor from poorer countries. There have been rampant abuses, with Japanese media reporting instances of migrants being stripped of their passports and forced to work without pay.
A 2017 government investigation found that most employers in the program were breaking labor laws, but Tanaka says he follows the rules. In his case, he says, "it's a win-win" because he gets to keep his company alive while his workers earn the equivalent of $8.90 an hour, many times what they'd make back home.
Thanh Dat Nguyen, a 24-year-old who's been on Tanaka's crew for just over a year, says he'd stay in Japan if he could. He misses his family but says: "I still feel it's worth coming here." 
Given the potential changes the new measures bring, there's been surprisingly little backlash against them—perhaps because the country's leadership has downplayed their significance. In a speech to legislators in October, Abe said the new visa program "is not an immigration policy" because the workers won't stay.
"Japan is becoming a multiethnic society in some respects but is totally in denial about it," says Jeff Kingston, director of Asian studies at Temple University in Tokyo.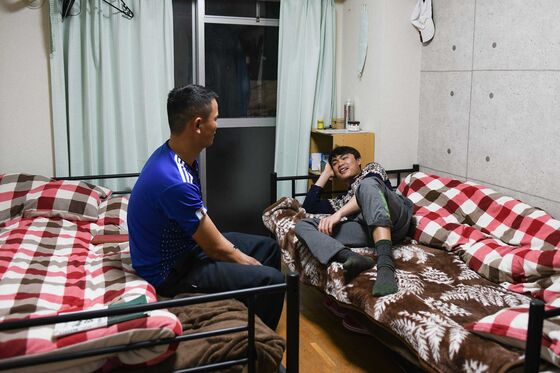 Change is already striking in Tokyo, where 1 out of 8 young people who registered as adults this January on the annual coming-of-age day were non-Japanese. In the downtown ward of Shinjuku, where city hall is located, 46 percent of the 20-year-olds were from other countries—mostly Vietnam and China. According to Kensuke Serizawa, author of a 2018 book called Convenience Store Foreigners, about Japan's changing demographics, two-thirds of the city's convenience stores (conbini) employ foreigners on the night shift.
Chen Shang Lin works the 11 p.m. to 8 a.m. shift at FamilyMart near the old Tsukiji fish market several times a week. The 25-year-old former real estate broker from Guangzhou, China, says he doesn't let it bother him when customers occasionally get rude and say such things as "Don't you speak Japanese?" He likes Japan for its order and cleanliness and plans to stay and look for other work after college. "The environment is good," he says.
Back at Gaijinbank's small third-floor office, late on a Friday afternoon, Xinyu Ling was rehearsing for a job interview. Fluent in English with solid Japanese and a master's degree from a top Chinese university, the 26-year-old was overqualified to work for $1,800 a month as a hotel desk clerk. But the job came with a five-year work visa—a major enticement, Ling said, because she loves the freedom of being an expat, living away from the pressure of keeping up with the Joneses back in China.
"My friends in China are always saying, 'Why don't you come back? You can have everything—the good job, get a car, whatever,' " Ling said. "But I'm like, 'I don't want that. I feel happy here,' " she said as she hurried off for a date. —With Pavel Alpeyev and Xuan Quynh Nguyen
To contact the editor responsible for this story: Cristina Lindblad at mlindblad1@bloomberg.net