Janet Yellen's Above-the-Fray Approach Is Put to a Political Test
(Bloomberg Businessweek) -- President-elect Joe Biden chose former Federal Reserve Chair Janet Yellen to lead the U.S. Department of the Treasury for her gravitas, quiet consensus building, and attention to data—qualities that served her well during a decades-long central banking career. Democrats and Republicans alike laud her judgment.
Now those strengths are being put to the test. Yellen, 75, needs to persuade a deeply partisan Congress to raise the debt limit without the kind of political brinkmanship that a decade ago led to the first downgrade of America's public debt. (Yellen has said it must be raised by Oct. 18; at press time, a short-term measure to raise it into December was under consideration.) She also has to fight for Biden's plan to spur the U.S. economy with historic, politically charged spending on infrastructure and social programs.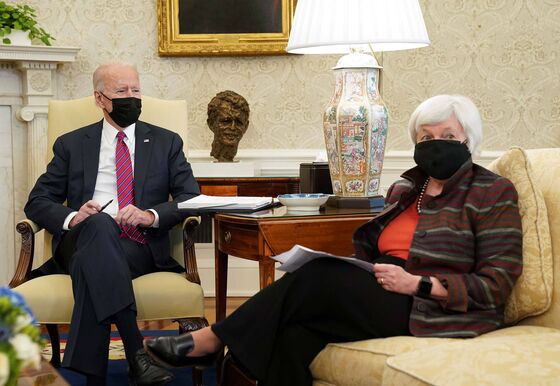 Her new job draws her into unfamiliar territory: negotiating in a narrowly split Congress where quarrels play out in public. She'll need savvy in the world of lawmaker horse-trading and dealmaking to avert what she's called a "widespread economic catastrophe" that would leave the nation "permanently weaker" if the debt ceiling isn't raised.
Her predecessors Robert Rubin, Hank Paulson, and Steven Mnuchin could draw on decades of experience in managing client relationships at Goldman Sachs Group Inc. when they arrived in Washington. Yellen is more of an academic-cum-manager. "She's not the most political secretary of the treasury we've ever had," former Fed Vice Chair Alan Blinder says.
For some, that makes her a reassuring presence as the nation's financial stability hangs in the balance. "I don't think of her as a politician as much as I think of her as an economist," says Michael Bennet, a Colorado Democrat on the Senate finance panel. "It leads her to being an important voice that's separate from" partisanship.
Even fierce Biden critics put stock in her expertise. "The credibility of you two individuals is of substance right now and very important to us in the American government," Representative Patrick McHenry, the ranking Republican on the House Financial Services panel, said last month to Yellen and Federal Reserve Chair Jerome Powell during a hearing in which he blasted the administration as dysfunctional.
Yellen declined to be interviewed for this story.
Last year, Yellen was enjoying private life after retiring from the Fed. Her newfound free time went to trying Indian recipes with her husband, Nobel Prize-winning economist George Akerlof, and giving speeches to Wall Street bankers that made her millions of dollars. Then Biden persuaded her to join his cabinet. The role of treasury secretary was tough to turn down, and it made her the first person to hold the three top economic jobs in government: helming the Treasury Department, the Fed, and the White House Council of Economic Advisers.
With staff, she's been frank about her reluctance to take the job, joking that she came out of retirement to work for Biden, according to people familiar with the matter who asked to remain anonymous because they aren't authorized to speak to the press. That has Wall Street and administration officials wondering when she will step down from the Treasury Department. Some aides inside the administration are even taking bets on whether she resigns before or after midterm elections in 2022, according to people familiar with the matter.
Inside the White House, officials say Yellen's desire to go back into retirement is clear, and some have privately criticized her approach as not energetic or visible enough. White House Chief of Staff Ron Klain disputes this. "You can't overstate how invaluable Secretary Yellen is to President Biden," he said in a statement. "She brings unmatched experience and credibility to the job."
Eight months into Yellen's tenure, "we're all learning that she's not speaking as Fed chair but as treasury secretary," says Tim Duy of SGH Macro Advisors.
But she sometimes seems to still be acting like a central banker. In public she has remarked about monetary policy in ways that her predecessors avoided, causing hiccups in financial markets one day in May by saying interest rates will likely rise as government spending ramps up. Although the statement was self-evident, the rare outlook on rates from a cabinet member gave jitters to some in the White House. Asked during an interview with Bloomberg in June if the administration would give up on massive spending plans if inflation got out of control, she quickly launched into a speech about a higher interest-rate environment.
Even on Fed issues, where her expertise is strongest, Yellen has been unable to unite the Democratic Party behind her recommendation to reappoint Powell as Fed chair. In keeping with Fed tradition, she rarely takes questions from the press.
Yellen didn't have a direct hand in molding Biden's key policies, which were shaped before his inauguration by close, longtime advisers such as Jared Bernstein. From Duy's perch as an economist advising Wall Street clients, Yellen appears to be "playing a supporting role" in setting an economic policy agenda that is "largely driven by the White House." Blinder, the ex-Fed official, agrees, noting that most of Biden's economic plan had been built before Yellen joined the administration. "They weren't waiting for Janet Yellen to be named," he says.
This role, of policy taker rather than maker, suggests a Treasury Department that's less visible than it's been in previous administrations, when treasury secretaries would shuttle from office to office on Capitol Hill to talk with lawmakers and appear regularly on TV to tout the president's economic agenda.
An administration official who requested anonymity to discuss an internal matter says Yellen is the only cabinet official who participates in daily White House senior staff calls. She regularly engages with members of Congress in both parties, the person says, and with Democratic, but not Republican, congressional leadership.
Yellen's Treasury Department so far has had a diminished role in one key area: managing the U.S.-China economic relationship. If anything she appears out of step with the rest of the administration's hard-edged stance toward the Chinese government. In July, Yellen said Trump's tariffs have hurt U.S. consumers, a comment that ruffled feathers at the White House. A few weeks later, Commerce Secretary Gina Raimondo—who hosts regular strategy meetings on China policy without the treasury chief—hailed those tariffs as "very effective." Treasury spokeswoman Alexandra LaManna says Yellen is aligned with Biden's U.S.-China vision.
Yellen has already notched some significant wins. In July she led the Group of 20 finance ministers in striking a deal on global taxes that had eluded negotiators for almost a decade. In March, Biden signed a $1.9 trillion pandemic relief bill, which passed Congress after Yellen helped convince lawmakers that the economy was in need of another fiscal boost, and she has shoveled more than $700 billion to families and businesses. She has also filled her agency with the most diverse senior officials in its history.
Klain, Biden's chief of staff, calls her a "tireless driving force" of the president's agenda: "When she speaks, everyone listens both at home and abroad."
Yellen is also using her voice to try to convince voters, lawmakers, and Wall Street that massive stimulus won't translate to runaway prices. So far she and Powell are on the same page: The spike in prices is a temporary headache caused by an economy adjusting to a once-in-a-century crisis. Whether that assessment is correct may not be obvious for years, but the results are likely to be factored into Yellen's legacy. —With Christopher Condon
 
Read next: A Simple Debt-Ceiling Fix That's Not Minting the Coin