Italy Invites Poland to the Anti-EU Party
(Bloomberg Businessweek) -- When Matteo Salvini headed to a snow-clad Warsaw in early January to offer a populist pact to Poland's ruling party, Italy's deputy prime minister had not one but two elections on his mind. As leader of the euroskeptic League, he wanted to forge a grand alliance of nationalist, Brussels-bashing forces before a European Parliament vote in May. But if his anti-migration party achieves a strong showing there, he may also push for an early general election at home, putting an end to the current coalition government and aiming to secure the office of prime minister for himself.
During his Jan. 9 visit to the Polish capital, Salvini attempted to sell his proposed alliance to Jaroslaw Kaczynski, leader of the governing Law and Justice party, as "a pact for Europe modeled on the one between the League and the Five Star Movement," the anti-establishment party he governs with in Rome. Across the European Union, League officials have courted leaders including France's Marine Le Pen, Germany's Alice Weidel of the AfD party, Sweden Democrats chief Jimmie Akesson, and Geert Wilders in the Netherlands, according to a League government member who declined to be named discussing strategy. Hungarian Prime Minister Viktor Orban, another captain of Europe's resurgent nationalists whom Salvini has met, hailed him as a "hero" after the Warsaw visit and told reporters that the advent of an "Italian-Polish axis" would be "one of the best things to start the year off."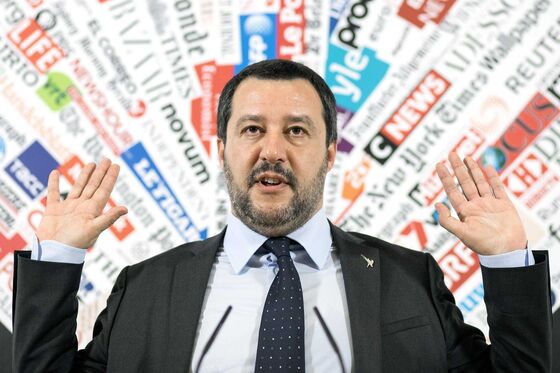 But nationalists put national sovereignty first, and those in Europe aren't ready to fall in line behind Salvini's Trumpian "Italy First" pledge. His Polish hosts gave him a lukewarm reception, with Salvini achieving only what he called the beginning of a dialogue. Russian President Vladimir Putin, whom Salvini regularly praises, is a particular sticking point. Kaczynski blames Russia for the 2010 plane crash that killed his twin brother, Lech, the Polish president at the time.
Even if Salvini achieves only a superficial alliance with such contrasting figures as Kaczynski, Orban, and Le Pen, the mere appearance of such unity in the European parliamentary vote may be enough to help him consolidate Italy's government. "Salvini will be out to capitalize on a big win," says Franco Pavoncello, a political science professor and president of John Cabot University in Rome. "His ambition to become premier will be hard to contain."
Italy's populist experiment has been rocky. Fault lines abound between the pro-business League, whose electoral base is in the wealthy north of Italy, and Five Star, strongest in the depressed south. The coalition partners have yet to deliver increased welfare benefits (a Five Star promise) and a lower retirement age (a League commitment) after allocating money for this year's budget. The duo is also at loggerheads over a $10 billion high-speed rail link with France, which Salvini favors and Five Star's Luigi Di Maio, his fellow deputy prime minister, opposes. As the EU Parliament vote approaches, the infighting will likely increase.
During Salvini's trip to Warsaw, he and Di Maio each made an appeal for nationalizing the troubled, Genoa-based Banca Carige SpA. When they were in opposition to the previous center-left administration, the populists had pilloried bankers and accused the government of wasting taxpayers' money with bank bailouts. In another turnaround, Salvini and Di Maio earlier backed down in a standoff with the European Commission over the 2019 budget, with Finance Minister Giovanni Tria pressing for a lower deficit target. Tria, who denied frequent reports he wanted to resign during the tussle, has backed a market-based solution to the Banca Carige crisis.
Behind the scenes, senior League officials are pressuring Salvini to consider forcing an early general election. The party surged to more than 32 percent support among voters in a survey for Italy's La7 television, published on Jan. 14, close to twice its score of 17.4 percent in the general election last March. Di Maio's Five Star came in at 25.2 percent, compared with 32.7 percent in March.
Any decision on an early election would have to be made by President Sergio Mattarella, who has been trying to temper the populists' more extreme impulses. He's more likely first to seek an alternative administration—possibly an alliance between Salvini and former center-right Prime Minister Silvio Berlusconi—before resorting to a snap vote.
In Warsaw, Salvini didn't bother to hide his frustration at the frequent bickering with Di Maio. "I've come here to get some air," he said as he chatted with Italian business figures at the embassy. "I'll start getting nervous again on the plane back."
To contact the editor responsible for this story: Jillian Goodman at jgoodman74@bloomberg.net