It's Easier Than Ever to Get Ethical, Elegant Home Décor From Africa
(Bloomberg Businessweek) -- When it comes to home décor, South Africa's goods don't get the love from interior designers that, say, Italy's leather furniture or Japan's delicate wallpapers do. But after spending 10 years in Johannesburg, New Yorkers Lawson Ricketts and Nick Geimer are determined to change that. Their company, Ngala Trading Co., ethically sources African decor, such as leather chandeliers and kudu-horn lamps, to a degree that wasn't the norm even a decade ago. "One thing that we try to do is show that African design isn't always tribal and beaded items," Ricketts says.
The duo is among a faction of global design tastemakers who are helping revive Africa's ancient traditions in a variety of modern categories. Bryan Mason, for example, is the co-founder of AphroChic, a company in Brooklyn that sells contemporary interpretations of Moroccan lighting. For him, it's important to remain true to historical roots while pushing the design envelope. "Africa has so many different nations, cultures, and languages," he says. "There's an opportunity to pierce the veil that people have around Africa as a single, coherent place."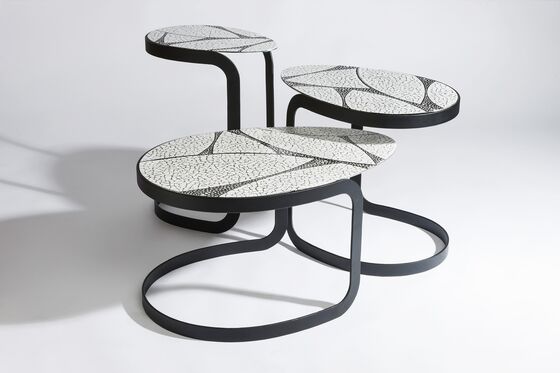 This August, Ngala Trading began representing the work of Avoova, a company in the Karoo region of South Africa that creates home goods studded with fragments of ostrich eggshells. Its 45 artisans get a healthy salary and paid vacation for making intricate nesting tables and Fabergé-esque pewter candles.
This kind of business model is extremely rare on the continent, where, according to Rebecca van Bergen, founder of the nonprofit Nest, 99 percent of artisans are paid per piece and most of them toil in their homes. But paying artisans a fair salary isn't charity, Ngala Trading's Geimer says. It's commerce. "We don't dig water wells. We don't fund nurseries," he says. "We give people jobs—well-paying jobs on a salary in good conditions. And it's scalable."
They've already had success working with luxury labels. One of their brands, the South African ­ceramist and soft-goods company Ardmore Design, recently licensed its Monkey Bean pattern to be printed on Hermès scarves.
Rose & Fitzgerald
Founded by a California couple in Kampala, Uganda, this is the source for fair trade soapstone barware hand-chiseled in Kenya's Tabaka Hills.
Xnasozi
Nasozi Kakembo founded this lifestyle shop after a trip to Senegal. Here, African wares include throw pillows made of Ghanaian batik.
Katel Home
Opened in June, this home goods cache is the place to buy storage hampers made by the Saharan Wolof tribe from cattail stalks.
Indego Africa
One hundred percent of this New York nonprofit's revenue is reinvested into education programs in Rwanda and Ghana. Look for indigo mud cloth ottomans and tables carved from single blocks of cedrela wood.
All Across Africa
This certified B Corp employs more than 3,600 people in five African nations and sells raffia woven wall hangings and Ghanaian fans through its shop Kazi.
To contact the editor responsible for this story: Chris Rovzar at crovzar@bloomberg.net, James Gaddy