Is the Key to Beating the Market Written in the Stars?
(Bloomberg Businessweek) -- It's 11 a.m. at the Princeton Club in Midtown Manhattan. A number of financial professionals have gathered here for the "AFund June 2018 Natural Resources Investment Symposium." Our first speaker is HSBC's chief precious metals analyst, the aptly named James Steel, who promotes gold as a hedge against populist upheaval. After Steel, there are slideshows from several mining companies seeking investors. After that, lunch. A generic networking event, by all appearances.
But here's the thing about AFund: The A stands for "Astrologers." It's run by an antic, charming 70-year-old named Henry Weingarten who says he gleans insight from charting the movements of celestial bodies. Today's event isn't technically about astrology, but like everything in the universe, it probably is. "Sixty to 70 percent of what I do is in the natural resource space," Weingarten tells me after lunch at the club, holding a glass of red wine. "I think it's because I'm a Leo. And effectively, as a Leo, I have an affinity for gold."
Even odder than the existence of the Astrologers Fund is its ability to attract the interest of nonlunatics. A few years ago, Fox News' Neil Cavuto told Weingarten on the air that he was "one of the best stockpickers I know." Post-symposium, at the Princeton Club, Weingarten and I are joined at a table by a buttoned-down crew. One of them is an analyst for a small investment bank; another says he runs his own family office. Everyone has some kind of relationship with Weingarten, from the cordial to the professional, though nobody seems to understand how financial astrology works. "Tell me the time, don't build me a clock!" says Paul Feeney, a corporate headhunter, repeatedly.
A few days earlier, Weingarten subscribed me to his weekly market forecasting newsletter, whose major insight lately has been: "US MARKETS ARE 'EASY' IF YOU REMEMBER THAT TRUMP'S 2018 HOROSCOPE IS STELLAR." I ask Weingarten what that means. He responds by chronicling his rise from fledgling East Village astrologer to financial oracle, from his prediction of the 1990 crash in Japan to his glorious 2016, in which he was long on a Trump victory and the market rally to follow. I ask the same question maybe five more times before he clarifies that he had seen a "double Jupiter" in Trump's horoscope, "which was a big win." This year "he has a Jupiter-Neptune." Which means? "It means he's going to win." Which tells us what about U.S. markets? It tells us they will win. "Jupiter means winning. Win! Win! Win!"
Weingarten is prone to soliloquies extolling his "world-class, nobody better" forecasting record. Asked to explain his methodology, he answers in gnomic riddles or not at all. The family office guy asks how financial astrology might relate to SpaceX and other efforts to explore beyond Earth. Weingarten cuts him off and says he can't give him an "informed decision about how children on the moon will be affected."
The conversation gets weirder, and Weingarten calls over one of today's presenters, a muscular Canadian named Rod Husband, to quell my skepticism. Husband is a Vancouver-based precious metals analyst. He says he hired Weingarten to help him forecast trends in the commodities market. (Weingarten also got paid for letting Husband present today.)
"When I first met Henry, I thought, 'What the hell,' " Husband says, evenly. Over time he learned to trust Weingarten's advice and stop asking questions. "So if he uses—Henry, forgive me, because I don't follow it—if he uses Jupiter and Mars to say that the next three-month trend for gold is going to be good, and if it coincides with something that I'm thinking, then OK." To Husband, Weingarten's appeal is obvious: "He uses astrology to separate himself from the other guys."
The aspiring financial astrologer must first grasp the basics of regular astrology. Everything revolves around the zodiac calendar, a 360-degree belt of sky, drawn from the perspective of Earth, organized into 12 30-degree wedges. These are called Libra and Taurus and so forth. A person's horoscope sign thus corresponds to the month of the zodiac calendar through which the sun appears to be "moving" around Earth when she was born. (Which makes astrology geocentric. Never mind Copernicus.)
That said, professionals tend to be snobby about "sun sign" horoscopes. They use more complex "natal charts" that diagram the exact position of the sun, moon, and planets in relation to one another at the exact time and place of a person's birth. Each planet signifies certain things (Jupiter means winning!) based largely on the angles at which it interfaces with other planets. Weingarten tells me I would need to study astrology for four years—"maybe three, with computers"—to grasp what's going on up there. Astrology may be a pseudoscience, but that doesn't mean it's easy to learn.
This brings us to finance. Most investors have no idea what tools fund managers use to choose stocks and bonds. (Tell me the time, don't build me a clock!) Much of the business of Wall Street is based on methodologies as obscure to the uninitiated as a natal chart. It was only a matter of time until these two industries joined forces. Weingarten's 1996 book Investing by the Stars traces financial astrology back to the Babylonians. A couple thousand years later, it's claimed, celebrity astrologer Evangeline Adams advised John Pierpont Morgan.
It wasn't until the 1960s that the vocation was quasi-professionalized by a longtime Consolidated Edison Inc. employee who went by the name of Lieutenant Commander David Williams. Williams came to astrology via the burgeoning theory of "business cycles," which posited that the market's ups and downs have little to do with the particulars of companies or events but much to do with such patterns as the Fibonacci sequence, sunspots, or variations on Pi. Many of these, he thought, were themselves connected to planetary cycles. He found that during a series of 9.226-year cycles, the stock market bottomed out 80 percent of the time at Aries and Libra positions and crested 80 percent of the time at Cancer and Capricorn.
By grounding astrology in the less mystical-sounding business cycle, Williams inspired a new generation of financial astrologers. The most decorated is Arch Crawford, 77. Mark Hulbert, a ranker of financial newsletters, has rated Crawford the country's top stock market timer a number of times. One of his biggest wins came in 2008, when he essentially called the crash. Crawford, a veteran of Merrill Lynch & Co., nails his CNBC soundbites and comes off as only mildly eccentric when discussing his craft. "I have the moon on the midheaven in Capricorn, which means I gain the attention of people without trying," he tells me. "I have been written up in all the best places."
There's a surprising wealth of academic research on the relationship between the skies and the market. I read a half-dozen peer-reviewed papers. The most convincing was published in 2006 by three University of Michigan economists. While the effect of full moons was long thought to incur depressive and violent behavior in humans (and howling in wolves), its power over markets was a relative unknown. The paper's findings were kind of remarkable: In a 48-country portfolio, annualized stock returns were 3 percent to 5 percent lower around a full moon than a new moon.
To a financial astrologer, this is unsurprising. Recently I connected with an enigmatic finance guy who for decades applied his astrological models in relative secret as a trader on the floor of the Chicago Mercantile Exchange. He was drawn to astrology via Buddhism, on which he overlaid, among other things, economist Joseph Schumpeter's theory of cyclical creative destruction. The trader, who asked that his name not be used for fear of being shamed, cites Einstein to point out the universe is just a pattern of energy, and thus obviously shaped by the movements of large heavenly masses. How could markets not be affected by the sun, moon, and planets?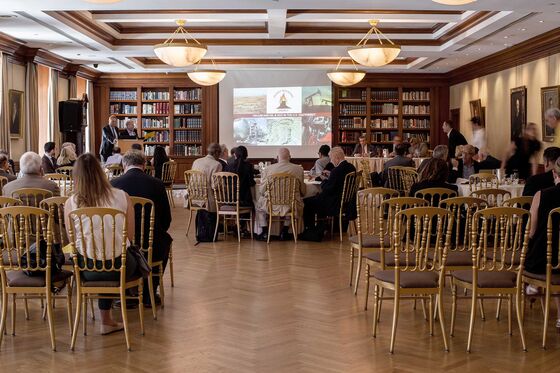 A couple of weeks after the symposium, on the day after the summer solstice, Weingarten and I meet again at the Princeton Club. Weingarten didn't attend Princeton and has no connection to the university. He uses it as a base because the food is top-notch, he lives nearby, and he doesn't have an office. In any event, he's elated, and shows me why on his laptop. For months he's been telling his newsletter subscribers that Bitcoin will slide in June, particularly around the 21st, the day of the solstice. And … bingo! The price of Bitcoin has dropped today almost $700, one of its biggest one-day plunges.
Weingarten has been bearish on Bitcoin for a long time and has some nonastrological reasons for it, including iffy security and possible regulation. He's vague when asked to elaborate on the planetary technical analysis. "There were a bunch of charts that said Bitcoin was going to get slaughtered," he says, showing them to me for an unhelpfully brief period of time. Eventually he relents somewhat, explaining that his zodiac charts displayed looming Saturns for Bitcoin. "Saturn has to deal with limitation, or it has to deal with reality," he says. "And the reality of Bitcoin is it's a piece of shit."
When our Schumpeterian trader from Chicago muses about the relationship between Earth and other celestial bodies, he implies some electromagnetic or gravitational pull. Something sciencey. Weingarten's financial astrology is more ethereal. More … pagan. The reason Saturn has to deal with limitation or reality is that Saturn is the Roman name of the Greek titan Cronus, aka Father Time. Saturn stands for the passage of time. It is melancholic; it's why we have the word saturnine. It's why Weingarten called b.s. on Bitcoin.
Another of his predictions involved the uptick in the price of oil, thanks to "astrology, Trump, OPEC restraint, global growth, and Mideast geopolitics-potential ISIS al-Qaeda mischief." The astrology part is determined by the movements of Neptune and Pluto. Neptune "rules" oil and gas, in part because it signifies the blurring of boundaries, presumably because … Neptune is the god of the sea? Pluto, meanwhile, is the god of the underworld, and oil comes from under the world. I point out to Weingarten that he's ascribing to planets characteristics that have no significance beyond the mythological names they were given. "Maybe they were well-named," he replies.
Weingarten doesn't often discuss his bad predictions: for instance, the great stock market crash of 2006. Or the meteoric rise of a "robotic construction" company named International Hi-Tech Industries Inc., which paid him as a consultant, underwrote his website, and eventually fell to pennies a share before being delisted. (Weingarten: "Well, the guy was an asshole.") Look a little deeper into the records of other astrologers, and they aren't always pretty. When I call Hulbert, the guy who rates newsletters, he confirms that once in a while Crawford has performed really well. But overall? From 1989 to early 2016, Hulbert says, his record was "unremarkable."
It's not clear how much money Weingarten has made for his clients. At its peak, he says, the Astrologers Fund managed "under $25 million" for "under 10" clients. Some years, he says, the fund returned 100 percent; some years, "less." A few years ago he stopped accepting new investors and began managing his own money exclusively. On a page labeled Disclaimer on his outmoded, space-themed website ("done in 2000 by a friend of mine who did porn websites"), he lists payments over the years from consulting clients, including natural resources companies, penny stocks, and—inevitably—a cryptocurrency startup.
In 2000, Weingarten was hired to provide astrological services to a company called UN Dollars Corp. The guy who hired him, Edward Durante (who also has gone by several aliases), was convicted in 2001 for a scheme to inflate the value of stocks before dumping them and cashing in. Weingarten settled a complaint involving UN Dollars with the Securities and Exchange Commission for $15,000 and admitted no wrongdoing. He wasn't accused of conspiring with Durante, but of hyping the stock in his newsletter and investing his clients' money in the company without indicating that he had been paid with 250,000 shares of UN Dollars, though he did say on his website that the company was a client. Weingarten says he can't really talk about the case, citing a nondisclosure agreement, but insists he settled it only because his wife said she'd divorce him if he fought the case in court.
In 2007, Warren Buffett bet hedge fund manager Ted Seides $1 million for charity that a fund indexed to the S&P 500 would beat five of Seides's favorite hedge funds over 10 years. The S&P returned 7.1 percent annually; the five funds returned 2.2 percent. Buffett didn't just win the bet, he won an argument about investing. Professional money managers look for patterns in the markets or divine signs on a balance sheet. Sometimes their systems work well for a while. But time, or Cronus, grinds most of them down, and few beat the S&P in the long run.
Still, people don't read their horoscopes looking for accurate forecasts of their futures. They want something to feel hopeful about. I suspect Weingarten draws a semi-respectable crowd to his events for a similar reason. Listening to an unrepentant financial astrologer may be reassuring to people who feel that their expertise has been rendered obsolete by index funds and trading algorithms. Weingarten's found an edge! And it may just have the weight of the cosmos behind it.
To contact the editor responsible for this story: Pat Regnier at pregnier3@bloomberg.net