Elephants Can't Vote, But They May Decide Botswana's Election
(Bloomberg Businessweek) -- Proceedings had barely begun at a recent summit in Kasane, Botswana, to discuss its huge elephant population, when a man returning home from an evening out with friends encountered a herd and was trampled to death. His grieving father told a local paper he now hates the animals that gather in the northeastern corner of the country. "I used to like elephants," he said, but "they did a cruel thing to me."
For Botswana, elephants are becoming a dilemma. The government wants to lift a ban on hunting wildlife because the pachyderms are destroying crops and occasionally killing people, arguing that while the nation's savannas may be popular with wealthy foreigners who pay $355 a night for a luxury lodge, trophy hunting would bring in more revenue. An elephant hunt in neighboring countries costs about $45,000.
Conservationists fiercely opposed to the idea say Botswana is one of the animal's last safe havens in Africa and believe President Mokgweetsi Masisi's motives are political. Support for his Botswana Democratic Party, in power since independence from the U.K. in 1966, reached a record low of 46% in the last vote in 2014. Lifting the ban would appeal to villagers struggling to keep elephants out of their fields and boost Masisi's popularity ahead of general elections in October.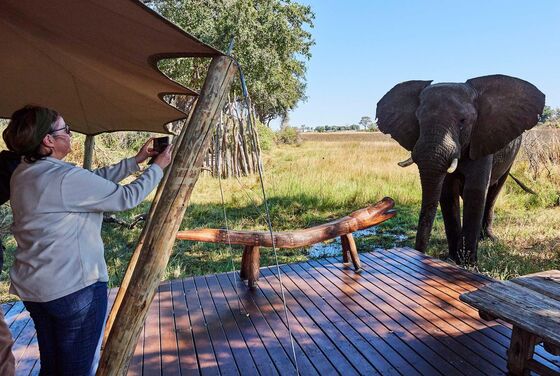 As the debate rages, the size of Botswana's elephant population is its own talking point. Environment Minister Kitso Mokaila put the number at 160,000. A member of Parliament last year said it was close to 230,000, citing government data. Scientists including Rudi van Aarde, emeritus professor of zoology at the University of Pretoria, say the population has been stable for years at about 130,000.
Former President Ian Khama, who still wields enormous influence in the country of 2.3 million, is one of the animal's most ardent champions. A son of Botswana's founding father and a conservationist, he introduced the hunting ban in 2014 and approved a shoot-to-kill policy against poachers. His disapproval of the government's plan has caused an unprecedented rift in the ruling party. Local media accuses him of trying to oust Masisi, his former deputy, and waging a propaganda war to protect a tourism industry that accounts for a fifth of the economy.
Khama says he's simply "extremely disappointed" with the new administration. If Botswana has more elephants than it should, it's because many are "refugees" that have crossed borders from areas where they're hunted and poached. "Our tourism has been really booming in recent years, and the elephant probably stands out above anything that people want to see," he says. "If you're going to start hunting and getting rid of them, you're going to start devaluing that resource."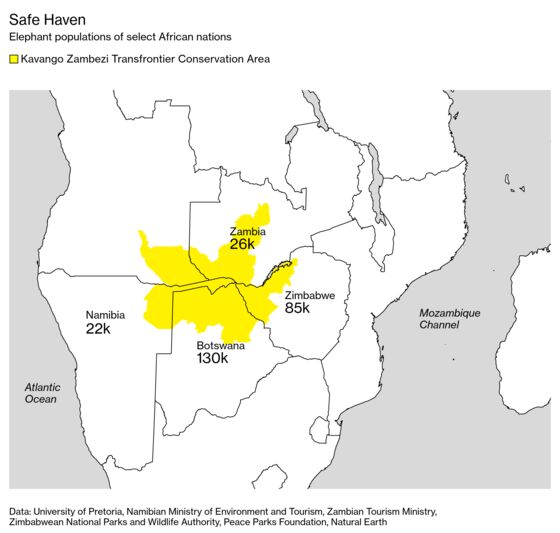 It isn't hard to see why elephants have polarized Botswana, a dry, landlocked country with little choice but to rely on wildlife and diamonds for income. Its nature reserves aren't fenced, so dangerous animals can roam freely. Humans and elephants compete for water in the only areas where farmers can grow sorghum, millet, and corn.
The government compensates farmers when elephants eat their crops or attack villagers, but people in rural areas say it isn't enough. "The only solution is for elephants to be reduced," says Twaemango Ndoze, a deputy headman of Seronga, a village in the swampy Okavango Delta.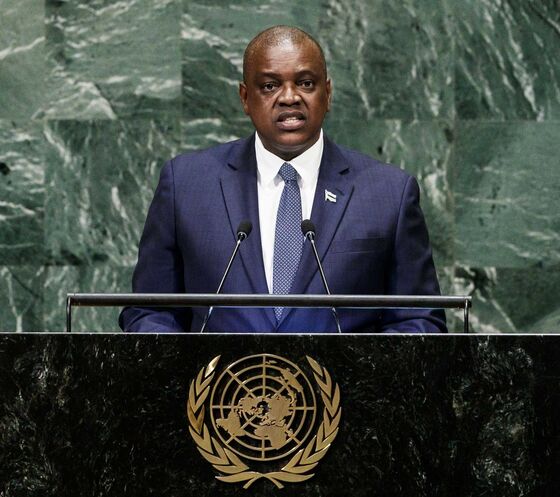 Last year, Masisi's government set up a committee to organize public hearings across the country, but that resulted only in recommendations that—unsurprisingly—support the view there are too many elephants. It also suspended the shoot-to-kill policy and removed military-grade weapons from antipoaching units.
Masisi hosted the presidents of three other southern African nations at the May 3-7 summit in Kasane to try to work out a common policy. The four nations share management of the Kavango Zambezi Transfrontier Conservation Area, a border-straddling, 520,000-square-kilometer (200,773-square-mile) expanse of swamp, savanna, and riverine habitat that's home to about half of the world's elephant population of at least 415,000. "We cannot continue to be spectators while others debate and take decisions," Masisi said at the meeting, complaining about the outcry in Western media whenever reducing numbers is brought up.
Masisi floated culling at the summit as a possible solution. But the suggestion that some meat could be sold as pet food caused a firestorm among animal-rights activists, and the proposal was abandoned. Instead, a technical paper distributed at the meeting favored "cropping," arguing that if communities are allowed to hunt for meat, they may be encouraged to conserve their wildlife.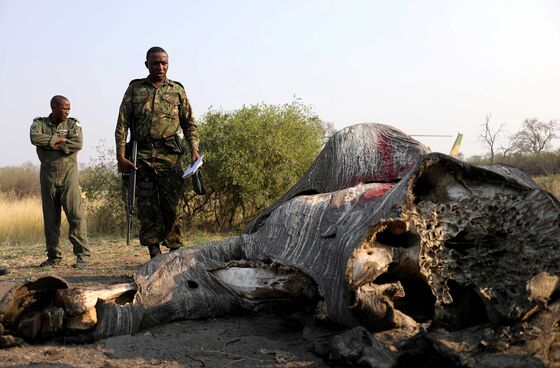 Conservationists claim that the government is in denial that poaching is on the rise. Mike Chase, director of Elephants Without Borders, warned authorities last year the animals were being killed at a "worrisome level" in four hot spots. He says he received death threats when the BBC reported that his organization had undertaken a four-year survey that concluded there'd be a six-fold increase in "fresh carcasses" in northern Botswana. The government dismissed the report as false and misleading and said it would start its own investigation.
"Are elephants a decisive issue in the elections? In my constituency, yes," says Parliament member Ronald Shamukuni. (It was his cousin who was trampled to death recently.) "As much as we live with wildlife, there has to be a way of benefiting from them." The government needs to be responsible when its people raise concerns, he says. "Outsiders just don't know what is going on."
To contact the editor responsible for this story: Antony Sguazzin at asguazzin@bloomberg.net, Caroline AlexanderCristina Lindblad