In an All-Out Cyberwar, Iran Would Be a Formidable Foe
(Bloomberg Businessweek) -- Trump has vowed that Iran will never join the nuclear club, but that hasn't stopped it from developing powerful weapons of a different sort. Unlike conventional warfare, cyberwar has no Geneva Convention or other rules limiting harm to civilians.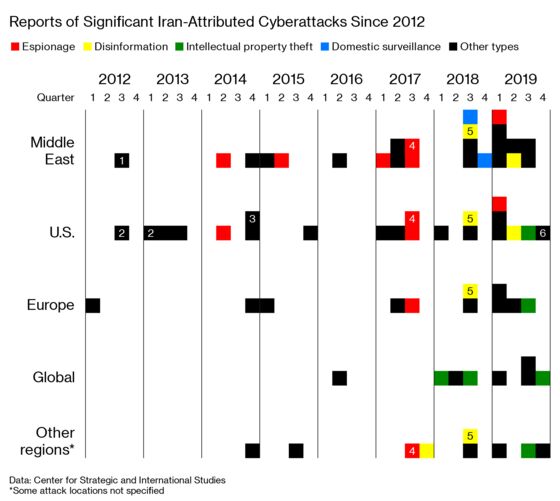 1. A group known as Cutting Sword of Justice, thought to be sponsored by Iran, used a virus called Shamoon to destroy data at Saudi Arabia's state oil company.
 
2. A series of distributed denial-of-service attacks crippled the websites of major U.S. financial institutions.
 
3. An attack on one of billionaire Sheldon Adelson's Las Vegas casinos was later deemed the first harmful use of cyberweapons on the U.S. by a nation-state.
 
4. Another Iran-linked hacking group known as APT33 targeted Saudi, U.S., and South Korean businesses in the defense and oil industries.
 
5. Iran has tried to sway elections in the U.S., U.K., and multiple Latin American and Middle Eastern countries.
 
6. Microsoft announced that an Iran-linked group tried to hack email accounts associated with journalists, U.S. government officials, and a U.S. presidential campaign.
To contact the editor responsible for this story: Jillian Goodman at jgoodman74@bloomberg.net