The Run of Your Life
(Bloomberg Businessweek) -- We've been running for three and a half days now, passing through valleys aglow with yellow aspen groves. We've summited lung-busting peaks reaching almost 12,000 feet and hobbled among rocks beside slate-colored lakes. But suddenly my group, a small scrum of amateur endurance athletes, is presented with an unexpected challenge: How do we cross 30 feet of pavement?
That's the question our guide Rickey Gates poses the only time we hit a road for the entire duration of the 100-mile Hut Run Hut in September. It's a trek he leads every summer through Colorado's Rocky Mountains, following a delicate network of trails that's absolutely baffling in its beauty. Gates, who hides an impish sense of humor under his bushy mustache, asks us to cross the Top of the Rockies Byway by any manner other than running—because we've been running for days, and we'll be running for days to come. "So, what'll it be?" he asks. "How you gonna cross it?"
Many of us are middle-aged and graying, all of us old enough to know better than to undertake this journey. We can't quite decide how to cross the two-lane road, which runs from Aspen to just past Minturn, Colo. Make like zombies dragging our damaged carcasses? Nope, already done by other Hut Run Hutters. Hmm. Well, beyond running on dirt for days, our group has spent a fair amount of time hopping from rock to rock across creeks. Not a single one of us has gotten wet. So we'll hop.
You'd think traveling by foot through the Rockies for six days is a serious undertaking, even grueling. But Hut Run Hut is a joyous exercise, a way for distance runners of varying abilities to reap the rewards of logging all those training miles. A dozen or so participants run and hike from 10 to 20 miles a day, spending eight hours or more on single-track trails and remote dirt roads. And each night, they stay in one of the backcountry huts that dot the landscape throughout central Colorado. So, yes, Hut Run Hut is seriously difficult, possibly inflicting a real toll on the body. But Gates takes the view that such an endeavor should also be filled with glee.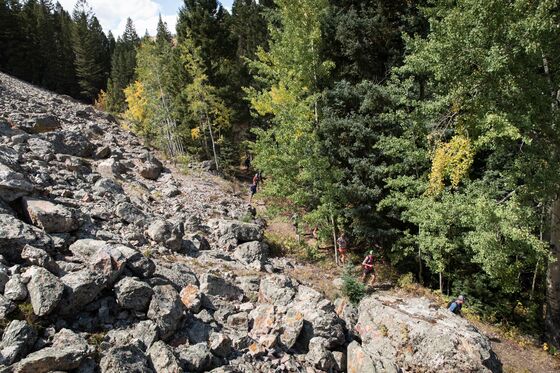 This mindset comes from a lifetime of experience in these mountains: Born in Aspen, Gates began summiting ­fourteeners (mountains 14,000 feet or higher) in his teens and ran cross-country in high school. He's gone on to make a career out of mountain running, gaining a sponsorship from French outdoor gear powerhouse Salomon SAS. Give him dirt and rock, big ascents and descents, and he's home, placing on the podium in races ranging from 5 kilometers (Mount Marathon) to 125km (Canadian Death Race). But Gates, 38, has proved he's not averse to pavement. In 2017 he linked together stretches of asphalt and trails in a transcontinental journey that took him from Charleston, S.C., to the Bay Area. And last November and December, he ran every street in San Francisco, documenting what he saw in its neighborhoods with camera in hand. Hut Run Hut began in the summer of 2014, loosely following a 100-mile winter tour normally traversed on skis. "I find that if people have made it as far as signing up for the trip, then they have overcome the biggest challenge," says Gates. "That is: believing they are capable."
Four days before our road crossing, we would-be Hut Run Hutters meet in the lobby of Aspen's Limelight Hotel, where we drink beers, receive hydration packs to carry essential supplies, and contemplate turning back before it's too late. Among us are Bob and Mary Kae Woodworth, a couple from Florida with kids who are full-grown—and probably wondering what in God's name's gotten into Mom and Dad. Then there are Bruce Chisholm and Richard Morbey, best friends from New Zealand who indicate they're feeling good on the trail by saying they're "a box of fluffy ducks." There are doctors and lawyers and veterinary surgeons here—folks with full lives who desire to make them even fuller. "What's your spirit animal?" Gates asks us, breaking the ice. Me? Hairless mole rat, I say—supposedly, they feel no pain.
The next morning we're off on our trip beneath a perfect blue sky, leaving behind the luxury boutiques of Aspen. A few miles out of town on the trails, I'm already blowing hard, sweating, and, as we rise through the thin air, suffering a little. (Thanks for nothing, spirit animal.) Our group is just settling in for the long haul, and I'm concerned we've gone out too fast, jogging the uphills at about a 10-­minute-mile pace. As far as full plates go, our first day will offer us a heaping helping: roughly 20 miles and 5,000 feet of cumulative elevation gain. The temperature is already approaching 80F, and it's dry, the path turned to dust and the thistle shriveled to skeletons. Even in early September, some of the aspens above us have blushed to the color of peaches. In places where the foliage has already fallen, the ground seems covered with coins. My movements feel slow against the immensity of our surroundings, minuscule through this valley.
Our travel, though, isn't always at this pace. Given the numerous grueling climbs, which reduce us to the grunt work of hiking, we're sometimes rewarded with downhills unrolling for miles along magical paths wide enough for only a single runner—the equivalent of a surfer's endless wave. Here the legs are freed, given gravity's advantage, allowing the stride to open up. (Just watch those aging knees.) On our first day, our group descends a few thousand vertical feet along the trail at lunchtime to meet our support crew, who have set out a table with fixings for ham wraps and peanut butter sandwiches. We sit in the shade of a few trees against an otherwise open sky, a creek clamoring anxiously beside us. We down sodas and sports drinks, eat handfuls of chips and sticky candy. We rest. We stretch. We refill our bottles. And then we climb again. This first leg sets up a pattern for the balance of our week: climb, descend, eat, climb.
What awaits us on the other end of each day completes the pattern: repose. After the final ascent on our first ­afternoon, I get an initial glimpse of the steeply peaked roof of Margy's Hut. It's a bit dreamlike to find such a ­structure—a little house—stuck among all this wild, but the 10th Mountain Division Hut Association manages a constellation of more than 30 of these cabins in Colorado's central Rockies. The association was co-founded in the early 1980s by Fritz Benedict, who'd been the head gardener at Frank Lloyd Wright's Taliesin, the architect's estate near Spring Green, Wis. Benedict first visited Aspen in 1941, then found himself a year later stationed at Camp Hale, drafted as a member of the Army's 10th Mountain Division, which specialized in skiing and other winter maneuvers. Upon his return from Italy after the war, he became a prolific architect in Aspen, where he designed more than 200 buildings. Benedict's other passion was skiing. Having traveled on skis between Camp Hale and Aspen as part of his military training, he and other veterans envisioned a hut system that would link Aspen, Leadville, and Vail. The first, McNamara Hut and Margy's Hut, were completed in 1982.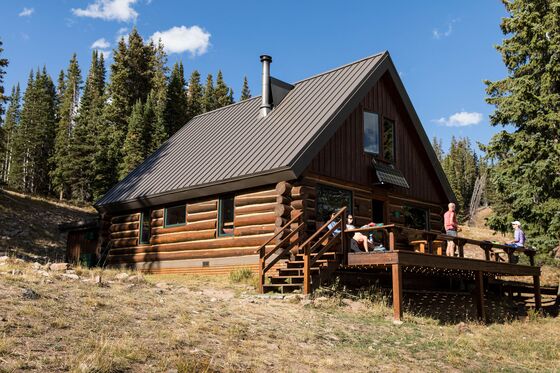 Because sleeping arrangements are first come, first served, I've hustled the final mile to arrive here just before the rest of the group. But before I head upstairs to pick my bed, I'm halted on the first floor by its homey feel: There's wood everywhere, a lumberjack's fantasy. The hut has an open floor plan; the kitchen is spacious with plenty of counter space, and it flows into a dining area with two generous tables flanked by benches. Massive windows that reach to the ceiling overlook the deck. A wood-burning stove rests in the middle of the common area, which is outfitted with board games and books. There will be slight variations in each of the huts we'll visit, but they are uniformly functional, right down to the basic but durable kitchen­ware. The similarities we'll find while moving toward our destination of Red Cliff offer something reassuring: We get to pick up where we've left off in a book we've pulled from the shelves. (I'm so tired, it'll take me several nights to finish The Lorax.)
Once our group has cleaned up and changed into flip-flops, fleeces, and jeans, we seat ourselves at the tables and listen to chef Dave Krutel describe the dinner that's been trucked in by our crew. The fare is hearty and delicious, as it will be every night of our trip. On enormous communal platters, in bowls that require two hands to pass, we discover blackened swai fish with charred pineapple, mango and jicama salad, spiced black beans with fresh marjoram and orange, and pan-roasted sweet potatoes and peppers with garlic toum. I eat deeply, inhaling the food like air, going back for more. Room for dessert? Sure. Bring on the crisp plantains with coconut ice cream and rum raisins. And this meal is only the beginning of the food journey we'll be taking alongside the one we'll make on foot. Later in the week, we'll feast on perfectly seared lamb chops and braised short ribs glazed with cabernet onion jam. And, yes, of course I'll have the Nutella bread pudding.
Although the shared sleeping quarters are spacious and warm, most nights I choose to pull my thin foam mattress off its platform and out to the deck, where the silence is so clear it's almost sharp. The temperature above 10,000 feet can plummet at night, so I mummify myself in my sleeping bag, watching the sky fill so completely with stars they seem cramped. First light washes them all away, then outlines a few nearby peaks, which seem to glow under thin stretches of clouds turned the color of pumpkins.
Our second-to-last day proves the most impressive. After we've dropped our bags at our support vehicles, we head out from Jackal Hut through evergreens until we hit a steady climb that takes us above the tree line. We'll remain in the sun at these elevations all day and move among a low alpine growth, where we can see ridge­lines, dozens of summits, and a twinkle of chairlifts on the open ski slopes of Vail. Here there often are no trails. We pick our way from peak to peak, sometimes over vast scatterings of rock. We're often met with the meep, meep, meep! of pikas, gerbil-like creatures that scurry away from us toward crevices, a sprig sometimes clenched in their teeth as they ready their nests for winter.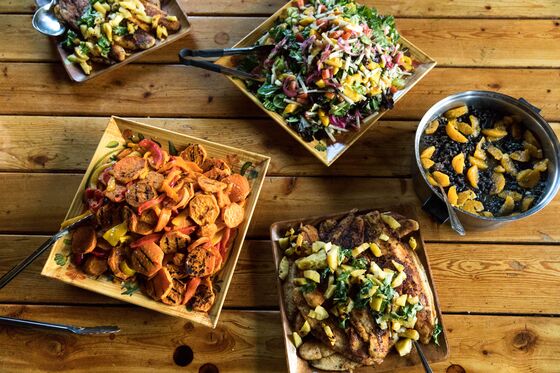 Knowing the region so well, Gates has linked together an impressive network that lets us coast down dirt roads frequented by elk bowhunters and bushwhack in wilderness areas where the paths suddenly disappear before us. Most members of our group are subjected at some point to gravity's grand drama—or comedy: We trip and fall, and we trip and fall greatly. Despite our numbers, I spend hours alone picking my way over rocks along the Colorado Trail or stopping to take in the next wonder. With so much time alone on the paths, one might think these stretches have been abandoned.
But such a notion goes against what's been happening in America's outdoors: More and more people are venturing beyond the scenic byways, stepping out of their comfortable cars, and hitting the trails. According to a 2017 report from the Outdoor Foundation, 42.1 million Americans over the age of 6, or 14% of the population, explored a trail the previous year. Running on roads and trails was the country's most popular outdoor activity in 2016, with 52.3 million participants and 884.5 million outings. Also, ultrarunning—races longer than a marathon, a majority of which are held on trails—has seen a dramatic increase in participation. According to UltraRunning Magazine, there were 540 ultras in the U.S. and Canada in 2008. The number had almost quadrupled, to 2,014, by 2018.
Running for six days in Colorado can leave one believing its trails are simply limitless. Every dastardly climb seems forever balanced by a downhill, one that allows you to lope easily at top speed, to feel like you're flying. Our group has such a descent on our final day. After running like kids through a sloppy creek bed, we hit a stretch of dirt road that gradually unwinds toward the town of Red Cliff. And then, suddenly, it's there again—the pavement, an alien thing, stretched out for miles in front of us. We have no choice but to take it. So I close my eyes and imagine I'm crossing a creek, hopping from rock to rock, with endless strides of wild still ahead of me. Hut Run Hut is being offered Aug. 25-30 and Sept. 15-20. $2,500
It's a big, beautiful world full of trails. Here are three other outfits that can send you on a dayslong run out in nature. 
Trail Run Adventures
Anna Frost and Ron Braselton guide groups in Bhutan, Ecuador, Greenland, and other far-flung locations. There aren't established hut systems for these trips, so participants stay overnight in hotels, high-mountain camps, and eco-lodges.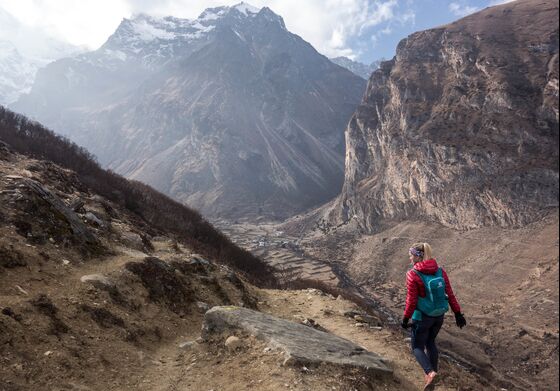 Dolomite Mountains 
This company books five- to nine-day tours through the peaks of northeastern Italy, with runners staying in a combination of hotels, B&Bs, and refugios (shared dorms).
Ultra Camps
Another option for getting off the pavement and out of the busy world is a trail-running camp. A handful of the U.S.'s elite ultrarunners, including Rob Krar, winner of both the Western States 100 and Leadville 100, offer the opportunity to gain a deeper knowledge of the sport while running alongside them.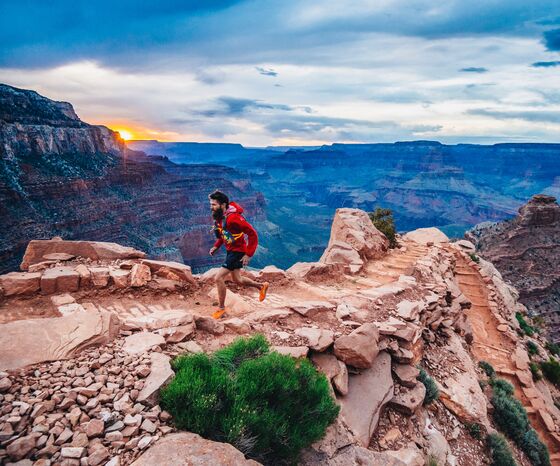 To contact the editor responsible for this story: Chris Rovzar at crovzar@bloomberg.net, James Gaddy