How the Murdoch Children Are Likely to Spend Their Disney Haul
(Bloomberg Businessweek) -- For several decades, the media industry watched slack-jawed as Rupert Murdoch acquired newspapers, magazines, TV channels, book imprints, movie rights, satellite assets, websites, and social networks. He bought from old-money, aristocratic families on the decline and from startup hipsters on the rise. Whether the media market was hot or frigid, Murdoch kept right on buying in spite of howling opposition from his progressive detractors.
Then, finally, he sold. In June 2018, Walt Disney Co. agreed to pay $71 billion to acquire much of the sweeping territory Murdoch spent a lifetime assembling. Among other assets, Disney is poised to take control of 21st Century Fox Inc.'s TV and movie studios, its slate of cable-TV networks, including FX and National Geographic, and its stake in satellite-TV network Star India. The deal, which is navigating one of the final regulatory obstacles in Brazil, is expected to close this spring. When it does, the Murdoch clan, via its Nevada-based family trust, will likely net a mix of cash and Disney shares worth as much as $11.6 billion.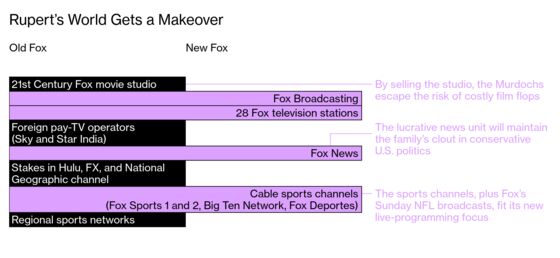 For years, everyone in the industry loved to debate which of Murdoch's three adult children from his second marriage—James, Lachlan, or Elisabeth—would ultimately assume the throne of their father's vast empire. While the huge Disney sale has put to bed that question for a simple reason—instead of a globe-girdling empire, the Murdoch heirs are about to inherit a war chest—it also raises a new one: What will they do with all that money?
Much attention will be focused on Lachlan, 47. When the deal with Disney closes, Rupert's elder son will take over as the chairman and chief executive officer of the new Fox Corp., overseeing a company that will be roughly a third of its previous size. Its portfolio will be largely rooted in current-events TV programming in the U.S. via Fox News, Fox Broadcasting, and Fox Sports. It's unlikely to stay small, however.
"We will buy other things," Lachlan said in November during an appearance at a conference hosted by the New York Times. "We will be acquisitive." Through spokespersons, members of the family declined to be interviewed for this story. Recent moves, however, hint at the possible direction of things to come.
Lately, 21st Century Fox has been stockpiling the rights to high-profile live events. In January 2018 the company signed a deal for roughly $3.3 billion to take over the broadcast rights for the NFL's Thursday Night Football games through 2022. A couple months later, Fox scooped up the rights to World Wrestling Entertainment Inc.'s popular SmackDown broadcasts, paying about $1 billion for the five-year deal.
In September, 21st Century Fox invested $100 million in Caffeine, a livestreaming platform reminiscent of Amazon's Twitch. At the same time, Fox Sports announced a joint venture, Caffeine Studios, that will develop exclusive live entertainment content, including esports competitions. "We're excited to partner with Caffeine and build something special for fans in the growing live social streaming esports and gaming space," Lachlan said at the time. He now sits on Caffeine's board.
"They've been ahead of everyone else in terms of this bifurcation in media between live and on-demand," says Geetha Ranganathan, a media analyst with Bloomberg Intelligence. "The prices of content have risen so astronomically thanks to Netflix and Amazon. New Fox will be still spending boatloads of money, but at least they will be spending it on noncommodities. They're riding the 'live' wave."
While Lachlan will be bolstering an existing portfolio of businesses, his younger brother, James, 46, is likely to be buying and investing with a clean slate. When the sale was first announced, there was speculation that James, the current CEO of 21st Century Fox, could take a top job at Disney. Instead, analysts expect James to strike out on his own, setting up an investment company that will acquire or back companies, possibly focused on such areas as streaming TV or environment-related missions. Analysts say they wouldn't be surprised if he also looks for opportunities in markets overseas such as India, where he's had success in the past.
So far during his career, James has avoided the calamities that marked his father's boldest forays into tech (think Myspace). Thanks to James's foresight, the Murdochs became an early major investor in Roku, the streaming media company now valued at more than $5.4 billion. "My suspicion is that James is going to be putting all his efforts into becoming one of the world's leading tech investors," says Claire Enders, founder of London-based media researcher Enders Analysis. "He's very much into that milieu of super rich, super successful tech investors who care a lot about the environment."
James should have good access to capital and deal flow in Silicon Valley. He sits on the board of Tesla Inc. alongside the likes of Oracle Corp. Chairman Larry Ellison, and has built an extensive network in the media and tech worlds on both sides of the Atlantic. "Many of the people he worked with at Sky are so wealthy that they'll never have to work again," Enders says. "They'll be available to help him and invest with him as well."
When the deal closes, Elisabeth, 50, will also be empowered to step up her spending. In 2011 she sold Shine Group, a production company specializing in reality TV, to her father's business for some $670 million. Afterward, she launched the Freelands Group, a media and technology investment fund based in London. Her taste in companies over the years has gravitated toward the creative and production side of the media industry. One of her more promising companies is Vertical Networks, a Los Angeles-based startup that makes digital, short-form video series geared toward younger audiences on platforms such as Snapchat, YouTube, and Facebook.
While Rupert, 87, may have at long last stopped building an empire, he's not entirely given up on the thing he might love most: business and political influence. When the Fox deal closes, the Murdochs could end up owning as much as 5.6 percent of Disney, analysts at BTIG estimate, making them the entertainment giant's biggest stakeholder. They could use the leverage to get the family a seat on Disney's board and to shape the future leadership of the company. "Rupert is going to be the single largest shareholder at Disney and will have input in picking a replacement for Bob Iger," says Mario Gabelli, a major investor in Fox.
To contact the editor responsible for this story: James Ellis at jellis27@bloomberg.net