How Space Movies Rule The Hollywood Box Office
(Bloomberg Businessweek) -- Movies about outer space have been big moneymakers in recent years, thanks to the third phase of the Star Wars franchise. The Walt Disney Co.-produced installments topped the box office in each of the last three years and helped set a record in 2016, when space-themed films accounted for 14 percent of the top 100 films at the domestic box office.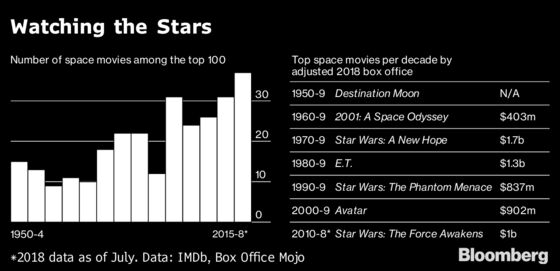 That's compared to 4 percent on average since 1950 and an all-time low of zero percent in 1966, according to an analysis of box office data from Amazon.com Inc.-owned IMDb and its subsidiary, Box Office Mojo, about the top 100 grossing films with keywords "space," "outer space," "space travel," or "space ship."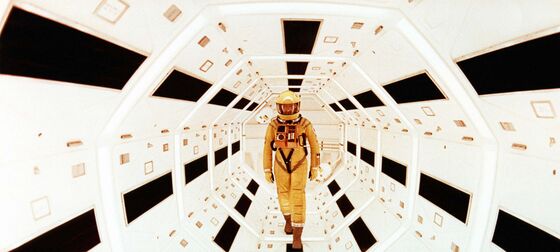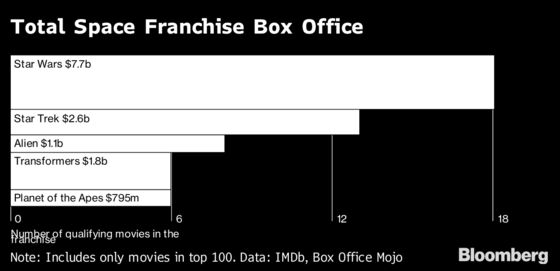 Thirteen of these films were the biggest box office hits the year they were released, including eight Star Wars films and cult and fan favorites 2001: A Space Odyssey, E.T., and Avatar. The second-biggest space franchise after Star Wars is Star Trek—each of its 13 films, released between 1979 and 2016, have earned an inflation-adjusted average of $200 million.
A closer look at the data reveals that a new, and recurring, movie lexicon emerged from the 1950s to the '60s , with words and phrases like "alien invasion," "astronaut," "crash landing," "monster," and "robot" popping up a lot in descriptions of characters and plotlines. The mid-1970s through the '80s was about delivering ambitious storytelling—"good versus evil," "space opera," and "supernatural power." The new millennium ushered in a violent spate of space films, characterized by keywords such as "ambush," "battlefield," and "fictional war."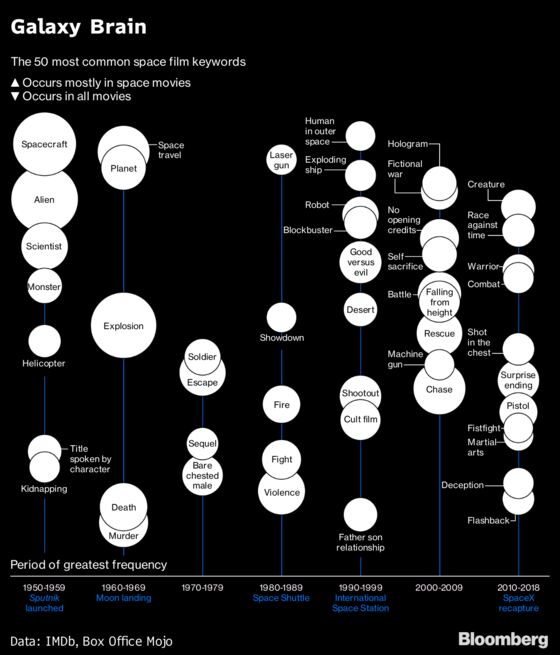 To contact the editor responsible for this story: Dimitra Kessenides at dkessenides1@bloomberg.net