How Not to Negotiate a $6.1 Billion Deal
(Bloomberg Businessweek) -- On May 15 of last year, the investor Carl Icahn hosted a dinner at his Midtown Manhattan penthouse. The invitees, along with Icahn's son, Brett, were Jeff Jacobson, chief executive officer of the copying giant Xerox Corp., two of Jacobson's top lieutenants, and Jonathan Christodoro, a former managing director from Icahn Capital who served on Xerox's board. Icahn's company is Xerox's largest investor, owning almost 10 percent of its stock. Jacobson, a 30-year veteran of the printing and copying industry, was only five months into his tenure as CEO. Like his predecessor, Ursula Burns, and her predecessor, too, he was charged with reversing the company's long slide from global dominance. He'd spent a decade at Eastman Kodak Co., which had failed spectacularly to do just that.
According to a memo Jacobson wrote the following day and testimony he would later give, Icahn was 30 minutes late to the gathering, which lasted more than three and a half hours. "The discussion centered around Icahn and Christodoro's view that the industry 'was a piece of shit' and the Xerox business was not driving value," Jacobson wrote. Icahn, unimpressed by Jacobson's long-range financial projections, said that he was sorry he'd ever invested in the company and that he wanted out. Xerox needed to find a buyer, or Jacobson had to go. "If I could not have it sold, then he would push to have me removed and he would replace me with 'one of the two guys' sitting with me," Jacobson wrote.
"I tried to be nice about it," Icahn tells Bloomberg Businessweek. "I said, 'You're a good sales guy, but you're in over your head. You've said you can get it sold, so go get a bid and bring it to the board. Otherwise you're incapable of being CEO. You've been Ursula Burns's acolyte for over five years, and look at the job that's been done.' " Jacobson had brought a bottle of wine, Icahn recalls. "I said, 'Thanks for the wine, but it's not going to change my opinion no matter how much I drink.' "
No one who has followed Icahn's unsparing and enormously lucrative career would find any of this remarkable. In 1985, TWA's CEO, testifying before Congress, called him "one of the greediest men on earth." Icahn would take the struggling airline private, load it up with debt, sell its most valuable routes, and preside over the first of its three bankruptcies. (It was eventually folded into American Airlines.) Ask the 82-year-old himself, though, and his billions are recompense for challenging self-dealing executives and complacent boards on behalf of his fellow shareholders.
The events that followed from that dinner, however, most likely surprised even him. Within a year, Xerox would sell itself to Japan's Fujifilm Holdings Corp., a longtime strategic partner, then unsell itself after a fellow billionaire Xerox investor, Darwin Deason, filed suit, with Icahn's support, to stop what he characterized as a "fraudulent scheme." The legal proceedings would uncover a series of bizarre episodes, most notably the board deciding to fire Jacobson midway through the sale, letting him continue the negotiations, then choosing him to run the newly combined company. It's become one of the stranger entries in the annals of mergers and acquisitions, with questioned loyalties, passionate letters, unexpected reprieves, sudden reversals, and, for good measure, accounting fraud. The course of corporate governance has never run less smooth.
Large companies are rarely good at reinvention, in part because they're reluctant to bet the future on technologies like the one that birthed Xerox. Even in retrospect, xerography seems an implausible foundation for an empire. Its inventor, Chester Carlson, survived a childhood of itinerant poverty—losing his mother and living for a time in an old chicken coop with his invalid father, a barber—to earn a degree in physics. In the 1930s, while working as a mechanical engineer at Bell Labs in New York City, he earned a night school law degree. The hours spent copying textbook passages by hand focused his hyperactive imagination.
Carlson's inspiration mixed electromagnetism and Rube Goldbergian oddity. In an obscure scientific paper, he discovered that certain elements lose their electric charge when exposed to light. If you coated a metal plate with one of them, he surmised, then electrically charged it and projected onto it an image of a black-and-white document, the plate would lose its charge in the places where light hit it (the original's white spaces), but not where it was in shadow (the ink). If you then blanketed the plate with tiny black bits of some other charged material, they would cling to the still-magnetized parts of the plate corresponding to the ink marks on the original. If you then pressed a piece of paper onto the plate so it lifted off those particles (let's call them "toner"), you'd have a copy of the original. Using heat to melt the toner into the paper, you could make that copy permanent.
Working out of the spare room of a Queens beauty parlor, Carlson proved in 1938 that this process was viable, using moss spores for toner. But when he pitched it to Kodak, General Electric Co., and other tech giants of the day, the response was, as he later put it, "an enthusiastic lack of interest." In 1947 a small photographic equipment manufacturer called the Haloid Company—based, like Kodak, in Rochester, N.Y., and desperate to escape its neighbor's shadow—took a flier on Carlson's eccentric creation
Over the next decade, Haloid scientists and engineers refined xerography (from the Greek for "dry" and "writing") into a working machine. The result was the Xerox 914. Introduced in 1959, it had a knob to set the number of copies and a big "PRINT" button, weighed 650 pounds, and could make a copy in less than 10 seconds. Paper jams were frequent and paper fires not infrequent (it came with a small fire extinguisher), but its success shocked even Haloid: The company's first customers began making thousands of copies a day. By the mid-'60s, the number of copies made nationwide had shot past 10 billion. Haloid changed its name to Xerox and minted a generation of "Xerox millionaires." Carlson's royalties accrued into a huge fortune, most of which he would give away.
In 1962 Xerox and Fujifilm established a joint venture to sell Xerox machines in Japan and its neighbors. The two companies were natural partners. Founded in 1934, Fujifilm had also carved out a business in Kodak's wake. Now the Japanese company was looking to diversify beyond photography, while Xerox wanted into Asia. Global competition was accelerating, and lower-cost Japanese copier makers such as Canon and Ricoh would soon be entering markets Xerox had long had to itself.
The bigger threat for Xerox, though, was the dawning shift to a world where information could be recorded and shared paper-free. In 1970 the company founded its Palo Alto Research Center, employing elite computer scientists who not only anticipated but also hastened the shift Xerox had foreseen, bringing the world the mouse, the graphical user interface, the Ethernet, and the laser printer. Yet PARC famously failed to help the company adapt—Xerox successfully commercialized only the last of those inventions.
That failure has loomed ever larger over the past two decades. In 2001, struggling with debt, the company sold half its stake in the Fuji Xerox joint venture to Fujifilm, handing over control of Xerox technology sales in Asia—and most of the profits. Successive CEOs sought to increase Xerox's share of the shrinking market for what it does well, building more functions into its multifunction office printers (the latest even translate) and developing million-dollar digital presses for publishers and print shops.
Burns, the first black woman to lead a Fortune 500 company, also tried to push Xerox into outsourcing. It was already taking care of document services for its clients, she argued, so why not other needs? In 2009, Xerox acquired Affiliated Computer Services for $6.4 billion. An outsourcing pioneer, ACS processed everything from insurance claims to highway toll payments. The ACS purchase brought Darwin Deason to Xerox. An impatient Arkansas farm boy who hadn't seen the need for college, he was running a Dallas data processing firm called MTech by the age of 29. Two decades later, in 1988, he made his first fortune when MTech was sold. A few days after that, he started ACS. When Xerox bought it, Deason became the copying giant's largest individual shareholder.
His reputation preceded him. A few years before, five members of ACS's board had accused him of "bullying and thuggery" after he tried to force them out. And following the 2001 bankruptcy of a onetime ACS subsidiary, the court-appointed trustee accused Deason of using the company to pay for personal expenses such as liquor, ranch upkeep, and plastic surgery. (He settled for $3.8 million, denying the charges.) He was also known to be fond of Miami. "On the French Riviera, I always say, 8 out of 10 women are topless, and only one should be," he once told the Miami Herald. "On South Beach, 8 out of 10 are topless, and 8 out of 10 should be." Now 78, Deason is married to his fifth wife.
The Xerox-ACS marriage, too, proved temporary. The promised synergies never materialized, and the new Xerox saw its revenue shrink year after year. In the first half of 2015 its stock price fell almost 25 percent, and Icahn sensed an opportunity. In November he disclosed that he'd built up a 7.1 percent stake and began arguing for the company to be split. Soon, Xerox announced the spinoff of the business-services unit into a new company called Conduent. Burns stepped down, Jacobson came in, and Xerox started getting serious with an old flame.
Shigetaka Komori, the chairman and CEO of Fujifilm, is a legendary figure in corporate Japan. Some of his earliest memories are of Russian soldiers looting his father's store in occupied Manchuria as World War II ended, and of an internment camp where other Japanese children awaiting repatriation starved to death. At the University of Tokyo, he fell in love with Nietzschean philosophy and American football. In conversation on April 20 at Fuji's headquarters in Tokyo's Roppongi neighborhood, the saturnine chairman stirred to life as he recalled going with a friend to sign up after a fellow student was killed playing the exotic sport. "The older students said, 'Haven't you heard that there was a death recently?' And we said, 'Well, that's precisely why we want to join.' "
Komori had made periodic and unsuccessful attempts over the years to turn Fuji's joint venture with Xerox into something more enduring. The logic of a merger was clear. Most of the machines Xerox sells come from Fuji Xerox factories, and the joint venture accounts for half of Fujifilm's revenue. Merging would also present opportunities for streamlining—Fuji Xerox has its own research and development arm, production facilities, supply chains, and corporate leadership.
And Fuji had something to teach Xerox. Like their shared former nemesis, Kodak, the Japanese company had faced an existential threat when its central technology became obsolete—Fuji had overtaken Kodak as the global leader in film in 2001, just as sales began to collapse. But where the two American companies had struggled to adapt (Kodak went bankrupt in 2012), Fuji had moved aggressively into profitable new businesses. It began making highly regarded digital cameras and medical-imaging systems, adapting algorithms developed to help customers curate photo albums so radiologists could more quickly decipher X-rays. It converted assembly lines so they could produce coatings for LCD screens. And it redeployed its mastery of the nanoscale chemistry involved in making color film to making pharmaceuticals and high-end cosmetics. Fuji's market value today is $20 billion, almost three times that of Xerox. "When you think about it, what a gift it's going to be for Xerox," Komori said during the interview on April 20,  as the legal fight was moving forward.
As Komori knew, Fujifilm already exerted some control over Xerox's fate. The agreements governing the joint venture give Fujifilm special protections if a competitor buys Xerox. Fuji would have the right to effectively take over the joint venture, depriving the new owner of control over how Xerox's own technology and brand were used in Asia. As Xerox director Charles Prince would put it in an email, those agreements made it "practically impossible" for anyone but Fuji to buy Xerox.
In March 2017, with Jacobson in Japan to discuss the joint venture, Komori asked whether Xerox might be for sale. His proposal was straightforward: Fuji would pay cash, with a 30 percent premium to compensate Xerox shareholders for giving up control of the company. Jacobson's response, after consulting with Xerox's board, was noncommittal. "Our stock is up nearly 30% in 2017, indicative of the confidence our shareholders have in our prospects," he wrote to Fuji.
Within months the dynamics had flipped. Xerox's board had completed a strategic review concluding that, in fact, the company would have a hard time growing without some sort of sale. Jacobson was told to make it his focus. Then came the May dinner at Icahn's. The problem for Jacobson was that Komori now had other things on his mind. Fuji Xerox had just disclosed a massive accounting fraud at its New Zealand offices. (The company's Australia unit was later also revealed to be involved.) Executives were routinely bringing revenue forward to cover shortfalls or fabricating sales. The fraud was a national scandal in Japan. Four Fuji Xerox executives stepped down, and the company revealed that it had overstated its revenue by $340 million over the previous five years.
Jacobson's interlocutors at Fujifilm, busy sorting through the mess, suggested tabling talk of a deal. The Xerox CEO, however, was insistent. In late June he returned to Japan to press Komori and other executives. In texts, he alluded darkly to Icahn. "I am getting a lot of pressure from 'the influence' that I discussed with you," he wrote to Takashi Kawamura, Fuji's head of strategy, who would become an ally.
Jacobson was aware, too, that the rest of Xerox's board was dissatisfied with him. In a call that spring, the board had discussed his shortcomings. Robert Keegan, a former CEO of Goodyear Tire & Rubber Co. who was soon to succeed Burns as chair, wrote some of them down in spidery, all-caps bullet points: "questionable priority setting," "little strategic thinking," "overconfident," "poor listening skills," and "whiner!"
By midsummer, the board had concluded that Jacobson was incapable of leading Xerox. While he continued to talk with Fuji, they were interviewing replacement candidates. On Nov. 10, Keegan and Jacobson met in Westchester, N.Y. They talked amicably for a few minutes about the chairman's recent foot surgery, then Keegan told Jacobson the board had given up on him. Although Keegan didn't mention it, they'd already settled on a successor: former IBM and HP executive Giovanni "John" Visentin. Keegan told Jacobson to stop his talks with Fuji. But Fuji executives were scheduled to fly to New York a few days later. When Jacobson tried to cancel, Kawamura told him Komori "would be very disappointed" and might break off the talks. After reading the texts, forwarded to him by Jacobson, Keegan relented. Jacobson could go to the meeting, and they'd see where things went.
Among the points at issue in Deason's lawsuit is whether Jacobson was thereafter able to negotiate in good faith. At the very least, Jacobson might reasonably have assumed that a successful deal would make his reprieve permanent. (He declined to be interviewed for this story.) Deason's suit accuses him of going further—of using the ensuing negotiations to get himself put in charge of the merged company, and of willingly selling out the interests of his own shareholders to do so. Or, as the complaint puts it in one of its boldfaced, action-filled headings: "Seeing His CEO Position Vanish Before His Eyes, Jacobson Defies the Board's Directive And Intensifies His Effort To Quickly Close A Deal With Fuji That Is Coincidentally Contingent On His Remaining CEO."
At trial, Jacobson insisted under oath that he never told anyone at Fuji about his job status, nor made the deal contingent on his future role. Still, some of his communications with Fuji are suggestive. In a text two days after the meeting in Westchester, Kawamura assured Jacobson that "because Komori likes you a lot, he will certainly try to help you if you ask his understanding and support." And Jacobson was aware that Fuji saw him as a vital bulwark against Icahn. Activist investors are regarded leerily in Japan, and Jacobson repeatedly played what he called "the Icahn card," warning Kawamura and Komori that if the talks failed, Icahn might take control of Xerox, making Fuji a partner with an agent of corporate chaos. In one text exchange, Kawamura referred to Icahn as "our mutual enemy," and Jacobson responded, "We are aligned my friend."
Most of Xerox's board remained unaware that the CEO they thought they'd dismissed was still working to sell the company. That changed on Nov. 30, when Fuji sent over a term sheet outlining its offer. Several days later, Cheryl Krongard, a retired banker who'd been appointed to the board at Icahn's request, sent Keegan a handwritten cri de coeur entitled "4 sleepless nights." "We have a rogue executive," she warned, unaware that Keegan had approved the continued conversations.
The deal the board was being asked to consider had evolved considerably since Komori's initial overture. Fuji Xerox, the joint venture, would borrow $6.1 billion to buy out Fujifilm's stake, then Fujifilm would use that money to buy a controlling 50.1 percent stake of Xerox, which would assume control of the former joint venture and pay off the original $6.1 billion debt. Xerox, now a Fuji subsidiary, would borrow additional money to pay its shareholders a special dividend—Xerox's board managed to bargain Komori up from $2 billion to $2.5 billion, a small concession since Xerox would be borrowing the money.
This convoluted approach allowed Fuji to take over the printing company "without spending a penny," as Komori contentedly pointed out to the Nikkei Asian Review. Icahn, who had stayed abreast of the negotiations through Christodoro, inveighed against the deal. Legally prohibited from commenting publicly, he announced a slate of four board candidates for the 2018 annual shareholder meeting, where the deal would also be up for a vote.
As for Jacobson, he continued to play a central role in the talks, at one point writing Kawamura, "Are things on track as we discussed for you [sic] role and my role?" On Jan. 23, after news of the Fuji negotiations emerged, Jacobson fielded a call from the president of HP, who asked whether Xerox might be interested in dealing with them instead, but Jacobson didn't aggressively pursue it—he would later say he didn't feel HP was serious. Eight days later, the board unanimously approved the Fuji deal, with Jacobson, at Komori's insistence, running the new Xerox. With Jacobson's help, Komori also picked five current board members, including Keegan, to stay on.
Few of these developments would have become public if Deason, still the company's third-largest shareholder, hadn't filed his lawsuits. (He filed two in quick succession.) The suits originally stressed that Xerox had never divulged the terms of the joint venture, hiding from shareholders the ways the company was held hostage by its putative partner. At the very least, Deason argued, the board should have used the accounting scandal to renegotiate the terms. It was only after his lawyers had begun to dig through documents turned over by Xerox and its advisers that they revised the complaint to argue that something more nefarious had happened. "We started calling them Easter eggs," Deason recalled during an interview with Bloomberg Television. "Every time we turned over a rock there was another Easter egg: another bad email, another bad text." (He declined to be interviewed for this story.)
On April 27th, after two days of testimony, Judge Barry Ostrager granted a preliminary injunction preventing the deal from proceeding until the lawsuits were settled. Much of the decision's blistering language echoed the complaint: "This transaction was largely negotiated by a massively conflicted CEO in breach of his fiduciary duties to further his self-interest and approved by a Board, more than half of whom were perpetuating themselves in office for five years without properly supervising Xerox's conflicted CEO." It was, he wrote, "counterintuitive and not credible to the Court that Jacobson did not both explain his personal circumstances to Fuji and attempt to enlist Fuji's assistance in preserving his position."
The judge's decision set off a whirlwind of activity. At first, Xerox's board, thinking the judge had prohibited them from even talking to Fuji, reluctantly entered into a settlement in which Jacobson and several board members, including Keegan, would step down. Upon learning that they could, in fact, talk to Fuji, the board reversed course, announcing to the consternation of Icahn and Deason that everyone would stay. With the deal in doubt, the board gambled that it might be able to squeeze a bigger dividend out of Fuji to placate shareholders.
Komori wouldn't be rushed, however, and talks broke down. On May 13 Xerox announced that Jacobson and the board members were indeed leaving. Visentin would take over as CEO, directors supported by Icahn and Deason would come in, and the Fuji deal was off. As cause, Xerox cited the still ballooning costs of the Fuji Xerox accounting scandal, which it argued invalidated the math underpinning the transaction. In response, Fuji has announced plans to sue.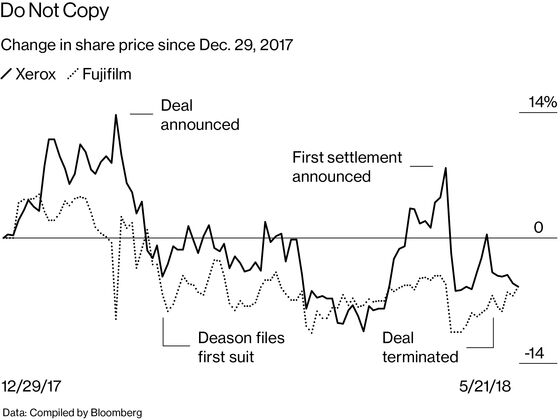 There is, of course, an alternative interpretation of Jacobson's deal with Fuji, in which he was telling the truth about his actions and motivations. In this version, Xerox didn't end up with a better deal because few, if any, companies want to make multibillion-dollar investments in a steadily shrinking industry.
Deason and Icahn both claim that Xerox can renegotiate the joint venture. Deason has said he'd like to see Xerox try again to sell itself to the highest bidder, perhaps even Fuji. Icahn, for his part, says Xerox would do fine on its own for a while—he even raises the possibility of terminating the joint venture altogether and forging into Asia alone.
Eager to dispel his reputation as a corporate raider, Icahn points out that he's held on to some companies for years: the railcar manufacturerACF Industries, the engine-maker Federal-Mogul, Tropicana Entertainment. He keeps a list handy for when reporters call. "This is a really good company now that you're not combining it with the very troubled Fuji Xerox," he says of Xerox proper. "Some of the companies that I've turned around, it's taken years. This one may also, but I hope not." Mind you, that's just what a seller driving a hard bargain would say. He might just be playing the Icahn card. —With Ed Hammond
To contact the editor responsible for this story: Jeremy Keehn at jkeehn3@bloomberg.net