A French Yoga Company Seeks Better Balance Post-Pandemic
(Bloomberg Businessweek) -- When the coronavirus hit France last year, Elodie Garamond was in expansion mode.
Having successfully gotten her first Le Tigre Yoga studio off the ground in Paris in 2013, she quickly opened six additional outlets across the French capital and another at a luxury resort in Normandy.
With an increasingly health-conscious population flocking to her high-end studios, business was booming.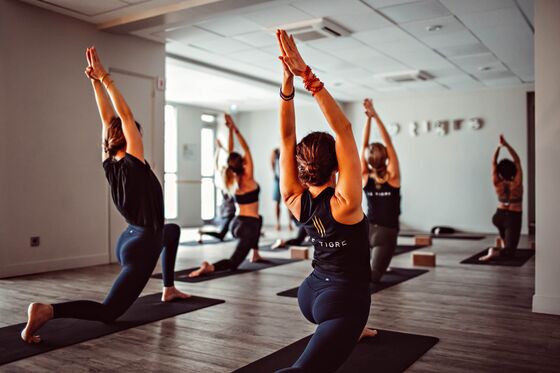 The pandemic and lockdowns then sent her venture into a tailspin. Garamond, 43, became an unofficial spokeswoman for France's yoga studios by making a case—unsuccessfully—to keep such centers open for people's mental and physical well-being. Instead, studios were forced to go online and only made a return in June, albeit under strict vaccine-pass or negative-test guidelines.
While Garamond's studios now offer a mix of in-person and online classes, she's finding that the pandemic has changed the landscape, perhaps forever. She talked to us about her struggle to stay afloat and what lies ahead. The interview has been edited for clarity and length.
What changed with Covid-19?
Before the pandemic, we offered 650 in-person classes a week. Then we were at 50 digital classes a week. We were forced to close some of the studios for good. We had a total of eight before. Now, there are only three left, plus the one in Deauville, in partnership with Hotel Barriere. We had to proceed with the liquidation of the studios between November 2020 and May 2021. It was very difficult. The banks dropped us completely, just as they dropped other players in the sports sector. It had become a toxic sector. When you belong to a toxic sector for banks, you no longer have any access. Our phone calls weren't even answered.
Have things gotten better since the reopening?
For sports that can be practiced at home, which require little or no equipment, where people have gotten used to practicing at home, attendance is on average nationally down 50% to 55% since the reopening. For Le Tigre, it's down 35%.
It's hard to stop this dynamic. We had a lot of hopes for the month of September. People came back a bit, but less than expected.
But what is even more difficult is that even though demand for yoga classes has grown enormously, the supply has soared. Demand is five times larger but offers have multiplied by 10. Yoga was practiced in yoga studios before. Now on top of that you have all the gyms that have tripled their yoga offerings, companies offer yoga classes to employees as a way to retain them. Then there are all the online offerings, paid classes or free ones.
It complicates things for us. We have to remain attractive at a time when our cash situation has been weakened by the crisis, which means it's hard to offer specials, to spend on marketing and advertisement. It's an extremely fragile situation.
How has the digital model changed things for you?
When Le Tigre was in full swing, we had 350 people working with us, many of them self-employed, for example instructors who had classes five times a week.
Now, everyone has gone digital. Our teachers have become our competitors, because they offer their own classes. Just about anybody can offer a yoga class online. Our business model cannot be reinvented for online classes, unfortunately. We have studios, we have employees.
Did aid from the government help?
The state-backed loans were a one-shot thing. It was a big payment, but we have already used all of it. It came late, I think it was in July 2020. We had reopened June 22. We didn't think we would need it. Nobody at that stage expected we would be forced to shut down again in September.
The only gift we got was from the Solidarity Fund. We got it from December 2020, and not retroactively. It lasted until September. The Solidarity Fund was capped at €10,000 ($11,600) a month for each establishment. Each studio for us is a separate establishment. But that doesn't even cover the rent, not to mention all the other expenses. Still, it doesn't need to be reimbursed.
The state was very generous and saved a lot of businesses. I don't want to seem ungrateful.
How are you feeling about the future?
I am very worried about the future. We really have been treated like a poor relative. What we demanded was that sports be treated like an essential activity. We position ourselves like an actor that can help with prevention of health issues, and instead, we were put in a corner as if we were discos. Professional sports were supported, restaurants as well, but the category we belong to—commercial sporting activities—had the feeling of getting very little consideration.
That said, we managed in a very short time frame to learn a new digital way for the profession, and to do it well. This is an offer that is much more qualitative than what's found on the Internet or on YouTube.
What advice do you have for others in situations like yours?
Above all, don't isolate yourself. The temptation is to isolate yourself in your bubble, to try to forget the outside world, to build a shell, and to wait for it to pass. I don't think it's a good strategy. On the contrary, get together.
We've been able to reinvent our way of sharing yoga and all the disciplines we propose. About 100 yoga clubs joined. It was inspired by the need to join forces, to share our common problems, be it on taxes, or on other financial or social matters. The movement started in October 2020 and we formalized it in March 2021. We lobbied with the government, with the finance ministry, with the sports ministry, with the culture ministry to try and have some support and recognition. It's still ongoing.
What's your personal takeaway from the experience?
We can't avoid tragedies, we don't have magical powers, we cannot avoid the difficulties of life. But we can learn not to overreact, we can learn to put things at the right distance. We can learn to take things with more peacefulness and with more kindness toward oneself, toward others, toward the planet.
 
Read next— How I Quit and Started a Company: Steve Silberberg, Fitpacking