China Navigates the Latest Threat to Its Debt-Fueled Boom
(Bloomberg Businessweek) -- For a decade, hedge fund managers and short sellers have unfurled dire and bold warnings about potentially catastrophic losses in China's financial system. Jim Chanos, famous for predicting the 2001 collapse of Enron Corp., memorably said in 2010 that China's reliance on real estate for growth was a "treadmill to hell." Since then, prominent institutions and investors, including the International Monetary Fund and George Soros, have pointed to a long list of problems in China's financial system, from indebtedness and banking stress to shadow loans and housing bubbles. Now there are concerns about how the outbreak of a new coronavirus in China might hurt banks. Not to mention the risks of a trade war lumbering into another year and social unrest in Hong Kong.
Yet for the past four years, China has maintained its growth, outpacing other major economies, as its financial system rumbles on. Its central government, regulators, and local authorities have come up with creative and arcane ways to prop up everything and keep the world's second-largest economy on track. But with signs of stress flashing across the board, the debate among investors over whether stopgap measures can contain systemic risks is as fierce as ever. The stakes are enormous: Years of breakneck growth in an economy heavily reliant on financing has created a gargantuan banking system, which, with $41 trillion in assets, is the world's largest.
Over the better part of the past decade, total private and public debt in China has ballooned to surpass 300% of gross domestic product, casting a shadow over prospects for economic and financial stability.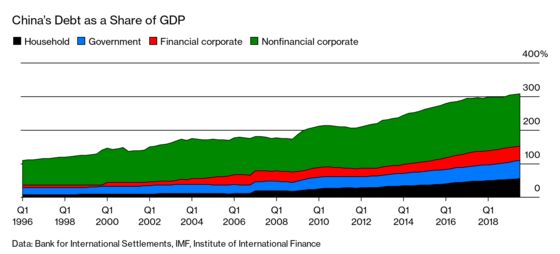 By 2017 the nation's leaders were pledging to clean up systemic risks in the financial sector. They started by curbing excessive lending from so-called shadow banks—companies that provide credit outside the conventional banking sector. UBS Group AG economist Wang Tao says China will continue to do so by closely supervising internet-based finance companies and asset managers. It may also force banks and companies to clean up their balance sheets by writing off bad debts and seeking new capital. Already, authorities have been lowering leverage at heavily indebted and inefficient state-owned enterprises.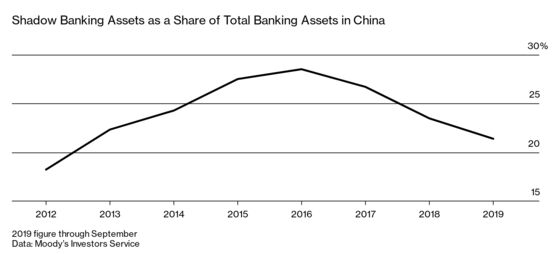 Such efforts have shown progress. But the country's debt-to-GDP ratio inched higher again in 2019 as policymakers, faced with slowing economic growth, eased credit to provide a stimulus. Chipping away at debt without crushing growth is a delicate business.
Spending on consumer goods and housing in recent years has fueled China's economic growth. Household debt has surged, climbing to 55% of GDP last year from about 19% in 2007, according to the Institute of International Finance.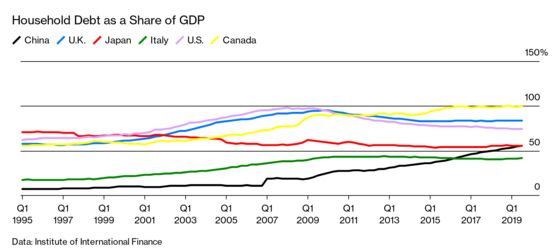 That elevated level, especially when compared with incomes, means officials can't lean much harder on loosening up mortgages and consumer credit to offset the impact of trade tensions with the U.S. More worrisome, the numbers are likely underestimated. Beyond the official 55 trillion yuan ($7.9 trillion) of bank loans, households tapped other sources, including internet-lending platforms.
China's online peer-to-peer lending sector was born during a wave of deregulation. The lenders were meant to give small borrowers more access to the financial system while letting savers collect double-digit yields. Before China's deleveraging campaign, online lenders had upwards of 50 million investors and more than $150 billion of debt outstanding. The system was plagued by fraud and defaults. Now even major players are disappearing, with cities including Shanghai ordering shutdowns of such platforms in recent months. Outstanding loans tumbled 48% during the first nine months of 2019, according to the China Banking and Insurance Regulatory Commission.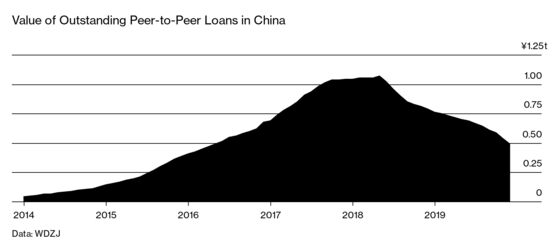 Alongside the consumer boom, a housing frenzy in 2015 and 2016 left China's megacities among the least affordable in the world, based on local price-to-income ratios, according to Oxford Economics. Take Beijing, where in just one particularly hot year—2016—new-home values surged about 30%, roughly equal to the New York metropolitan area's entire rebound since the depths of the 2008 financial crisis.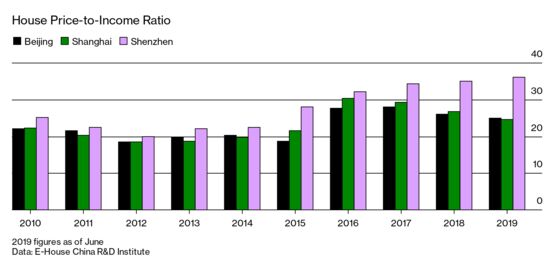 To prevent the type of real estate bust that sapped Japan for a generation, policymakers in China have pulled a vast array of levers. Across the country, local housing watchdogs issued a record 554 policies in the first 11 months of 2019 to fine-tune the market and keep prices from collapsing or, more often, overheating, according to Centaline Group.
These rules can be surprisingly restrictive. Many cities raised the down payment threshold to as much as 70%. Some restrict borrowing by divorcing people to stop anyone from getting around caps on the number of homes a family can own. Developers may be told by officials that they're pricing projects too expensively, or banks may get word the mortgage rates they're offering are too cheap. There have also been caps on how much developers can pay for land, as well as curbs on fundraising. The ubiquitous and meticulous restrictions have largely kept home prices flat since late 2016.
The new coronavirus could shake up all these efforts. In recent weeks, banks have been directed to boost lending, lower rates, and extend repayment schedules in stricken areas. Regulators have extended a deadline for curbing shadow banking. Authorities are hoping to preserve the government's growth target, with the likes of Goldman Sachs Group Inc. and UBS warning of a sharp slowdown. S&P Global estimated that the virus outbreak might triple China's already elevated stock of bad loans.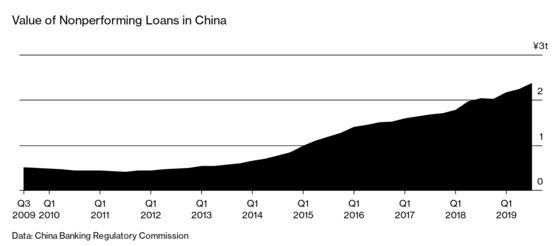 Slower growth, in turn, would leave authorities fewer levers to pull to manage the economy, according to Gene Ma, head of China research at the Institute of International Finance. "Going forward, policymakers are likely to take smaller, more piecemeal steps on multiple fronts," he says. The question is whether that will be enough.
To contact the editor responsible for this story: Pat Regnier at pregnier3@bloomberg.net, David Scheer
With assistance from Bloomberg