How Chefs Have Reinvented the Dishes They Envy Most
(Bloomberg Businessweek) -- Some dishes are so essential to a country's cuisine that most diners don't remember that they were revolutionary to begin with. Nobu Matsuhisa changed American sushi forever when he added jalapeños to hamachi. Wolfgang Puck's smoked salmon pizza, first served after Spago opened in 1982, gave future pizza makers license to put anything (and everything) on a pie.
The 1980s were a particularly rich period for fine dining in America. Enterprising chefs in major cities were breaking out of restrictive cooking histories: New York began to see fine-dining options that weren't traditionally French, for example. In California, chefs took simple farm-fresh food and expanded it with ideas from Asia, Europe, and Latin America.
Consider Jean-Georges Vongerichten's molten chocolate cake. It became famous all around the globe even though we had no internet and no Instagram to get its gooey heart to go viral. And yet, using old-fashioned methods such as word-of-mouth, it so penetrated the culture that it now feels as if it's a dessert default. "That cake is on the menu at Applebee's," says Philadelphia restaurateur Peter Serpico. "People think that's where the cake originated—they have no idea who Jean-Georges is."
Each of the six contemporary chefs featured in the following pages has a favorite dish from that era, a recipe that changed the way we think about food. These cooks, whose restaurants include Claro, the compact Oaxacan cafe in Brooklyn, and the grand Spoon and Stable in Minneapolis, have ­reimagined the original dish in a fresh way. Put together, they form a menu for a dinner full of loving reinvention.
These are the new originals.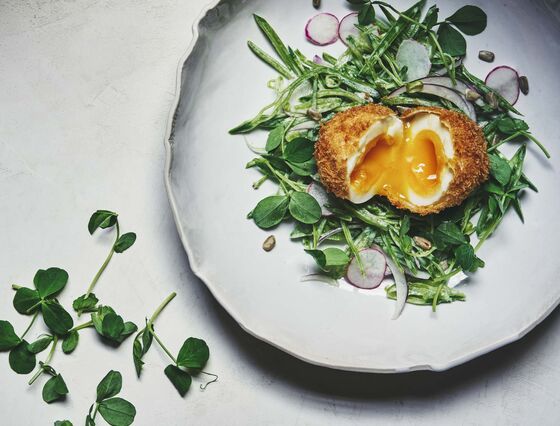 If there's one chef who created a bridge between classic and modern French cooking for American diners, it's Daniel Boulud. He worked for some of the world's greatest chefs—Roger Vergé, Michel Guérard—before going to New York and taking over the top spot at Le Cirque in 1986. At his various restaurants, particularly the Upper East Side's Daniel and Café Boulud, he reimagined classics including seared scallops with truffles encased in puff pastry. For his take on potage St. Germain, a creamy pea soup, he made a seasonal version more flavorful by adding the simple, powerful garnish of garlic cream.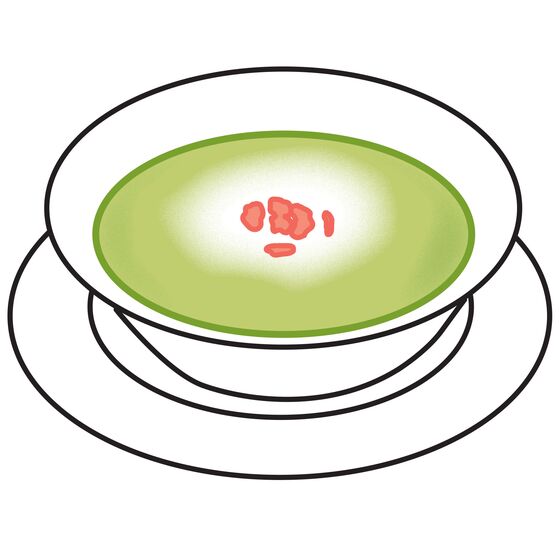 The Reinvention: Sugar snap pea salad with panko fried egg
"A new recipe is often a nostalgic reference to a dish that left a mark on you," Boulud says. His mentee Gavin Kaysen created the snap pea salad with the dramatic Scotch egg garnish at his restaurant Spoon and Stable in Minneapolis. Kaysen was executive chef at Café Boulud from 2006 to 2015, and the boss's recipes seeped deep into his being. "I could make that soup in my sleep," Kaysen says. When the chilled pea soup would appear in spring, the number of soup orders would more than double, from 20 to at least 50. "It's a quintessential Daniel dish," Kaysen continues. "Elegant but accessible. It can be poured tableside or served in a rustic bowl, with bacon and rosemary if it's chilly, or mint when the weather gets warmer." Kaysen first made his salad twist on it when he was still at Café Boulud and cooking dinner one night for his family using leftover snap peas. It was so good, he put it on the menu when he opened Spoon and Stable. Later it evolved with a Scotch egg on top. "It's so delicious, so fresh, but always a reminder of that soup," Kaysen says.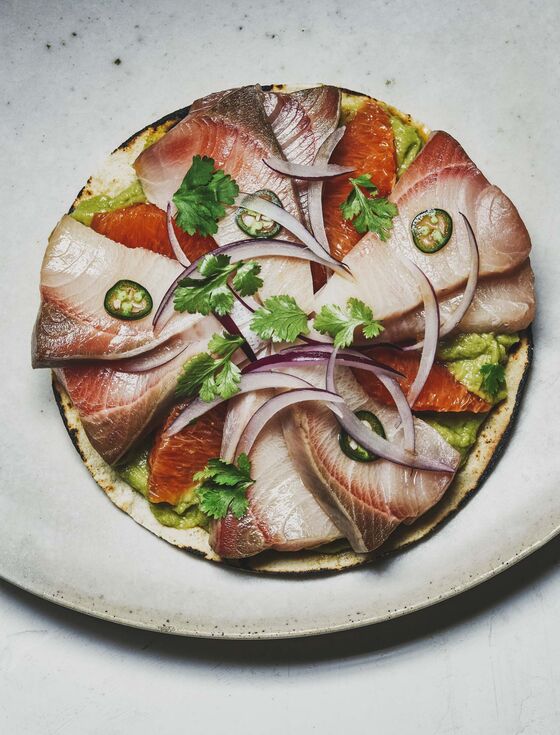 Sushi was still gaining mainstream popularity across the U.S. when Nobu Matsuhisa opened his namesake restaurant in 1987. The Japanese-born chef introduced an immediately compelling menu, adding influences from Peru, where he'd worked before coming to America. Among his many innovations was giving ceviche-style accents to fish for a bright edge. The technique shows up in a thin slice of jalapeño on top of a fatty piece of yuzu-marinated yellowtail.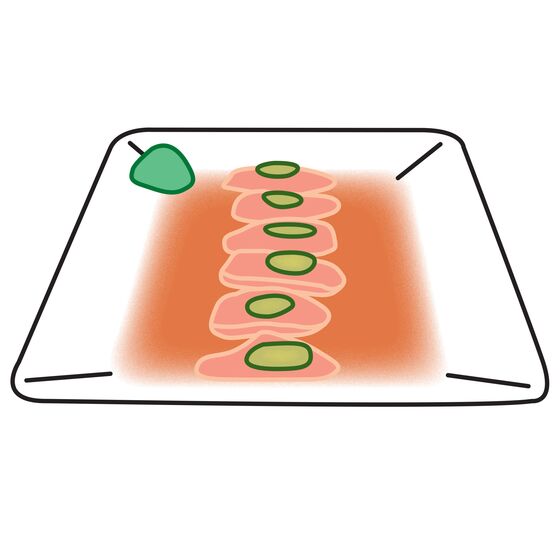 The Reinvention:
Tostada with hamachi, jalapeño, and avocado
T.J. Steele of Claro in Brooklyn didn't so much reinvent the Nobu classic as consider how to serve it out of a Mexican kitchen. Segments of Cara Cara orange impart a bright burst of acid, and chopped avocado lends additional fattiness to the already rich fish. Most important, there's a crispy fried corn tortilla at the base. "I had a few versions of the dish before I tasted the original at Nobu in Tribeca," Steele says. "So many people were already ripping it off. Then I had it at Nobu. The fish was softer. It came together better. That was the best version." He'll put the dish on the menu at his Oaxacan restaurant when citrus comes in season in the fall. It won't be the only reimagined classic he serves: He also offers his version of Vongerichten's chocolate cake, in which he infuses the batter with mole spices.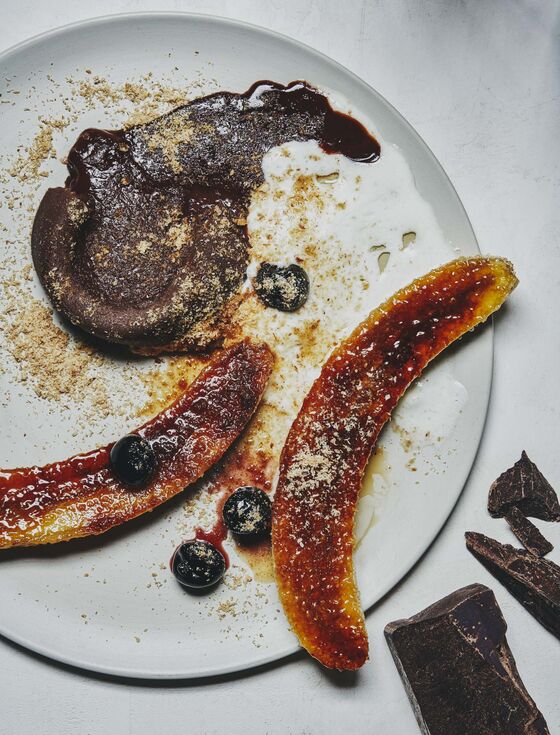 The desserts that capture people's attention range from the comfortably familiar (frosting-slathered cupcakes) to the outright ridiculous (the candy-laden milkshakes you see on social media). All of which makes the appeal of the understated chocolate lava cake even more sensational. The Alsatian-born Jean-Georges Vongerichten created the dessert by accident in 1987 at his first New York restaurant, Lafayette: While making hundreds of little cakes for a party he was catering, he seriously underbaked them; his first thought was that he'd be fired. Instead, his cake ended up on menus grand and modest around the world.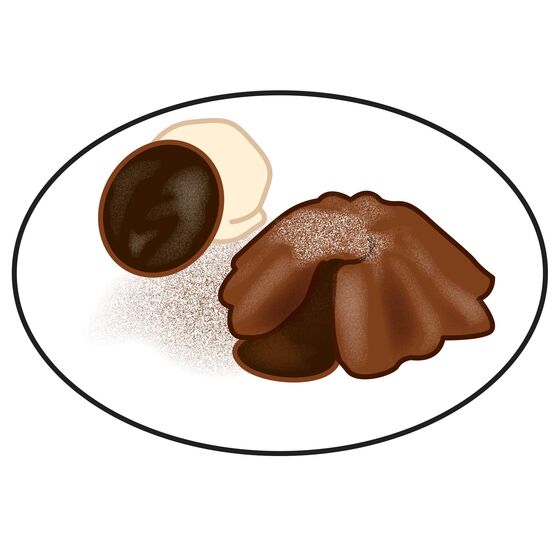 The Reinvention: Banana split with molten chocolate cake sauce
"For 10 years, when I was first coming up as a chef, that cake was on every single menu in the country," says Peter Serpico of Serpico in Philadelphia. At the time, he was cooking at two of the only places where it wasn't, New York's Momofuku Noodle Bar and Momofuku Ko. Serpico was bowled over that it was so simple and yet so good. "I fell even more head-over-heels in love when I found out it was a mistake," he says. Now he makes a sundae version for his daughter using caramelized bananas, because the fruit pairs so well with chocolate, and drizzles it with hazelnut oil. Serpico underbakes the cake even more than Vongerichten did, cooking it just until the sides are set, so the center acts as chocolate sauce for the bananas with whipped cream. A scoop of ice cream is also welcome.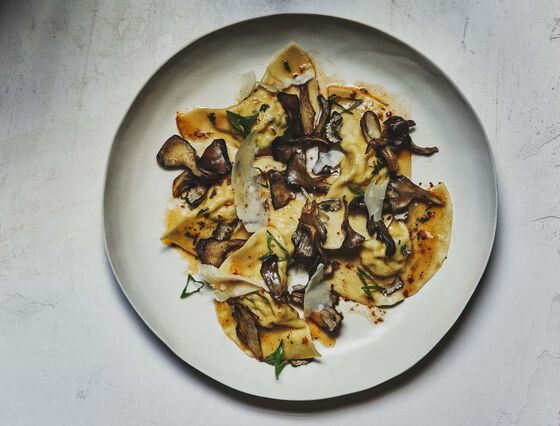 A Southern Classic Learns Italian
Shrimp and grits was originally a Southern breakfast offering. After Bill Neal opened the unassuming Crook's Corner in 1982, he amped up the dish to serve at night, adding two kinds of cheese—cheddar and Parmesan—to good-quality grits, then further dressed up the pan-seared shrimp with slices of mushroom and bits of salty-sweet bacon. It got the attention of New York Times food critic Craig Claiborne, who published the recipe. It's still a best-seller at Crook's Corner.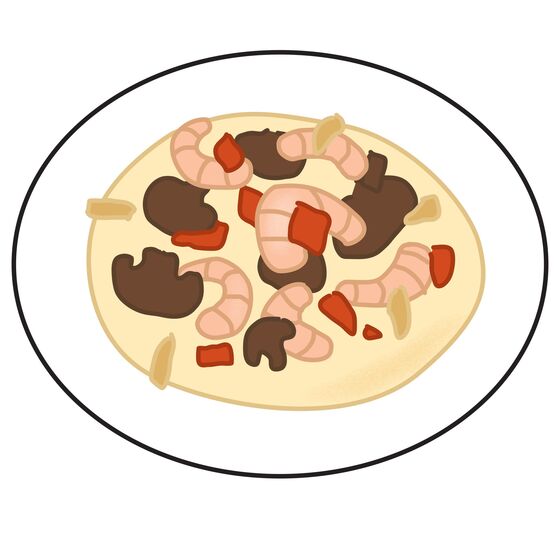 The Reinvention: Shrimp mousse ravioli with nduja gravy, hen-of-the-woods mushrooms, and Parmesan cheese
Chris McDade of Popina in Brooklyn was born in Georgia in the early '80s, and Bill Neal's Southern Cooking was the second cookbook he ever owned. (Jamie Oliver's was the first.) McDade has a long-standing appreciation for Neal's influence and even made a pilgrimage to taste the dish at Crook's Corner. "He was one of the first people to 'fancify' Southern cooking," McDade observes, and Neal has inspired "generations of Southern chefs." For McDade, pasta was a natural base for a rethinking of the dish: Before opening his neighborhood restaurant, he cooked at Union Square Hospitality Group's Maialino and Marta, both Italian-themed joints. For his shrimp ravioli, he uses sheets of pasta in place of grits and replaces bacon with nduja in the sauce. The ravioli at Popina also pays tribute to the Asian-style potstickers that were popular when he was a teenager in the late '90s. "It's an untraditional take, but Bill Neal did untraditional takes, too," he says.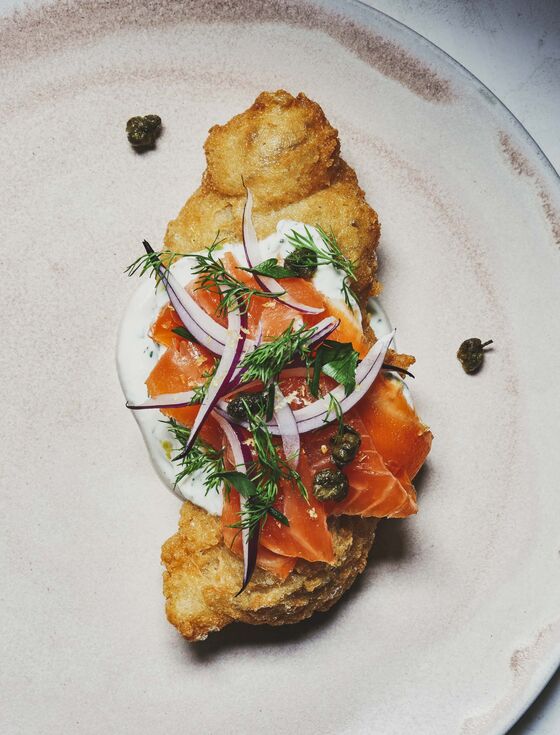 In the early '80s, California cuisine was defined by the ultrasimplistic cooking at Chez Panisse in Berkeley, Calif. Wolfgang Puck changed that with his creative rethinking of American food at Spago. He had only pizza dough on hand when Joan Collins asked for smoked salmon with brioche, so he served her his soon-to-be-famous pie instead.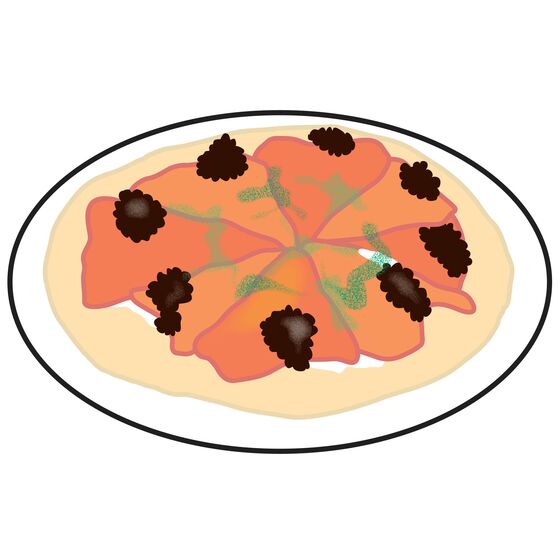 The Reinvention: Smoked salmon fry bread
Around 1981, Tim Cushman was starting his cooking career in Los Angeles at a restaurant called Trumps (no relationship to the president). The irreverent food coming out of the Spago kitchen had a monumental effect on him. "Wolfgang represented a new kind of California cooking where there were no boundaries," Cushman recalls. "It wasn't French or Japanese. It was using all the flavors." Captivated by the pizza's combination of ingredients, Cushman put his own spin on it when he opened his neighborhood Italian spot, Covina, in New York in 2015. On a puffy, crispy round of potato fry bread, he arranges smoked salmon and a creamy kaffir lime-herb dressing, plus red onion, dill, and chives. It pays homage to the Spago pizza and nods to an even longer-standing classic: bagels and lox.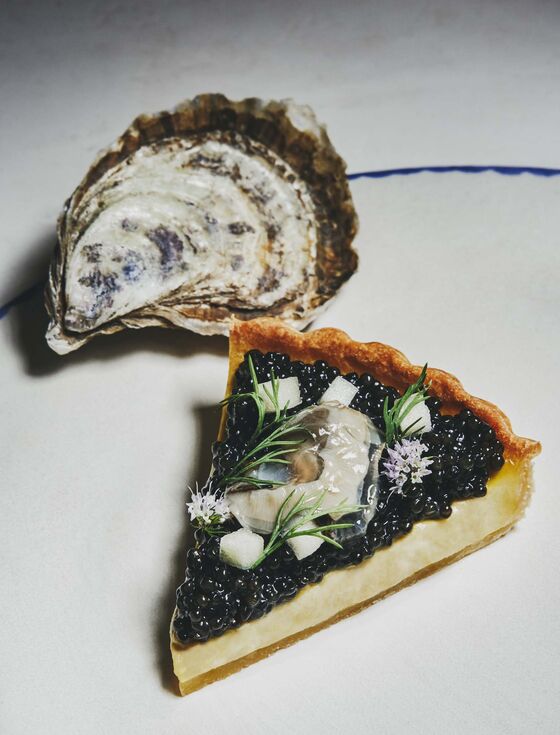 Thomas Keller has been synonymous with American fine dining since he took over a restaurant in a former laundry in Napa Valley in 1994 and began serving exquisite multicourse menus. The most famous of his dishes is this starter, an oyster-infused custard studded with chewy tapioca pearls, topped with meaty bivalves and a dollop of ossetra caviar.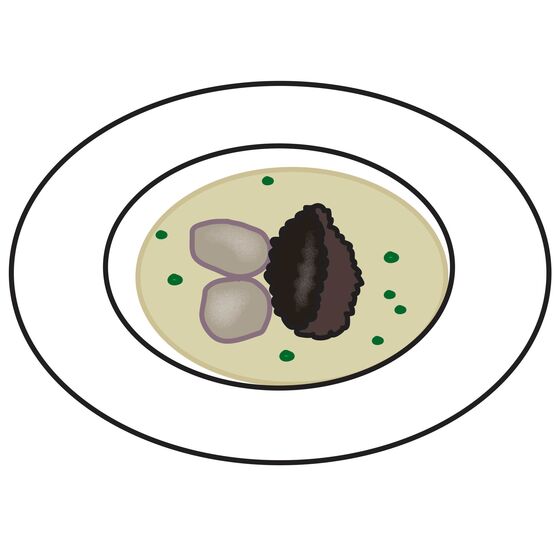 The Reinvention: Oyster pie
Jimmy Papadopoulos of Bellemore in Chicago likes to tell the story of how he created this dish, which has become the signature of his year-old dining room. "I'd never eaten Keller's Oysters and Pearls," he says. "I'd never cooked fancy food." He'd worked instead at steakhouses and the funky Central European-influenced Bohemian House in Chicago. One day, in preparation for an audition for Boka Restaurant Group's high-powered owners, Kevin Boehm and Rob Katz, he was wracking his brain thinking of what to serve the men, who'd already tasted everything. "Then I remembered reading about Thomas creating Oysters and Pearls, and it inspired me to think of something that was elegant but also fun," Papadopoulos recalls. He imagined a little quiche, filled with a custard infused with Beaujolais oysters and topped with crunchy apples. It could double as a caviar service with a big spoonful of ossetra on top. "I was worried when I served it to them—I was so far outside of my comfort cooking zone," he says. But when he walked back in, he knew he had their attention. "Kevin and Rob said, 'We weren't planning a new restaurant, but now we have to get you a space,' " Papadopoulos says. "Oyster pie got me the job and the restaurant Bellemore."
To contact the editor responsible for this story: James Gaddy at jgaddy@bloomberg.net, Chris Rovzar