After Devastating 2020 Explosion, Beirut Volunteers Rebuild the City
(Bloomberg Businessweek) -- After the Aug. 4, 2020, explosion at Beirut's port, Mariana Wehbe found her city in ruins. The streets were covered in thick gray ash. Broken glass from shattered windows crunched underfoot. Doors were blown out. Cars were crushed. Dazed residents surveyed the devastation, wondering what had happened and how they might recover.
As news of the blast spread around the world, her Instagram account lit up, urgent WhatsApp messages poured in, and her phone started to ring nonstop. Friends and acquaintances were checking in, wanting news of Wehbe and her family and—more important—asking how they might help. "Initially I said, 'Call the Red Cross,' but they said, 'No, we want to help you,'" Wehbe recalls, nodding at the concrete hulk of the port's grain silos outside her window, still in ruins amid the twisted remains of warehouses. "I thought: What do people really need right now? Doors and windows."
The blast was triggered when hundreds of tons of ammonium nitrate stored in a waterfront warehouse caught fire and exploded. It killed more than 200 people, injured 6,000, damaged 80,000 homes, and displaced at least 300,000—wreaking what the World Bank estimates was $4.6 billion in physical damage. As the shock wave ripped across Beirut, it destroyed myriad communities, both wealthy and impoverished, home to the elderly, the poor, migrants, and refugees. In a city already disfigured by civil war, greed, and a disregard for heritage, the explosion tore through some of the largest remaining clusters of early 20th century buildings with their signature high ceilings and triple-arched windows.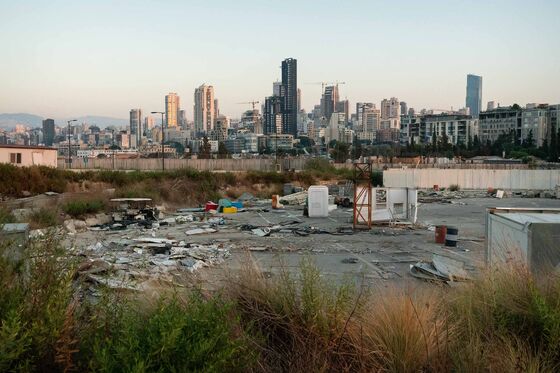 The crisis threatened to accelerate what's happened in the three decades since the end of Lebanon's 15-year civil war. Development here typically means that money changes hands and permission is granted to fell trees, demolish a building, or clear out archaeological ruins. There's little public discussion, no hearings, and scant accountability—just an endless cycle of razing and building.
Within days, Wehbe and a friend had founded a group called Bebw'shebbek, Arabic for Door and Window. Their goal was to heal the city by keeping people in their homes to preserve the social fabric of neighborhoods. Initially relying on some 200 volunteers, Bebw'shebbek has evolved from the chaos of those early days into a focused group that employs about 50 people full time. It's repaired some 900 homes, using authentic materials in an effort to do minimal damage to a capital where red-roofed Ottoman-era jewels are frequently demolished to make way for luxury towers with little connection to their surroundings.
Through the entire effort, one organization has been conspicuous by its near-absence: the Lebanese government. "Lots of NGOs say we're not political, but of course we're political," Wehbe says. "We've been running the country."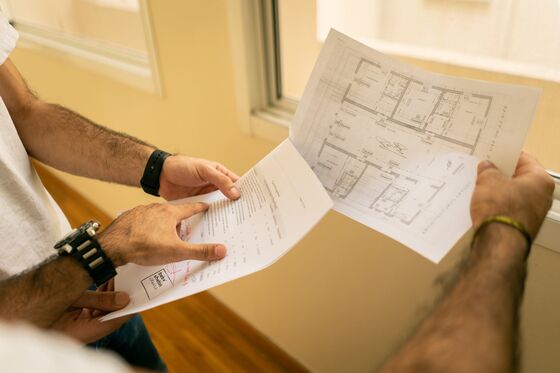 Bebw'shebbek is among the dozens of nonprofit groups and community initiatives that have stepped in to fill the vacuum left by the state. After the blast, there was virtually no official emergency response, no message to the nation about the catastrophe that had ripped through the heart of the capital, no effort to rescue survivors from the rubble, clear streets, shelter the homeless, or reinforce collapsing buildings.
In the race to seal roofs and reglaze windows before winter set in, grassroots initiatives joined forces with international donors and United Nations agencies reluctant to transfer funds to a kleptocratic government that's squandered billions of dollars in aid and can no longer dispose safely of garbage or sewage. Independent organizations set up Base Camp and Nation Station, groups that coordinate volunteers eager to sweep up the glass, deliver aid, and get people back in their homes. A local restaurant created Matbakh El Kell, or Everyone's Kitchen, to feed relief workers, the newly homeless, and others in need. And the Beirut Heritage Initiative identified and worked to salvage 650 historic buildings damaged in the blast, with teams of architects and engineers donning fluorescent vests and working pro bono to assess damage and plan repairs.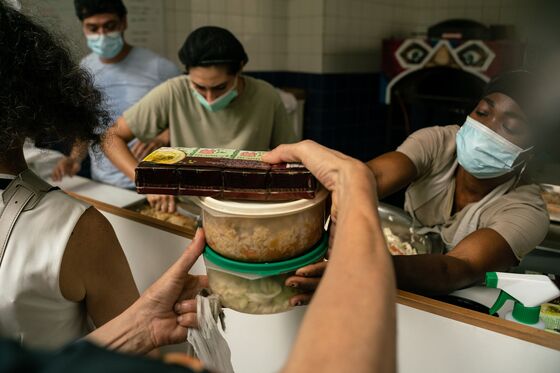 More than a year on, many buildings around the cobbled alleyways and steep stairways that wind through the residential areas abutting the port have been stabilized, mom and pop shops have been refurbished, and flats repainted, their shutters replaced and furniture restored. In Gemmayze and Mar Mikhail, the center of Beirut's nightlife, bars and restaurants are again overflowing. They have new glass fronts, freshly painted woodwork, and crisp signage, some paid for by crowdfunding and donations from regulars.
The state is still nowhere in sight, the explosion laying bare the extent of its dysfunction. No one has been held accountable, and questions remain about how such dangerous substances could have been allowed to sit—for years—in the heart of the capital. As a result, initiatives conceived as an emergency response to the catastrophe have become permanent. These programs have turned their focus to feeding and supporting people who already were struggling through a financial and economic collapse before the explosion blew the capital apart.
A banking crisis that began in 2019 has wiped out the life savings of millions, and the economy contracted more than 20% last year; at least half the population of what had long been categorized a middle-income country is now considered poor. The currency has weakened by more than 90% on the black market, triggering triple-digit inflation and compounding the woe that the Lebanese have suffered from the pandemic and lockdowns aimed at keeping Covid-19 in check. The bankrupt government can no longer provide electricity, leaving much of the capital on little more than an hour of power a day. It's not uncommon to see citizens sleeping on balconies, kept awake by suffocating humidity as food rots in warm refrigerators.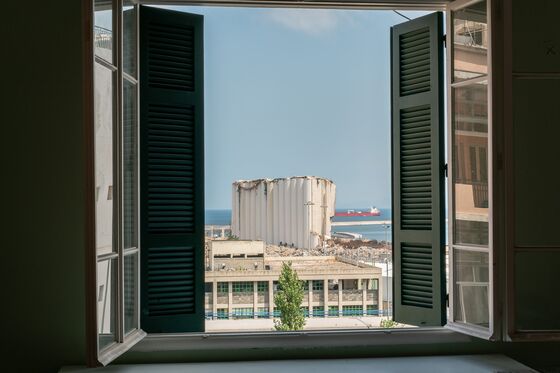 At the port itself, the country's main grain silo was blown open, spilling out golden heaps of grain. By late spring, the kernels, nourished by winter rains and Mediterranean sun, had sprouted into wheat, attracting rats and other pests. Today, the port operates at only a fraction of its capacity; most cranes don't work because there's no money to maintain them. Meanwhile, proposals to rebuild the facility are frozen. The government, which resigned after the explosion, has yet to be replaced. "When the blast happened, the state was absent," says Maya Ibrahimchah, a veteran campaigner for historic preservation who founded a group that's helped renovate more than 3,000 apartments and almost 400 shops. "The people did the work of the state. It's become clear the political class has nothing to offer."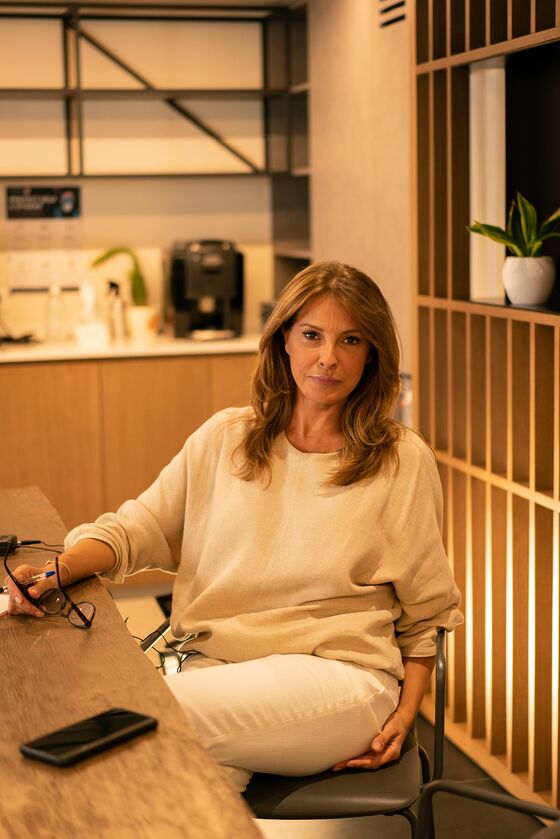 With her tailored slacks, white blouse, and leather-lined SUV, Ibrahimchah doesn't look like a radical. But then she leans forward, pulls back her shoulder-length blond hair, and shows scars from the stitches she says she's gotten for head wounds inflicted by police at demonstrations, some aimed at protecting Beirut's architectural heritage.
Ibrahimchah remembers when the Rivoli, a 1950s movie palace on Martyrs' Square, was torn down, with the empty space now simply used for parking. She laments the loss of the labyrinthine souks downtown, where she bought her first pair of shoes, now replaced by an exclusive shopping and office district aimed at wealthy locals and foreigners. And in 2019, she awoke to the news that trees were being uprooted in a park near her grandmother's house to make way for an underground garage. "I grew up watching the city disappear before my eyes," Ibrahimchah says. "I spent 25 years fighting, fighting, fighting for heritage. And now all of a sudden, it's coming together."
Her group, called Beit el Baraka ("House of Blessing") is working on a top-to-bottom renovation of almost a dozen residential buildings surrounding the Jesuit Garden, a patch of green donated to the city in the 1960s by the Jesuit religious order. Beit el Baraka plans to refurbish the interiors, plaster and paint the facades, and ultimately install solar panels to provide a reliable source of electricity. "We're expanding into urban planning," she says, surveying one of the buildings covered in scaffolding and green webbing. The goal is to prove to residents that their neighborhood "can survive on its own, is viable on its own. Because the municipality and the government give them nothing."
Next up is the park itself—its paths, benches, playground, and library building. Like so many of the city's green spaces, it's closed to the public, its gates chained and padlocked. Working with an architect who lives in the square and consulting with local residents, Beit El Baraka has secured funding to redevelop the park. The group reimagines it as a greener space with improved play areas, a running track, a revamped library with free Wi-Fi, and an open area to host community events and concerts. Most important, Beit el Baraka plans to employ locals to rebuild and manage the whole operation. "This is a part of the revolution," says Elie Al-Arab, an architect who joined the group after the blast and now heads its reconstruction department. "We're building awareness among people that electricity, water, and public space are their rights, that the state should have been providing this for the past 30 years."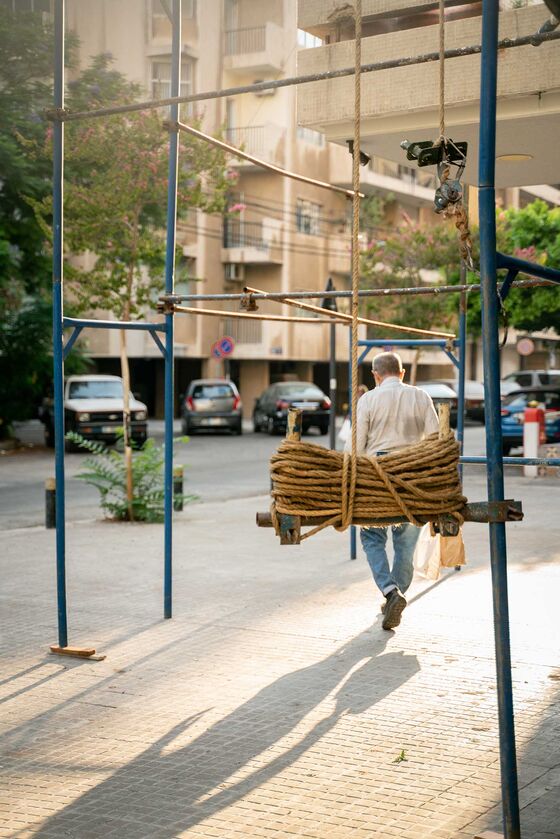 As word has spread of the group's project, the city has asked Beit el Baraka if it would also take on the Mufti Hassan Khaled Garden, the one near Ibrahimchah's grandmother's house that had its trees uprooted two years ago. The city had proposed building an underground garage and then reconstructing the park above it. Public outcry scuttled that plan.
Now Ibrahimchah is getting calls from people across Beirut asking for help sprucing up whatever modest patches of green remain in their neighborhoods. "We're trying to find tiny public spaces to create these small parks at every corner, and we'll get the residents involved so they start looking after them," she says. "Somewhere along the line you get a domino effect."
Although Beirut has clearly benefited from the work of independent groups, its experience highlights the perils of relying on nonprofits and volunteers to rebuild a city. Despite the success of Bebw'shebbek, Wehbe plans to move to Dubai, where her teenage daughter has lived with an aunt since the blast. "I need to work. I don't have the luxury of doing this forever," Wehbe says, her eyes welling with tears at the prospect of leaving. She says the initiative wasn't intended to be permanent and that it's done its work—repairing the physical city while forging community networks and giving dozens of unemployed or underemployed recent university graduates work experience. "These young people can run a country now," she says, gesturing at the team gathered around a table in the Bebw'shebbek office overlooking the port. "It's up to them."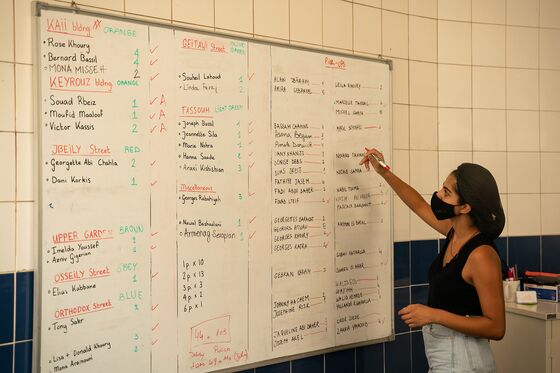 While some vow to stay to turn their efforts into political gains in next year's election, many others are planning to emigrate, making the same painful choice faced by previous generations who fled conflict and hardship to form a globe-spanning diaspora. They speak with bitterness about the dedication that's gone into rebuilding their capital and sheltering its bereft residents—and the minimal impact the calamity has had on the ruling class. The protesters who filled the streets in October 2019, demanding the removal of the corrupt leadership, are gone; they're instead working two jobs to make ends meet and standing in long lines for gasoline or cooking gas. "I crave normality," says Marwan Chahine, a twentysomething who oversees Bebw'shebbek's finances. "When you struggle with the basics of life, you don't think of something bigger. That's what's happening to all of us, and this is very dangerous."
Wehbe, meanwhile, is haunted by the question of whether, by stepping up where the state failed, civil society blunted the popular anger that may otherwise have exploded. She frets that the volunteers inadvertently thwarted the revolution they dreamed of. As things have deteriorated dramatically, the exhausted populace has been largely quiet. "On the human level, there's no way you could have lived through the Aug. 4 explosion, seen what we saw that day, and not done anything," she says. "But I keep asking myself if it would have been better to do nothing."