Making a Quick Shift From Fracking Fluids to Covid-19 Cleanup
(Bloomberg Businessweek) -- Advanced BioCatalytics Corp. is more vulnerable to energy price swings than your average startup-size company in Irvine, Calif. It's less fashionable, too, long specializing in the creation of protein-based fluids used in oil and gas fracking. But as Southern California began to shut down in March, Carl Podella, the co-founder who oversees its research and development efforts, told Chief Executive Officer Chris Harano he had a very different project in mind: coronavirus cleanup.
Podella wanted to shift the company's production facilities to make liquid disinfectant instead of fracking fluids. He'd been quietly working on the formulas anyway, so it wouldn't be a standing start. Advanced BioCatalytics already had a small sideline in anti-grime solvents, and with the right new ingredients, he argued, it could expand beyond the standards of an average cleaning product and meet the government's standard for disinfectants. Podella, who previously spent 27 years as a chemist at S.C. Johnson & Son Inc., says his experience with cleaning products there left him confident he could adapt quickly.
It was an unusual pitch for a company whose most prominent investor is BP Plc's venture capital arm. For days, Harano said no, thinking the crisis would end soon with minimal impact in the U.S., but he changed his mind as the virus's reach became clearer. The rest of the roughly 25-person staff had a different objection. The governor had just ordered them to shelter in place, which they couldn't exactly do if they were back in the lab. "They didn't need a new project," Harano says. Still, as a chemical company, Advanced BioCatalytics is considered an essential business, and Harano convinced his staff its future could depend on speedy entry into the crowded field of making stuff less gross.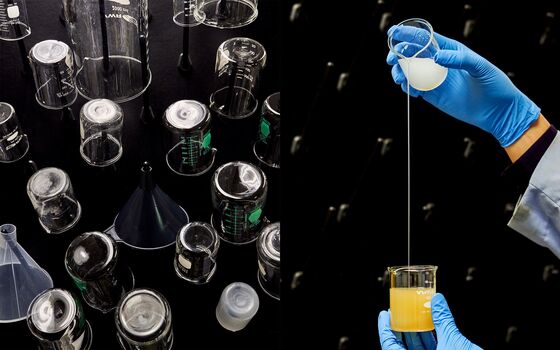 Retooling was tougher than it may sound. The anti-grime solvents Podella knew well were just for cleaning, meaning lifting dirt from a surface, whereas disinfecting means killing the germs that might linger there. (Technically, a disinfectant is stronger than a sanitizer but falls short of a sterilizer.) Making a product better at disinfecting can make it less efficient at cleaning, and vice versa. Hydrogen peroxide, the key disinfectant, is tough on germs but not the best at cutting through grease.
By the end of April, the team had reformulated its processes, sourced the ingredients, and pitched the product, called Accell Clean With Hydrogen Peroxide, to its existing customer base. The company can't advertise it as a disinfectant, let alone a Covid fighter, until the Environmental Protection Agency approves it, a months-long process that's far from guaranteed. Among the tests: how effective the product remains after spending months on the shelf.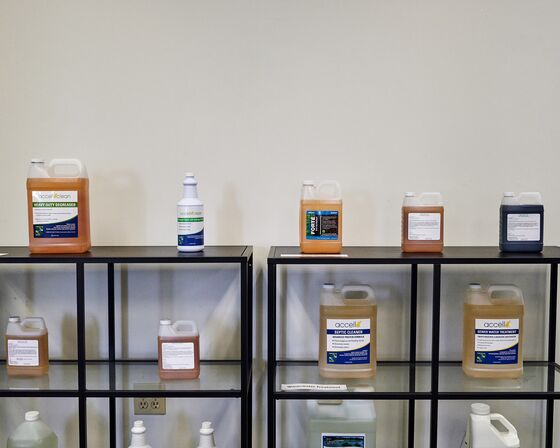 Remie Ramos, the head of the economic development agency in Fort Stockton, Texas, heard about the product when he called to make sure Advanced BioCatalytics planned to keep renting the supply yard in town where it had stored tanks of fracking fluids. "I said, Whoa, wait, my people are asking for that," Ramos says. The company shipped him 100 cases of the hydrogen peroxide solution, about 300 gallons' worth, at an undisclosed discount. (The rack price is $8.60 per 1-quart bottle.)
The shipment arrived in mid-May, shortly before Ramos was set to distribute coronavirus relief checks to local businesses, so he gave each business a bottle or three when he dropped off their checks. He says many of the local outfits, including a hospital, are using it and in some cases begging for more, despite the rather strong odor. Harano says the company has tweaked the formula so that future shipments will smell more like linen and less like vinegar.