Hong Kong Wants to Bring Back Factory Jobs That Left Long Ago
(Bloomberg Businessweek) -- After decades overseeing the outsourcing of electronics production to low-cost destinations in China and Southeast Asia, Roberto Leone has chosen an unlikely location for his latest manufacturing venture: one of Asia's most expensive cities, Hong Kong. Nirotech Ltd., the company Leone co-founded, has been pumping out 30,000 video door intercoms a month since December from the district of Yuen Long, near the border with mainland China.
Such factories are a rare sight in Hong Kong, which experienced one of the world's most rapid deindustrializations. Manufacturing's share of the economy went from more than 30% in the 1970s to only 1% today. Now, after decades of positioning the territory as the front office for mainland China and prioritizing financial and business services, Hong Kong's leadership is offering billions of dollars in subsidies to lure factories back. The goal: to revive an economy that was stagnating even before the coronavirus pandemic and help provide well-paying jobs for young people whose discontent about dwindling opportunities has contributed to years of pro-democracy protests.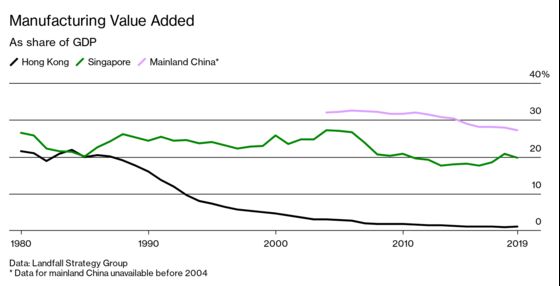 Hong Kong's economy has been hit hard by the travel restrictions imposed by local authorities to cut down on transmission of the coronavirus, which kept tens of millions of visitors from the mainland and elsewhere from frequenting the city's restaurants, hotels, and shops. As a result, Hong Kong's gross domestic product shrank 6.1% last year even as the territory managed to keep a lid on Covid-19 cases. White-collar industries, led by financial services, were less affected, but these generate well-paying jobs for only a highly educated minority. "Finance will not be enough to resolve inequality," says Heiwai Tang, an economist at Hong Kong University. "Manufacturing jobs are mostly 'good' jobs, with potential for upward mobility."
The pandemic has highlighted the benefits of having a robust manufacturing sector. Across much of the world, industrial production has rebounded quickly, but services are taking longer to recover because customers continue to stay at home. Governments in the U.S. and Europe are promising to reverse decades of offshoring that hollowed old-line industries while at the same time pledging support for emerging ones, such as green power. And advances in automation are making it cost-effective for companies to shift some production from low-wage locales to higher-cost ones.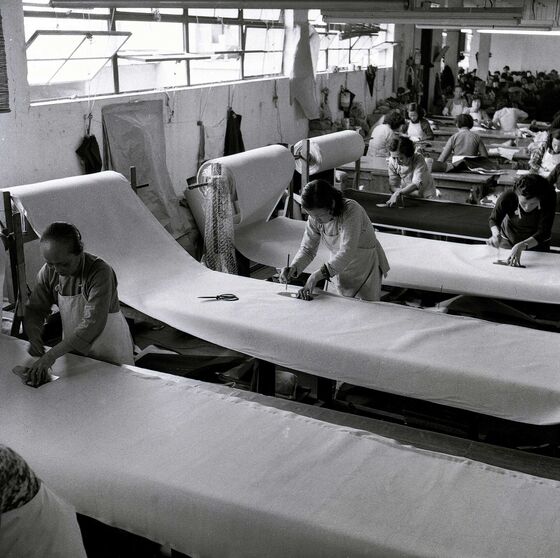 With the statutory minimum wage in Hong Kong about twice the levels that prevail across the border, Nirotech's assembly plant depends on labor-saving technologies, such as the German-made machine that solders components onto circuit boards imported from Vietnam. Robot arms affix electronic screens and touch-sensitive sensors to each intercom. A dozen or so workers perform tasks such as fastening and testing, about a fifth of the number the company employs to make the same product in mainland China.
If manufacturing is to have a future in Hong Kong, it'll be populated by small, nimble operations such as Nirotech's. That would echo the city's manufacturing past, which began with factories fleeing the Chinese Communist revolution. The Korean and Vietnam wars boosted Hong Kong's textile exports, with local mills supplying the U.S. Department of Defense with materials for uniforms. By the 1960s, tens of thousands of workshops employing as much as 40% of the city's workforce were making textiles, footwear, and inexpensive consumer goods, such as plastic toys, wigs, and artificial flowers—the line of business that jump-started tycoon Li Ka-shing's career. "It was low-cost and short term," says Peter Hamilton, author of Made in Hong Kong, a book about the city's industrial development. "One day they were making belt buckles, and the next day they were making automotive parts."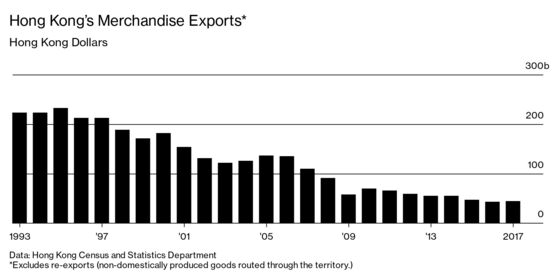 Hong Kong manufacturers shifted to mainland China on a massive scale from the 1990s to reduce costs. Hong Kong-owned companies produced about HK$500 billion of manufacturing output in mainland China in 2018, equivalent to nearly 18% of Hong Kong's GDP that year, according to the Federation of Hong Kong Industries.
Unlike the export-oriented tiger economies of Asia, whose governments actively fostered the development of electronics production hubs, Hong Kong's colonial government took a hands-off approach where manufacturing was concerned. "It was completely outcompeted by Taiwan and eventually mainland China," Hamilton says. "There just wasn't the government help."
This time is different. Manufacturers that are setting up operations in Hong Kong can tap a HK$34 billion ($4.4 billion) Innovation and Technology Fund created in 2015. Nirotech will receive a cash rebate equal to 40% of the company's HK$12 million investment. Not all comers are welcome: "It has to be high-tech, not using a lot of labor and land," says Mohamed Butt, executive director of the Hong Kong government's productivity council, which helped design Nirotech's plant.
The city's rapid transition from a manufacturing to a services-oriented economy was accompanied by state-backed efforts to boost education levels and retrain workers, which helped avoid mass unemployment. But even though Hong Kong's universities rank among Asia's best, their research output hasn't supported high-tech manufacturing. Changing that is key to reviving the sector.
Nanoshield, a subsidiary of a Hong Kong maker of kitchenware that outsourced its manufacturing to the mainland in the 1990s, is working with local university researchers who developed a chemical that can be spun into a kind of fiber for use in water filters and face masks. In 2019, Nanoshield undertook its first local manufacturing project in decades, installing a HK$20 million machine about half the size of a tennis court capable of electrifying the liquid to turn it into enough fiber for 2 million water filters a year—work that was interrupted at several points by pro-democracy protests. The company plans to add three other machines and eventually employ 50 people on the project.
The government will cover almost HK$50 million of Nanoshield's planned HK$150 million investment, says Adrian Wong, the company's manager of research and development. Hong Kong's stronger intellectual property protections are a key reason for producing locally rather than on the mainland, he says. Losing the IP "would do irreversible damage to our business."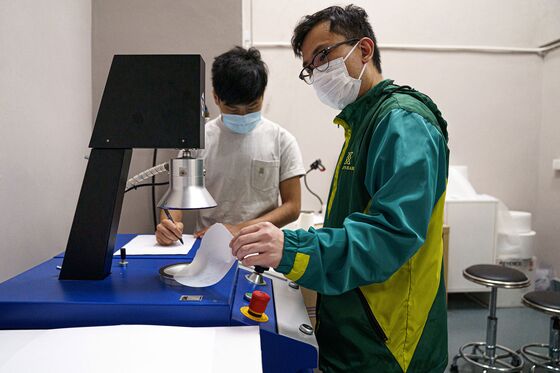 Hong Kong sees the reindustrialization drive as key to meeting its goal of increasing spending on R&D for new products to 1.5% of GDP by 2022. The centerpiece of that effort is the Advanced Manufacturing Centre, a 1.1 million-square-foot facility scheduled to open next year and meant to relieve a chronic shortage of space for startup companies. "Now there's a chance you can manufacture in Hong Kong first before you scale up in other regions," says H.L. Yiu, head of reindustrialization at Hong Kong Science and Technology Park, the state-owned body overseeing the HK$6.65 billion project.
Tang, the Hong Kong University economist, says authorities should be even more aggressive, setting a target of expanding manufacturing's contribution to GDP to as much as 10% within a decade and making Hong Kong's chief executive, currently Carrie Lam, directly responsible for hitting that goal. "It's about coordination and having a 5- to 10-year plan," he says.
 
Read next: China's Xinjiang Solar Factories Haunted by Labor Abuse Claims