Homebuilding Isn't What It Used to Be
(Bloomberg Businessweek) -- In the 1990s and 2000s, U.S. homebuilders put up houses by the millions and millions. In the 2010s, not so much. Even after six straight years of gains, single-family housing starts so far this year are running at only about half the pace of 2005, and rising interest rates seem likely to keep the pace from going much higher.
Apartments are another matter. Multifamily construction isn't setting any records, but it recovered more quickly after the recession than single-family developments did, and its share of overall residential building remains higher than it's been—apart from a blip here and there—since the apartment boom of the mid-1980s.
That boom was the product of incentives for commercial and multifamily construction contained in the 1981 tax cuts (and wiped out by the 1986 tax reform) and profligate lending by soon-to-be-bailed-out savings and loan companies. The sharp rise in multifamily construction in the early 1970s can be ascribed to federal subsidies for affordable housing and baby boomers leaving home. As for the single-family boom of the 2000s, you probably remember the lending excesses that brought that on.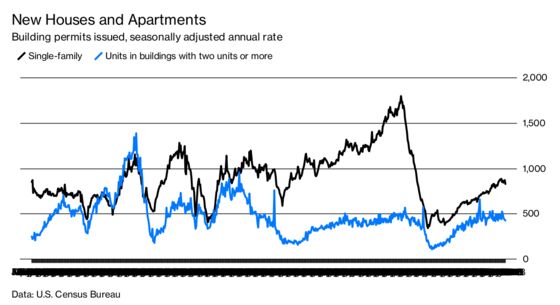 The 2010s' shift to apartments appears to have been spurred not by a financial bubble or federal aid (which has been waning) but by changing demographics and tastes. Millennials have been leaving home, if belatedly, and demand for urban living has risen. It's true that in the past two years there's been a modest shift back to single-family houses, homeownership, and suburban sprawl. But we're nowhere close to the conditions of the 1990s and 2000s.
● Apartment Buildings Are Getting Bigger
In the 1970s, '80s, and early '90s, about a third of new multifamily buildings had 20 or more units. In 2017 it was 83 percent.
● Homeownership Still Lags
The homeownership rate has bounced back to 64.3 percent of households, from 62.9 percent in 2016. But that's still a long way off 2004's record of 69.2 percent.
● The Coasts Are Where the New Apartments Are
The Northeast and West accounted for 50.2 percent of multifamily permits issued since 2010, vs. 35.4 percent of those for single-family.

Fox is a columnist for Bloomberg Opinion.
To contact the editor responsible for this story: Eric Gelman at egelman3@bloomberg.net