Hollywood Box Office Booms Even as Americans Stay Home and Chill
(Bloomberg Businessweek) -- When Hollywood celebrates the 92nd Academy Awards on Feb. 9, one "winner" won't be celebrated: the box office. Global theatrical receipts hit a new peak in 2019 of $42.5 billion, according to Comscore Inc., and Avengers: Endgame became the top-grossing movie of all time. Yet the number of tickets sold per person in the U.S. also hit a 92-year low.
In 2019 the average American visited a movie theater fewer than three and a half times, a third less than the peak in 2002. The last time attendance was this low was due to a smaller number of theaters and films, not because of audience interest. Today, there are 44,400 screens in the U.S., up 16% since 2000. There are also more annual releases than ever before: almost 800, more than twice as many as in 2000.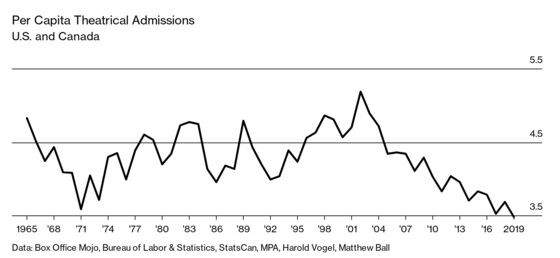 The greatest declines have come from the most active moviegoers. A decade ago, the 12- to 24-year-old age group went to almost eight films a year. Today, this same demographic sees fewer than five annually. In the early 2000s, 28% of Americans attended more than 12 films per year. Today, only 12% do.
Some commentators, filmmakers and critics among them, have argued that Hollywood's focus on blockbusters has left many moviegoers with few other films to watch in theaters. However, a greater share of the American population goes to at least one movie each year than it did a decade ago—75% vs. 70%, according to the Motion Picture Association. And half of the decline in moviegoing came before Hollywood's shift to such films. The Marvel Cinematic Universe arrived only in 2008, for instance, while Pixar's second-ever sequel was released in 2010, more than a decade after its first.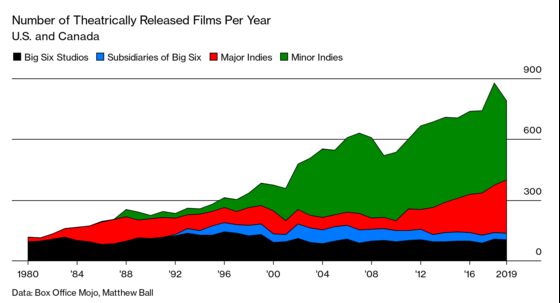 In fact, almost all of the drop in moviegoing over the past 20 years has come on the indie side of the box office. The top 25 titles per year, which represent about 50% of annual grosses and are, by definition, mostly blockbusters, sell the same number of tickets per capita as they used to. This is despite the fact that the number of true independent films produced each year now exceeds 725, up from an average of 135 in the 1990s.
The drop in attendance isn't a pricing issue, either. The cost of a ticket has gone up only a dollar in inflation-adjusted terms since 2000–or 13%–and is roughly in line with prices from the late 1980s. With IMAX, 3D, and VIP seating, audiences get a better experience than they ever did. And if pricing were really pushing those who attended more than 12 movies a year to cut back, we would have seen all-you-can-watch subscriptions such MoviePass and AMC Stubs reverse declining ticket sales.
The challenge is more fundamental: The role of the movie theater has changed. What used to be a forum for all types of art is now largely the domain of "theme park movies"—Avengers: Endgame or Star Wars: The Rise of Skywalker—and "museum pieces," such as 1917 or Get Out. And audiences have ruthlessly high thresholds for both.
Some defenders of so-called auteur cinema believe the box office hasn't been transformed. Instead, they argue, we are just in the midst of a temporary obsession with superheroes and space operas—and, as was the case with Westerns, these genres will grow less popular. But this isn't a great historical example. In the 30 years known for producing "classic" Westerns, 1939-1969, only 14 of 300 ever cracked the top 10 at the domestic box office. Only two years had two Western films in the top 10. In 2017, 2018, and 2019, films based on Marvel, DC, or Star Wars characters have averaged 5.5 films in the top 10. Most of the remainder are films such as Fast & The Furious sequels, Toy Story 4, and Despicable Me 3, with an occasional outlier like Bohemian Rhapsody.
The transformation of the movie theater has a clear precedent. Prior to the advent of television, theaters were where we watched any and all video, newsreel included, with the average number of visits ranking as high as 45 trips per year. In 2019 we had more news video than ever before—and none of it is consumed in a theater. The same is now happening with most types of films.
It's wrong to think that any of these realities are "bad" for cinema. Demand for and consumption of movies—all movies—has increased over the past 20 years. And thanks to on-demand services such as Netflix and Amazon Prime Video, it's now easier and cheaper than ever to watch these films. Of course, this will inevitably change what's available in theaters, hence why the great House of Mouse has started shifting some of its theatrical releases to stream as Disney+ exclusives.
The movie business is judged at the box office, not this weekend's Oscars—so what we'll see in theaters will look more like who wins the former than the latter. More so each year.
 
Matthew Ball is a venture capitalist, media analyst, and the former head of strategy at Amazon Studios.
To contact the editor responsible for this story: Joel Weber at jweber66@bloomberg.net