Here's Why So Many People Intend to Die With Money in the Bank
(Bloomberg Businessweek) -- There's a school of thought that you should spend down all your assets in retirement and "bounce the check to the undertaker," as Michael Bloomberg, founder and majority owner of Bloomberg LP, our publisher, likes to say. But not many Americans subscribe to that school of thought. A fascinating survey from the Employee Benefit Research Institute explores how people feel about spending in retirement. It doesn't fit with finance theory. "There's just something we're not getting quite right in understanding how people navigate retirement," Lori Lucas, the president and chief executive officer of EBRI, said March 24 in announcing the results.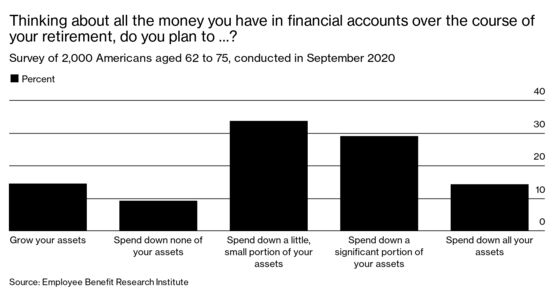 As this first chart shows, only 14.1% of respondents think they'll spend down all their assets. If you add up the three left-most columns, 57% plan to grow their assets in retirement, leave them untouched, or spend down only a little. The survey by EBRI, a nonprofit research group, was conducted in September and covered 2,000 Americans ages 62 to 75, 97% of whom were retired. So U.S. undertakers don't need to fear bounced checks.
The second chart zeroes in on the people who said they don't plan to spend down their assets in retirement. They were asked why not, and multiple responses were permitted. Three of the answers seem like different ways of saying the same thing: "saving for unforeseen costs," "afraid of running out of money," and "once assets spent, cannot be recovered."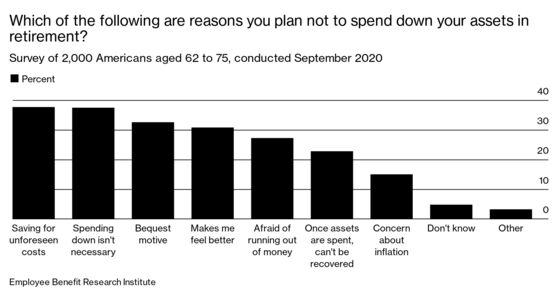 The most intriguing answer in this second chart is "makes me feel better." In standard finance and economic theory, saving for its own sake makes no sense because the only purpose of money is to pay for things, which could include bequests. You feel better when you spend, not when you refrain from spending. Clearly, though, a lot of retirees find satisfaction in the very act of saving. This third chart gets at that: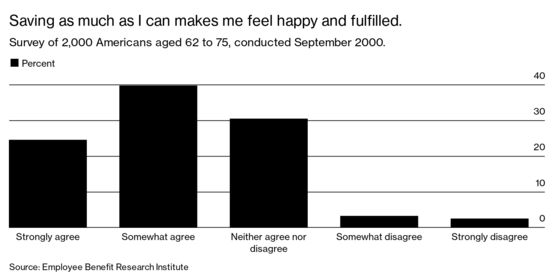 Close to two-thirds of respondents agree somewhat or strongly that "saving as much as I can makes me feel happy and fulfilled." In an EBRI conference call on March 24 to discuss the findings, one participant said that for a lot of retirees, drawing down their assets to cover expenses "feels like a loss." Abundant psychological research shows that people strongly dislike the sensation of losing money.
One possible reaction to this is, fine, no problem, it's their choice. Certainly their heirs will benefit someday from their needless frugality. From another perspective, though, it's a problem. Frugality can be evidence of fear. That comes through clearly in the second chart, where "saving for unforeseen costs" is the No. 1 choice. It may even be lurking behind the third chart. When retirees say saving as much as they can makes them feel happy, are they actually saying that not saving makes them unhappy? Nervous, perhaps?
Financial engineering can help. There are products that allow people to enjoy a bigger percentage of their lifetime savings without having to worry about running out of money because of unforeseen costs—medical bills, living too long, whatever. One such product is long-term-care insurance, which covers nursing homes and home care. If you have a long-term-care policy you don't need to set aside a big chunk of your savings against the risk of long-term illness or incapacity. You can spend it on the fun stuff, like birthday presents for the grandchildren.
Annuities from reputable outfits can serve the same purpose. Like Social Security, annuity policies pay out for as long as you live so they relieve you of the need to squirrel away money against the risk of living to 105. That allows you to spend down more of your assets and still feel safe.
One reason that traditional annuities—known as single-premium immediate annuities—aren't more popular is that you have to fork over a large portion of your savings all at once in order to get that guaranteed monthly check for life. Even though the trade-off is worthwhile, the initial expenditure is hard for a lot of people to bear—it feels like a loss. One alternative is a guaranteed lifetime withdrawal benefit, which also promises lifetime income but allows the policyholder to stop and restart payments (and benefits).
Wade Pfau, a professor of retirement income at the American College of Financial Services, says some of the people who told EBRI that saving makes them happy might have been speaking hypothetically, as in, "if they were saving they would feel really good about it." It's undeniable, though, that a lot of Americans are underspending in retirement.