Having Your Own Greenhouse May Seem Idyllic. The Reality? Not So Much
(Bloomberg Businessweek) -- With the exception of a few years in the late 1800s when some rowdy servants burned down the manor house by mistake, the Erskine family has peacefully occupied the sprawling Cambo estate in Fife, Scotland, for more than 350 years. Along the way, they've been patrons for generations of agricultural workers who've tended the grounds.
The cost of that support has become increasingly steep, so five years ago the Erskines turned Cambo's gardens into a charitable trust with a mission to educate young adults in the art of rural agriculture. "Scotland is very short of young people going into rural occupations," says Catherine, Lady Erskine. "There is a skills gap."
But first they had to build new greenhouses. The existing ones, dating from the early 19th century, had "become quite shabby" says her husband, Sir Peter Erskine. The wood frames were rotting, glass panes had been patched haphazardly, and maintaining an even temperature was almost impossible. "They'd outlived their natural life span."
The family hired a U.K. company called Alitex Ltd. to build a structure with four sections—one for peaches, one that serves as a year-round space full of flowers and plants, and two to instruct trainees in the art of growing vegetables. "The desire to educate had always been embedded in country estates," Lady Erskine says. "They were the training facility for the local area." The new greenhouse cost roughly £500,000 ($649,000).
In constructing homes for plants that cost more than homes for people, the Erskines joined the swelling ranks of wealthy individuals willing to spend hundreds of thousands of dollars—occasionally millions—on private greenhouses. In the Erskines' case the impetus was charitable. For others, it's often in pursuit of a luxury the Cambo estate has enjoyed for centuries: fresh produce year-round. The trend toward homegrown food, produced in expensive personal greenhouses, "has always been there, but it's increasing," says Alex Turkewitsch, founder of the Toronto-based consultant Greenhouse Engineering.
"Each of the last three years, we've had 50% growth year over year," says Neal Bobrick, chief operating officer of Hartley Botanic, whose "Victorian" greenhouses start at $25,000 and whose "modern horticulture" start at about $60,000. "The whole farm-to-table concept has been a driver of our additional business."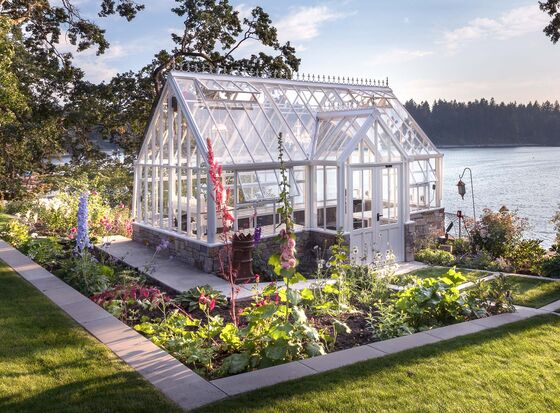 John Lawson, a sales director at Alitex, says 10 years ago his Hampshire-base company would construct about 15 greenhouses a year that cost more than $250,000. Now they build close to 50. "People are getting more sensitive," he says. "They don't want mass-produced stuff that's been shipped around the world. They want homegrown, solid stuff. And at the top end of the market, they can afford to have it."
People have wintered plants for thousands of years, most notably in orangeries such as the ones at the palaces of Versailles outside Paris and Schönbrunn in Vienna, where delicate plants would be brought into large, windowed halls to keep them from dying during a frost. These structures, many of which are still around, were principally intended for nurturing exotic plants that would never have survived otherwise. "Can there be anything more agreeable in the Winter," wrote the botanist Richard Bradley in his 1718 book The Gentleman and Gardener's Kalendar, "than to have a view from a parlour or study through ranges of orange-trees, and curious plants of foreign countries, blossoming and bearing fruit, when our gardens without doors are, as it were, in a state of death?"
Modern greenhouses, on the other hand, only came about with the ability to mass-produce thin glass panes and iron structures durable enough to hold everything in place. In Germany an "iron hot house" was built as early as 1789, and by 1824 the Earl of Shrewsbury had created a splendid conservatory on his estate. Its "seven domes still sparkle as new, the centre dome topped with the Earl's coronet, the others with pineapples," wrote May Woods and Arete Warren in their comprehensive 1988 book Glass Houses.
Even though greenhouses are a form of agriculture, they're fundamentally an industrial phenomenon. "It's really a machine that you're building, but the machine happens to produce a product called a plant," says Dale Rahn, U.S. director for Deforche, a Belgian company that specializes in large-scale projects such as the National Botanic Garden of Wales.
In the 150 years since the greenhouse's Victorian heyday, the mechanical systems that sustain them have advanced considerably from the stoves and shades once used to control temperature. Somewhat astonishingly, though, their construction has barely evolved. "Many of the things we do today, even the nomenclature, goes back to the 1800s," says Turkewitsch, the consultant. "The techniques of installing relatively small pieces of glass remain the same."
The starting point for anyone planning to build a serious greenhouse is deciding what to grow. Many people initially have a romantic idea of what owning a greenhouse entails—strolling amid flowering plants with a watering can during winter months or reading the newspaper in an orchid house with a cup of coffee.
The reality is that an owner's physical comfort and a greenhouse's effectiveness are not necessarily compatible. "If it's a tropical greenhouse, it can get quite steamy," Turkewitsch says. "An orchid house is not a good place for a library. If your purpose is to grow bedding plants and you want them to thrive when they're ready to be planted outside, constraints apply."
For those who do like the idea of sitting in a chair underneath a palm tree in December, a conservatory—the modern version of an orangery, a glass room usually attached to a house—is the obvious answer. "If you're using it to grow plants it's really a greenhouse," Rahn says, "but if you're putting plant displays in it, or art, then it's a conservatory."
If you're trying to grow actual produce, things can get expensive—fast. In a larger greenhouse, there are partitions and mechanical systems (automated shades and vents, fans, heaters, water pumps) that break the structure into zones. One is usually "frost-free" (40F), the other is temperate (50F), and the other is warm (60F). Virtually any plant can be grown year-round in a greenhouse; the most common are often what you'd expect: tomatoes, lettuces, and peppers.
Rahn says his company does fewer residential projects annually—they average just two or three—but they're larger in scope. The $400,000 he quotes is the starting price. "We did one greenhouse in Florida," he says. "It cost millions of dollars and was set on a private island."
The construction price is just the beginning. Mechanical systems, Lawson says, "double if not triple" the cost depending on the number of zones inside. "A big greenhouse could cost $10 million, whereas a fair-sized, two-section greenhouse ends up costing between a quarter to a half a million dollars." Bobrick, of Hartley Botanic, says that while the price can be lower, mechanical systems can add 50% to 100% to the total. It rises quickly, he says, depending on "how fancy the customer is going to get."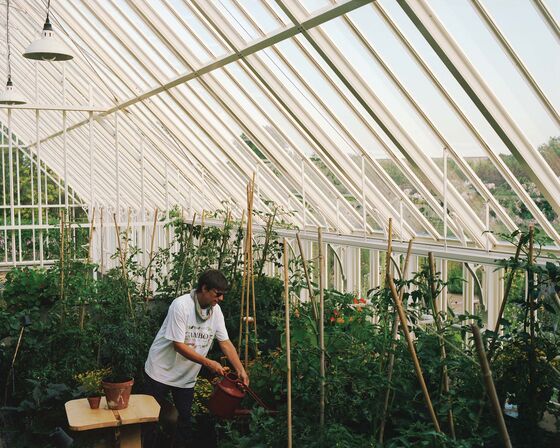 At Cambo, the greenhouse was comparatively expensive, at $650,000, because it was built with four separate zones. The Peach House is, unsurprisingly, for peach tree saplings; the wheelchair-accessible Sensory Display House functions exclusively as an indoor, year-round garden; the other two are for training gardeners and, just as important, cultivating plants for transplanting elsewhere on the estate and selling to the public. "It's wonderful to have a range of glass houses we can set at different temperatures," Lady Erskine says. "Some are on cold, but we've also got more tender plants" that require more heat.
Greenhouses are ubiquitous in Britain, but their popularity in America is on the rise. "Greenhouses to the U.K. are what garages are to the U.S.," Bobrick says. "Everyone has one." Most of Lawson's American clients are within three hours of New York. "That's where the money is," he says. "So that's where people can live like Victorians did."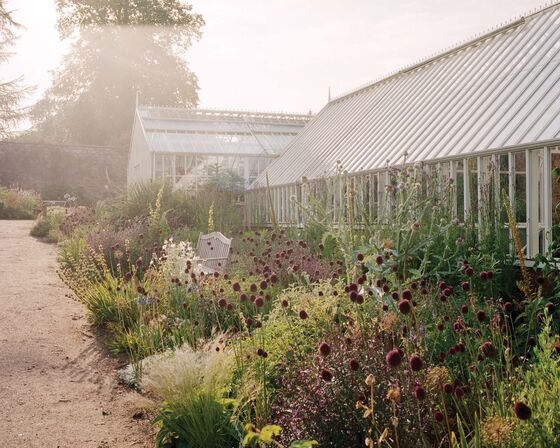 Victorians had access to cheap labor, though, and today's greenhouse owners, for the most part, do not. That, Rahn says, is often an unexpected and unwanted additional expense that can prove disastrous for aspiring home growers. "Most people fail, because they don't know how to grow, and they don't realize how much time it takes," he says. "They're busy people and want to jet off to whatever, but their plants require maintenance." It's easy enough to hire someone to trim hedges; hiring a real gardener is something else. "It's different than pruning trees and mowing lawns. You're growing plants, not just maintaining them."
In that respect, the Erskine family's program to train the gardeners of tomorrow has implications beyond mere backyard gardening. "Our aim was to turn back the clock and provide the opportunities that would have been available 200 years ago," Lady Erskine says.
To contact the editor responsible for this story: Chris Rovzar at crovzar@bloomberg.net, James Gaddy