Permitless-Carry Laws Make It Easier to Pack Heat in Red America
(Bloomberg Businessweek) -- The high-profile legal troubles of the National Rifle Association may suggest a powerful organization on the ropes, but in statehouses, the pro-gun movement it helms is racking up victories. New laws are giving millions of Americans increasingly unfettered access to firearms even as gun violence rises across the country.
So far this year, five states—Iowa, Montana, Tennessee, Texas, and Utah—have passed permitless-carry laws, bringing the total number of states with such laws to 21. These statutes typically eliminate the need to complete training and obtain a license before carrying a concealed firearm in public, making it easier to carry a gun around than to cut hair or drive a car.
Texas became the latest state to go permitless in June when Governor Greg Abbott, NRA boss Wayne LaPierre, and others gathered at the Alamo for a bill signing. "Government is coming to take your guns," Abbott warned. "Texas will not let that happen."
The permitless-carry movement sweeping red states has been "an NRA effort through and through," says spokeswoman Amy Hunter. "We've been in it since the beginning and have worked very hard state by state."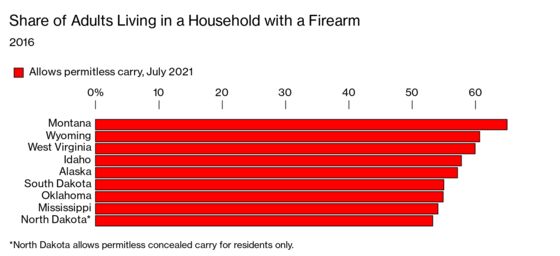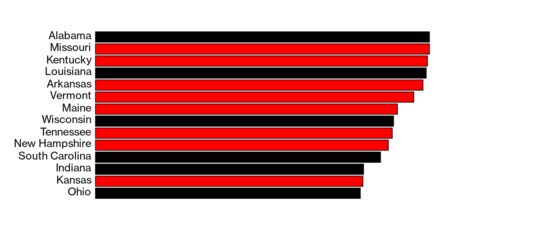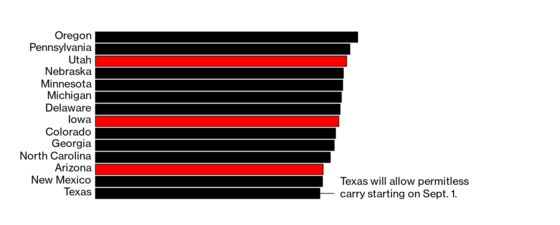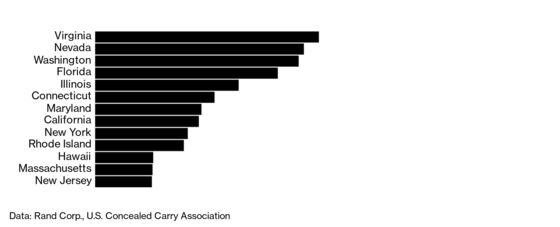 Kris Brown, president of Brady, a gun control group, believes that eliminating permit requirements will make public places more dangerous and says the NRA is promoting "a dystopian universe where the only rational thing to do is have a gun on you all the time."
For the NRA, the state wins come at a time when its very existence is in doubt. Its revenue and program spending were down last year, and a federal judge rejected its bid to go through bankruptcy reorganization as part of a complex plan to move its charter to Texas. That's left the group to defend itself against a fraud lawsuit in New York, where the nonprofit is chartered, and where Attorney General Letitia James is pushing to dissolve it.
But all that is a distant tempest to many of the NRA's reported 5 million rank-and-file members, including those in Kansas' Air Capital Gun Club. A few dozen of them assembled for breakfast at Spear's Restaurant & Pie Shop in Wichita one Saturday in July and ran through an agenda that included marksmanship contest results, club finances, and a request from the Shriners to hold an event at their firing range. Asked by a reporter what he made of the NRA's legal battles, a member responded with a puzzled shrug.
Kansas, a rural state with some of the nation's most lenient gun laws, offers a glimpse of where the country may be headed. It allows citizens to own fully automatic weapons, if they're licensed, and in 2015 it passed a "constitutional carry" law eliminating permit requirements for concealed weapons.
Doug Gatewood runs a shop in Galena that displays a shotgun owned by Clyde Barrow (of Bonnie and Clyde fame). He sells firearms and ammo, as well as saddles and tools, and says his customers have multiple reasons for supporting permitless carry. "There's a feeling that there's a constitutional right to have a firearm and there shouldn't be a financial burden attached to it," says Gatewood. Also, "if you have a concealed-carry permit, it's on a list that you have a gun," which some would resent.
In Kansas, as in much of the nation, gun policy is shaped by local custom. Dennis McKinney, a former Democratic state treasurer who's a farmer near Greensburg, says pretty much everyone in his part of the state owns a gun. "It's the culture," he says. "I've jokingly told people from urban areas, if a deputy stops you around here and you don't have a firearm, he'll issue a citation."
After the 2012 Sandy Hook school massacre in Connecticut, the NRA touted the idea that the best defense against a bad guy with a gun is a good guy with a gun. Several states went along, Kansas among them, says Jo Ella Hoye, a Democratic state legislator and gun control advocate. A gun owner herself, Hoye fought successfully in 2017 to stop the expansion of concealed-carry rights to public hospitals and mental health facilities. (Hoye is a former state chapter leader of Moms Demand Action for Gun Sense in America, a group funded by Michael Bloomberg, the owner of Bloomberg Businessweek's parent company.) This month, Kansas granted concealed-carry rights to 18-year-olds, though those under 21 still must undergo training and obtain permits.
Despite its relaxed gun laws, Kansas' per capita firearms mortality rate is about average for the U.S., Centers for Disease Control and Prevention data show. Some research has found that permitless carry is associated with an increase in violent crime, though a 2020 Rand Corp. analysis found the evidence is "limited" at best and mostly inconclusive. The U.S. has a much higher rate of violent gun deaths than many other rich countries.
Kansas Attorney General Derek Schmidt, a Republican, says permitless carry "has been positive for liberty with no downside to public safety."
"States that have already enacted it are being looked at, and the sky did not fall," says Phillip Journey, an NRA board member and Kansas state court judge. "Simple possession does not create violence. The issues in our society are far more complex than that."
But Hoye says guns are the "common denominator" in homicides and domestic violence cases. She's backing bills that would require courts to confiscate firearms from certain people convicted of crimes and ban their use within 2 miles of schools. It's unclear whether the state's Republican-led legislature will go along.
Adam Winkler, a professor at the UCLA School of Law, sees a stalemate between the millions of Americans convinced that gun control is the way to reduce violence and the millions who believe the opposite: "Not only are the two sides getting further apart, but the prospects for compromise are increasingly unlikely."
That split is clear on Capitol Hill, where modest efforts like expanding federal background checks have stalled in the Senate. "The percentage of Americans, including NRA members, who support universal background checks is astounding, but you can't even get Congress to consider it," says Stanford law professor John Donohue. "That harms good gun policy."
Faced with a worrisome upturn in gun violence, President Joe Biden has turned to executive actions to clamp down on "rogue" gun dealers, provide support to local law enforcement, and invest in violence intervention programs. Blue states have been tightening their gun laws—but they may soon be forced to reverse course, depending on the outcome of a potentially landmark U.S. Supreme Court case next year over individuals' rights to bear arms in public.
Meanwhile, many Americans are voting in favor of gun ownership with their wallets. At Wichita's Range 54, an 800-gun inventory last year was whittled down to just 25 weapons, says co-owner Ken Grommet. Firearm sales have reached a near-record pace of well over 1 million a month, according to Small Arms Analytics & Forecasting.