Gray Watches Are the Trend That Represents How We Feel Right Now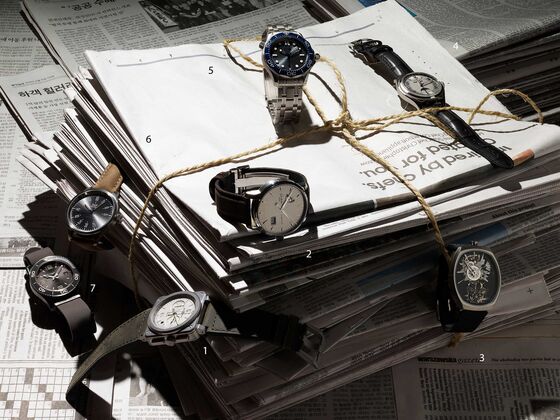 (Bloomberg Businessweek) -- Every so often we see the watch industry adjust its color palette. A couple of years ago, as global buyers felt more flush, rich blue dials were all the rage. Later, as people became willing to take a chance on something more unusual, a vibrant forest green crept in.
These changes seldom have any rhyme or reason beyond the whims of design bosses in Switzerland. But as demand for steel cases—and relatively affordable luxury watches in general—is skyrocketing, shoppers are seeing more gray dials to go with them. It's a muted tone that's wearable in many situations.
According to Rüdiger Albers, president of American Wempe Corp., which operates Wempe Jewelers in Manhattan, most brands are participating in the growing trend. "While blue had been the dominant newcomer for the last couple of years, gray dials have quietly entered the ring with a more subtle yet distinctive elegance," Albers says. "The watchmaking maisons may differ in what they call it—anthracite, ardoise, slate, or simply gray—but nearly all our brands have an offering: Rolex, Montres Breguet, Girard-Perregaux, and IWC, to name a few."
Demand for value is part of what's pushing this trend. Syl Tang, economist and author of Disrobed, a book about how clothing relates to larger world issues, poses a theory as to why: These demure steel watches may actually be a good investment if you them buy now. "Steel prices have gone up tremendously since the May tariffs, but frankly the steel in watches is likely imported, and therefore luxury good tariffs play an even larger role in price inflation," Tang says.
Plus, she adds, gray is polite: "People have moved away from opulent displays of wealth in favor of more conservative moves in this somber and heavily geopolitical climate."
To contact the editor responsible for this story: Chris Rovzar at crovzar@bloomberg.net, James Gaddy