Billions in VC Money Spell the End of the Late-Night Beer Run
(Bloomberg Businessweek) -- On a quiet street in the rapidly gentrifying London neighborhood of Shoreditch, a small storefront thrums to a disco beat. Workers in black jackets wielding tablet computers hustle from aisle to aisle, packing bags with indulgences such as beer, avocados, and ice cream. As soon as the sacks are full, couriers on electric bikes whisk them off to customers who placed their orders less than 10 minutes earlier.
The fulfillment center in a former handbag store is one of more than 60 such operations in four countries run by Gorillas, an instant-delivery startup based in Berlin that will begin operating in the U.S. on May 30. Around the world, dozens of companies have jumped into the fast-growing business, including newcomers such as Philadelphia-based Gopuff, Turkey's Getir, and Dija in London, as well as gig-economy veterans like Uber Technologies and Delivery Hero. Although their approaches differ, they're all seeking to capitalize on the sloth and impatience of consumers by delivering groceries and other goods in mere minutes—a convenience that many grew accustomed to during the pandemic. "Every crisis accelerates some sort of model, this one accelerated e-commerce grocery penetration," says Kagan Sumer, chief executive officer and co-founder of Gorillas. "Some of this accelerated adoption will go back to traditional retail, but a significant amount of this peak is going to stay because of convenience."
Over the past year, people shut in by pandemic lockdowns have embraced online shopping, sending grocery and restaurant-meal delivery services into the stratosphere. The increased demand has spurred established grocery-delivery specialists Ocado Group Plc in Britain and Instacart Inc. in the U.S. to up their game with faster service. The latest bunch of startups now aim to deliver smaller impulse purchases in less than 30 minutes.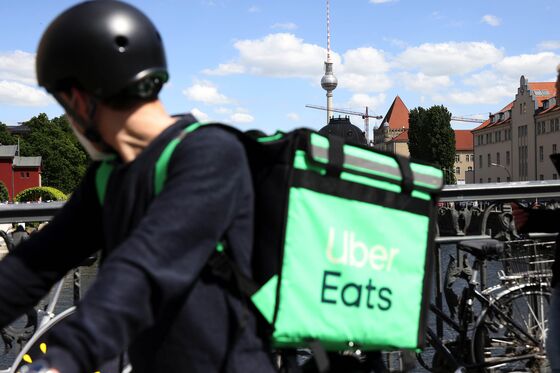 The question is whether the industry can thrive as the world adapts to post-pandemic life. With more diners getting vaccinated and trickling back to pubs and cafes, investors are watching closely for signs of slippage. Some apps are seeing their growth slow, and upscale restaurants have threatened to walk away from the hassle and fees of delivery once their tables are full. Shares in London-based meal-ordering service Deliveroo have fallen by more than a third since their March debut amid concerns over profitability and the company's reliance on gig workers.
In instant delivery, two models are emerging: Gorillas, Getir, London-based Zapp, Germany's Flink, and several other newcomers are building "dark stores," or micro-warehouses, where their workers pack bags for waiting delivery staff. Bigger outfits such as Uber, Deliveroo, and Amsterdam-based Just Eat Takeaway.com are instead working with supermarkets to fulfill the orders, while they haul them to consumers' doorsteps. For anyone in the delivery business, groceries are a must, says Giles Thorne, an analyst for Jefferies. "If you're not doing this," he says, "someone else will."
Americans spend some $800 billion a year on groceries, market researcher Mintel estimates. Even though only 4% of those sales were ordered via the web before the pandemic, investment bank UBS predicts that figure will rise to 22% by 2024 as people become more comfortable with clicking through screens of food options. Because of the outbreak, "we're probably talking about a three- or even a five-year leap forward," says Miki Kuusi, CEO of Finnish meal-delivery startup Wolt, which is adding groceries. "The growth is going to be ridiculous."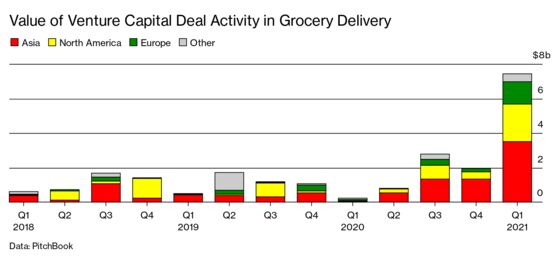 It's not clear how much money these companies can earn, with high upfront costs for attracting customers and establishing locations. Gorillas has about a dozen warehouses in London, but each only serves a radius of a bit more than a mile. And groceries typically carry lower margins than restaurant meals, which means the startups are counting on customers to spend more on each purchase. Morningstar Inc. estimates companies will have a hard time earning profits on orders below £30 ($42)—not an easy target for a business built on impulse buys of snacks, even with prices that are roughly 10% above what supermarkets charge. "Is this really a large market?" asks Morningstar analyst Ioannis Pontikis. "I'm not 100% sure how all these startups—the Gorillas of the world—will be sustainable."
Investors are betting that profitability will come as customers get more accustomed to the services and start placing bigger orders. David Buttress, former CEO of Just Eat and a venture partner at 83North who has invested in grocery startups, says more than half the people who try grocery delivery will become loyal customers, a higher share than those who use meal-delivery services. He says dark stores can become profitable at around 350 orders per day. And their limited stock boosts efficiency: A Gorillas site will have about 2,000 items, vs. 30,000 at a typical grocer. "Supermarkets are antiquated and obsolete," Buttress says.
DoorDash Inc., the largest U.S. delivery company, added groceries last summer, working with stores across the country to promise delivery in less than an hour. Deliveroo says grocery sales have jumped 700% in the past year, and Uber says its grocery delivery business, introduced last summer, is on track to see $3 billion a year in bookings across 32 countries. "It's definitely a rising star in our global portfolio," says Pierre-Dimitri Gore-Coty, Uber's senior vice president for delivery.
Even as the established companies pile in, investors are backing a slew of startups. Venture capitalists concluded 66 deals in the sector valued at a combined $7.4 billion in the first quarter, according to research company PitchBook, up from $222 million a year earlier. In their upcoming fundraising rounds, Gorillas and Getir are targeting valuations higher than $6 billion. For consumers, the good news is there will be lots of free delivery offers heading their way as the companies spend all that money, seeking to win enough customers to survive the winnowing that's sure to come. "Everybody understands the value of being in the grocery space," says Rahul Mehta, a managing partner at DST Global, which has invested in food delivery startups. "It's too big to ignore but not an easy one to execute."