State Attorneys General Lay Groundwork for Google Investigation
(Bloomberg Businessweek) -- Last September, Jeff Sessions, then the U.S. attorney general, called a meeting of state attorneys general to discuss his suspicions that Google and Facebook were suppressing conservative views. After hearing him out, his audience steered the conversation toward a different concern. The state officials argued that the real problem was Silicon Valley's market power and its handling of personal data, and they made the case for aggressive antitrust action, according to people familiar with the event, who asked for anonymity to describe private discussions.
Concern about Big Tech had already been mounting in statehouses, but Sessions's face-to-face meeting created its own momentum. During the meeting, Makan Delrahim, the head of the antitrust division at the U.S. Department of Justice, suggested that attorneys general form a group and come back for further planning, according to a person who attended the meeting. In the weeks that followed, the National Association of Attorneys General formed a task force to look into issues in the technology industry, although the plan to follow up with the Justice Department was scuttled after Sessions stepped down from his post in November.
Separately, a smaller group of state AGs have begun investigating possible antitrust or consumer protection violations by Google Inc. in particular, say two people familiar with the matter. It's not yet clear whether this preliminary effort, which has not been publicly disclosed, will develop into legal action. But it marks the most significant step state officials have taken toward a coordinated antitrust action against the technology industry since the federal government and a large group of states sued Microsoft in the late 1990s.
"Privacy and security are built into all of our products, and we will continue to engage constructively with state Attorneys General on policy issues," a Google spokeswoman said in a statement.
Shares of Google parent Alphabet Inc. gave up earlier gains Friday following publication of this story.
The developing action on the state level contributes to a threatening, if muddled, political landscape for Big Tech. Five of the six most valuable companies in the S&P 500 are now technology companies, with a combined market value of nearly $4 trillion. This concentration of economic power, combined with numerous controversies over privacy and content moderation, has led to broad calls for government action. But as Sessions's meeting illustrated, there's more agreement that a problem exists than there is a consensus around its exact nature, what should be done about it, or who should be in charge.
The fault lines on tech don't always fall against traditional party lines. When he still worked for Donald Trump, Stephen Bannon suggested that companies such as Facebook and Google were effectively public utilities and should be regulated as such. Democratic Senator Elizabeth Warren of Massachusetts announced a sweeping legislative regulatory plan on March 8, based on the same idea. The response from Democrats was mixed. When Facebook temporarily removed ads promoting this idea from its social network, Republican Senator Ted Cruz of Texas came to Warren's defense on Twitter. "First time I've ever retweeted @ewarren," wrote Cruz, who has used his time in congressional hearings to complain about the sort of stuff that comes up when he types his own name into Google. "But she's right—Big Tech has way too much power to silence Free Speech."
One of tech's most aggressive GOP antagonists has been Josh Hawley, a Republican who served as attorney general of Missouri until he joined the U.S. Senate this January. In late 2017, Hawley announced that he had launched an investigation of Alphabet Inc., Google's parent company, for potential antitrust and privacy violations. His office subpoenaed the company, and promised to reach a decision about whether to bring a lawsuit by summer 2018. It later opened a similar investigation into Facebook.
By that time, Hawley was deeply engaged in his bid for the U.S. Senate, and his investigation never produced any conclusions. Other attorneys general largely stayed away, in part because the investigation was widely seen as part of Hawley's attempt to unseat Democratic incumbent Claire McCaskill. Hawley's successor, Eric Schmitt, declined through a spokesman to comment on whether he'll continue to pursue the issue.
As a senator, Hawley has continued to criticize Silicon Valley. In January, he said he'd like to work with Democratic Representative Alexandria Ocasio-Cortez of New York on a bipartisan probe into tech issues. He has also bemoaned the passive approach of federal regulators. "Any robust definition of consumer welfare must acknowledge that these companies have harmed consumers by conditioning participation in the modern public square on giving away enormous—and growing—amounts of personal information and by leveraging scale to cripple emerging competitors in their infancy," he wrote in a March 11 letter to the Federal Trade Commission. "Yet the approach the FTC has taken to these issues has been largely toothless." The FTC said it had received the letter, but declined to comment further.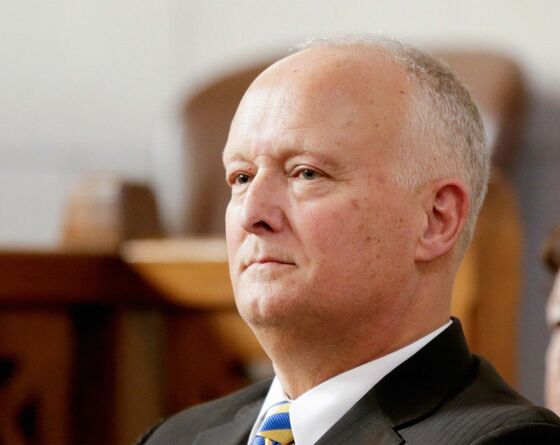 An emerging leader among the state officials is Nebraska's attorney general, Doug Peterson. He attended the meeting last fall, and discussed his suspicions about tech companies with the Omaha World-Herald. Peterson told the newspaper a story about a family he'd heard from who were discussing a particular consumer product at dinner one night, only to start receiving advertisements for the product on their phones the following morning. "And they're going, OK, the linkage here is too obvious," Peterson said. "Who's listening to what I'm saying?"
In an interview with Bloomberg Businessweek earlier this month, Peterson said he was "carrying the ball" for attorneys general concerned about issues of privacy and market power, but he also suggested the work was in its early stages. "The topic is deep and complex, and so we're learning," he says. When asked about the group investigating Google, he declined to comment further.
People familiar with the state's interest in the tech industry say that impatience with federal action may push the group toward action. But those involved also realize how big a fight they'd be picking. It's possible states will get conservative and encourage federal regulators to take the lead, or to shy away from the issue altogether.
State officials met earlier this month in Washington at the annual meeting of the National Association of Attorneys General. They'll return later this month at the American Bar Association's spring meeting on antitrust, which begins on March 26. That same week, the FTC will hold a two-day hearing in which technological change, privacy, and competition are among the major slated topics.
Antitrust experts say the chances of a serious lawsuit against a technology company seem to be increasing. But some of them also acknowledge that they've been anticipating the next big legal battle ever since the FTC ended its antitrust investigation into Google in 2013. "A platform is going to be a defendant in a big case," says Chris Sager, a law professor at Cleveland State University. "It has felt that way for five years." —With Chibuike Oguh and David McLaughlin
To contact the editor responsible for this story: Jeff Muskus at jmuskus@bloomberg.net